Found May 02, 2012 on Bleed Black & Gold:
In anticipation of Reader Appreciation Week, we asked for article submissions for a guest column spot right here on BB&G.  We got quite a few worthy submissions from which we've selected our three favorite.  Thank you to all who entered and congratulations to our selected few.  Today's guest column is particularly radical and I'm interested to hear everyone's thoughts in the comments. By Robb Watters We are quickly coming up on twenty years since the Pirates have been relevant in the world of Major League Baseball. Blame has been passed around from fired managers to GMs to ownership (and especially) to the lack of salary cap in the league. Many have used the excuse that the Pirates simply can't win because they either don't have, or won't spend, the money needed to compete with the likes of the Mets, Cubs, Yankees, and Red Sox. Of course, other small market clubs around the league have proven this excuse to be just that–another excuse from jilted fans. We've seen teams like Oakland, Minnesota, and Milwaukee become competitive without splurging like Miami seems to do every 6-8 years. For the Pirates, though, the Billy Bean recipe just isn't there. We must enter a Major League Baseball twilight zone where the makeup of the league is made to resemble that of soccer's English Premier League for the Pirates to be successful. In the EPL, the bottom three clubs each year are relegated to the nPower League who then send their top three clubs up. For this to work in baseball, we must forget that minor league clubs are affiliates of the Big League teams and picture them more as independents like the Washington Wild Things. In this scenario, the American and National Leagues would relegate their bottom two clubs each year in exchange for the top two minor league clubs. Relegation in the Premier League is generally accompanied by disgrace amongst fans, the players, and the ownership, which also tends to result in turnover of employment at all levels. This may be exactly what fledgling organizations like the Pirates need. If nothing else, relegation would give the fans something to cheer about at least every four to five years when the Buccos are competing at the lower level. And let's face it, what would be better for western Pennsylvania baseball than a rivalry brewed up between the Pirates and the Wild Things? As this episode of the twilight zone ends, we reenter the real world where the Buccos annually get our hopes up for only a week or two each season, Pedro Alvarez gets to play third base for the only professional club that would let him, and the team is considered a farm system for the playoff competitors round the league to poach from year to year. Relegation will never become a reality in Major League Baseball, but being a lifetime Pirate fan calls for a healthy helping of imagination.
Original Story:
http://feedproxy.google.com/~r/BleedB...
THE BACKYARD
BEST OF MAXIM
RELATED ARTICLES
Final: Pirates 6, Cardinals 3 WP: Erik Bedard (2-4, 2.65 ERA) LP: Jake Westbrook (3-2, 2.12 ERA) I couldn't watch this game, but I did listen to it and from what I heard, it had to be one of the stranger starts a pitcher could have. Bedard started off the game way off as he gave up two runs in the first inning and threw over 55 pitches in his first two innings. However, he then...
After last night, and even early on today, it looked like this series would be an absolute disaster for the Pirates. Instead, they were able to pick up a win on getaway day and finish their difficult road trip to Atlanta and St. Louis at 3-4. The two big stars today were Erik Bedard and Pedro Alvarez. I'll start with Bedard. He allowed three doubles in the first to make it 2-0...
The Pittsburgh Pirates have scored 17 runs in their last two games, lead mostly by a scorching hot Pedro Alvarez. How long can Pedro's hot streak last? Can the Pirates keep this sort of offense clicking for longer than a day or two? Would the team actually be kind of good if they could pull that feat off? Tonight we get even more questions as they relate to AJ Burnett. Through...
How much power do you need to offset a bad on-base percentage and still be a good hitter in 2012? You don't need to look any further than Pedro Alvarez's FanGraphs page to find out! Pedro's .349 ISO is higher than the batting averages of all but five qualified players in the National League. Jose Bautista lead all of baseball with a .306 ISO last year and after Curtis...
The Pittsburgh Pirates have recalled RHP Jared Hughes to take Evan Meek's spot on the roster.  Meek was optioned to AAA after last night's game against the Braves. This is a bit of a head-scrather to me.  Hughes had a pretty good ERA when he went down (1.86), but otherwise he did nothing to impress [...]
The Pittsburgh Pirates are rolling into May with 10 wins - and I'm celebrating by presenting Kate Upton doing the "Cat Daddy" -brought to you by Terry Richardson. Via www.terrysdiary.com (If video is down - find it at youtube or Terry's site) Kate Upton, SI Swimsuit model,  answered phones on the Dan Patrick Show today and was responsible...
Erik Bedard struck out a season-high 11, including seven straight batters, and Pedro Alvarez hit a go-ahead home run as the Pittsburgh Pirates beat the St. Louis Cardinals 6-3 Thursday to avoid a three-game sweep. Bedard (2-4) was pulled after five innings. Pittsburgh relievers kept piling up the strikeouts, fanning 17 Cardinals overall. Alvarez hit his two-run drive in the sixth...
Pirates (10-13) at Cardinals (15-8) 8:15 PM EST–Busch Stadium, St. Louis Here is the MLB.com Gameday TV: ROOT Sports The Pirates will need to be a lot better on the mound and in the field if they want to turn this series around and defeat the first-place Cardinals. St. Louis leads the Central and currently holds a 5-game advantage over the Bucs, so it's crucial for them to at...
ST. LOUIS (AP) -- Erik Bedard struck out a season-high 11, including seven straight batters, and Pedro Alvarez hit a go-ahead home run as the Pittsburgh Pirates beat the St. Louis Cardinals 6-3 Thursday to avoid a three-game sweep. Bedard (2-4) was pulled after five innings. Alvarez hit his two-run drive in the sixth. Clint Barmes had a pair of RBI doubles for the Pirates, who...
Baseball Prospectus posted its review of Pelotero yesterday, which is well worth checking out if you're a Pirate fan. The documentary delves pretty deeply into the Miguel Sano saga, depicting Rene Gayo as the manipulative villain of the falling out between Sano and the Pirates. As Ken Funck notes, this is very clearly only one side of the story and despite there being quite...
The Reds meet the divisional rival Pirates for the first time this season with a trip to Pittsburgh and a three-game set beginning on Friday night. If you like offense, you might not want to check out this series preview…. Cincinnati (12-12)  at Pittsburgh (11-14) We're all well aware of the Reds' offensive woes. The Redlegs'...
Both lost the ball in the lights. Jose Tabata reacted like the ball was a king cobra waiting to kill him. Brennan Boesch made a catch with one of the highest awesome factors of the year
MLB News

Delivered to your inbox

You'll also receive Yardbarker's daily Top 10, featuring the best sports stories from around the web. Customize your newsletter to get articles on your favorite sports and teams. And the best part? It's free!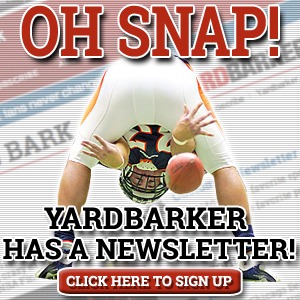 Latest Rumors
Best of Yardbarker

Today's Best Stuff

For Bloggers

Join the Yardbarker Network for more promotion, traffic, and money.

Company Info

Help

What is Yardbarker?

Yardbarker is the largest network of sports blogs and pro athlete blogs on the web. This site is the hub of the Yardbarker Network, where our editors and algorithms curate the best sports content from our network and beyond.