Found February 18, 2012 on The Victory Formation:
The 5oth anniversary of the Houston Astros is being celebrated this year.  Good timing too, since there isn't anything else to celebrate except the 10th anniversary of the name change from Enron Field to Minute Maid Park.   Anyway, the team is celebrating their existence by wearing alternate jerseys this season.  Most are familiar with their famed jersey from the Nolan Ryan and Mike Scott years, but the team also plans to wear jerseys from their first 3 years in existence, from when they were known as the Colt .45s.   However, MLB won't allow them to wear them without revisions to the design.
Yes, MLB has deemed having a logo that has a gun inappropriate. Never mind that MLB has never forced the Indians to get rid of the Chief Wahoo logo, which screams racism,  but a gun on a jersey might encourage people to buy a gun or something.  Paul Lukas at Uni-Watch brings up the excellent point about the caliber of the gun being on the hat, but MLB has said nothing about that.  It is just absurd that Bud Selig and the league are taking issue with the jersey.  Lukas also points out the ridiculousness of MLB to ignore history:
Finally, there's the problem of trying to whitewash or sugarcoat history. Would a new team be able to call itself the Colt .45s and put a pistol on its jersey today? Nope. But things were different 50 years ago. That's part of why we have throwback games — to serve as history lessons, to remind us, to show us, how things have changed. The Negro Leagues existed because of unforgivable racism, but we don't pretend that none of that happened. Instead, we acknowledge that it took place and try to learn from it. I'm not trying to equate a pistol on a jersey with racial bigotry, mind you. I'm trying to say that revisionist history is always a sucker's game.

I appreciate that kids who follow the Astros will only see about 374 references to guns on April 5, instead of 375. Viewed in a vacuum, that's a good thing. But in the broader context, those kids will also be seeing a false depiction of the past, and that's a bad thing. And for those of us old enough not to need to be shielded from the truth, we'll be denied the chance to see one of baseball's most interesting jerseys — a jersey most of us have never seen on the field before. And that's a drag.
MLB is being way too image conscience. Besides, not many outside the Houston area and whoever they were playing would notice the jerseys, as NOBODY cares about the Astros. Kinda like how nobody cared about the Washington Bullets.
Original Story:
http://www.thevictoryformation.com/20...
THE BACKYARD
BEST OF MAXIM
RELATED ARTICLES
DROP YOUR WEAPON
From 1962-1964 the team we now know as the Houston Astros were called the Houston Colt .45s. During those three seasons the team went 196-288 and finished no higher than 8th in the National League standings. In 1965 the Colt .45s moved into the newly build Houston Astrodome and were renamed the Astros. [...]
HOUSTON The success stories extend beyond the raw numbers, although the totals rattled off by Jimmie Lee Solomon, executive vice president baseball development, Major League Baseball, are impressive. In the five years since Major League Baseball opened its first urban youth academy in Compton, Calif., that program has produced 175 graduates that have earned college baseball or...
The Houston Astros are entering their final season before moving to the American League in 2013, and that's not the only transition the franchise is facing. After 106 losses last year, Houston has a new owner, a new general manager and a bit of a clean slate as spring training begins. Houston's pitchers and catchers have their first workout Monday, and the Astros are eager...
It's about time to kick off one of our favorite things in all the world: Season Previews. Five years ago, they began as a semi-serious analysis and ended up as half-assed haiku. We're just gonna go with what we know. Wrapping up our preview of the National League Central, get a load of the 2012 Houston Astros. One more year then it's Adios National League Selig has...
The Astros' roster is filled with low-risk/low-investment types who could provide your team with some value in deep, mixed league formats or those shallow NL-only ones.
The Houston Astros on Saturday signed seven players to one-year contracts, including infielder Brett Wallace, outfielder Brian Bogusevic and relievers Fernando Abad and Fernando Rodriguez.
Are you, like me, wondering just how low we'll go in the throwback fad? Having seen the Memphis Tams abomination, as well as the recent Clippers and Spurs eyesores, I know I am... but the fun part of the thing, really, is the idea that you will get the exact same outfit as what they wore back in the day. Fans of the Houston Astros baseball team -- yes, I was as surprised as you...
The Astros announced on Saturday that they have come to terms with seven players on one-year contracts and invited two Minor League catchers to Spring Training as non-roster invitees.
The weather has spoken once again. The Astros announced Saturday that the final day of the Urban Invitational will be held at Minute Maid Park due to impending rain.
Astros News

Delivered to your inbox

You'll also receive Yardbarker's daily Top 10, featuring the best sports stories from around the web. Customize your newsletter to get articles on your favorite sports and teams. And the best part? It's free!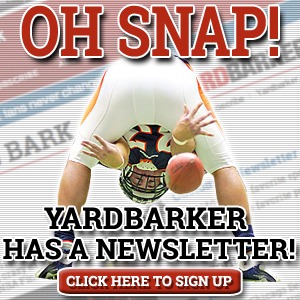 Latest Rumors
Best of Yardbarker

Today's Best Stuff

For Bloggers

Join the Yardbarker Network for more promotion, traffic, and money.

Company Info

Help

What is Yardbarker?

Yardbarker is the largest network of sports blogs and pro athlete blogs on the web. This site is the hub of the Yardbarker Network, where our editors and algorithms curate the best sports content from our network and beyond.