Found April 01, 2013 on Monkey with a Halo:
PLAYERS:
Hank Conger
,
Brendan Harris
,
Mark Lowe
,
David Carpenter
,
Kole Calhoun
,
Ryan Madson
,
Andrew Taylor
,
Mike Scioscia
,
Mike Trout
,
Josh Hamilton
,
Vernon Wells
,
Albert Pujols
TEAMS:
Los Angeles Angels
,
New York Yankees
The April 1st, 2013 (OPENING DAY!) edition of daily news for the Los Angeles Angels including the Angels finalize their Opening Day roster, Madson to travel with the team and much more... The Story: The Angels finalized their Opening Day roster awarding jobs to Hank Conger, Brendan Harris, J.B. Shuck and Mark Lowe. The Monkey Says: It is good to see Conger work his way back into good graces after it seemed like a given that he was going to get demoted again. Harris getting the final bench spot isn't much of a surprise and neither was Lowe after David Carpenter fell apart in the last week. The huge shocker though is Shuck beating out Kole Calhoun. Shuck had a great spring, but Calhoun is clearly the better player. The only thing I can think of that explains this is the Halos preferring Calhoun to get regular at-bats since the reserve outfielder is hardly ever going to get any starts in this lineup. The Story: Ryan Madson will start the season on the DL, but will travel with the team while doing his rehab. The Monkey Says: This is less of a sign that he is close to ready and more of a plan so that he feels like part of the team.  FYI, Andrew Taylor will also start the season on the DL. The Story: Mike Scioscia is one of the managers on the hot seat entering the season. The Monkey Says: But it is his 14th season and he wears 14! You can't fire him during that season. It is his DESTINY to return to the World Series, right? OK, seriously though, he really needs to make the playoffs otherwise not even I can defend him anymore. The Story: ESPN Sweetspot had a consensus prediction of Mike Trout for MVP. The Monkey Says: As has almost every other publication I have seen. Many of them are also predicting a Nats-Angels World Series too. The Story: The Angels have one of the toughest schedules in the month of April. The Monkey Says: Hell yeah they do. All the more reason that they can't afford another slow start like last year. If they come out with bullpen issues or underperforming starting pitching, they are going to get their heads handed to them in the first month. The Story: A radio station in New Jersey will broadcast every Angels game this season. The Monkey Says: That's awesome, but it is also weird because it isn't as if New Jersey never produced a ballplayer before. I mean, it isn't like Trout is from some small town of 50 people in Idaho. Still, I'm amazed that MLB signed off on it given their arcane blackout and territory rights rules. The Story: Josh Hamilton is curious what kind of reaction he will get in Cincinnati. The Monkey Says: I'm surprised he has never been back, although interleague match-ups are screwy. What I don't get is why Reds fans would have any strong feelings toward him since he was only there for a year. It honestly, never even occurred to me that he might get a strong reaction one way or the other. The Story: The Angels have the largest amount of "dead" money on their payroll. The Monkey Says: Well, it could've been an even larger amount if they had Wells on the roster still. Get it? Because he was dead money even on the roster. Because he stinks. Vernon Wells is bad at baseball. The Story: A look at the Opening Day payroll for the Halos. The Monkey Says: They are paying $127 million in actual player salary, but that doesn't account for the aforementioned $10+ million in dead money. Amazingly, the Halos actually slashed payroll all the way down under $140 million this season, which they claimed they wanted to do to start the off-season, but was only made possible because of the Wells trade. It is the gift that keeps on giving. The Story: Can Albert Pujols return to form in 2013? The Monkey Says: I'll be honest, probably not. He is well past 30 and his body is breaking down almost as fast as his plate discipline. As much as I want to put on the rose-colored glasses, I just don't see anyway in which Pujols doesn't become a liability very soon. He should be pretty good in 2013, but I think this might be his last hurrah at being an MVP candidate, but even that might have passed him by. [follow]
Original Story:
http://www.monkeywithahalo.com/2013-a...
THE BACKYARD
BEST OF MAXIM
RELATED ARTICLES
(Photo by Jeremy Long - jlongphoto.com) By Robert Cunningham, AngelsWin.com Staff Writer 2013 Outlook: Bourjos has been a very polarizing figure among Angels fans. Some point to his 2012 season as an indicator of his true offensive performance level while others look at his 2011 breakout season and feel that reflects his true aptitude. There are a couple of reasons why you...
Boo Josh Hamilton or cheer Josh Hamilton when the Los Angeles Angels come to Arlington Friday? Thats a question a lot of people want to know the answer to. But theres another option out there too. Its the Silence for Josh campaign, who sprang to life in the wake of Hamiltons spring training comments that Dallas wasnt a baseball town. Apparently its a pretty big movement too. Theres...
The April 2nd, 2013 edition of daily news for the Los Angeles Angels including Trout got chills on Opening Day, comparing the worst case Angels to the best case Astros and much more... The Story: Mike Trout got chills for his first Opening Day. The Monkey Says: I completely forgot that he hadn't done the Opening Day thing before. Maybe that explains why he struck out...
It's been a long ride with three months of player profiles culminating in our number one player for 2013, Mike Trout!Honestly, Trout's position atop our rankings shouldn't come as any surprise (and not just because you already know who the other 199 players in our top 200 are). What Trout accomplished in five months last season goes beyond words I even joked on Twitter that...
Opening Day is here and with them comes the much anticipated return of our weekly Angels Player Power Rankings. Future rankings will focus mostly on recent play, but to start the year, we base them off of season expectations (Yay, Trout!) and spring performance (Sorry, everyone in the bullpen.)... RANK PLAYER COMMENTS 1 ...
  By Brian Waller, AngelsWin.com Columnist Finally, opening day has arrived for the Halos! The 2013 season is set to kick off for the Angels at the Great American Ballpark in Cincinnati, Ohio as the Angels and Reds lock up for a 3-game series. After a loooong month and a half of watching meaningless games, we now get to watch the Halos play in meaningful games! Game Date/Times...
Hank Conger pinch hit for Josh Hamilton and smacked a two-out homer in the bottom of the ninth inning to give the Los Angeles Angels a 2-1 victory over the Dodgers on Saturday night in the teams' final exhibition game. The teams agreed to end the game after nine innings if the game was tied. Yimi Garcia struck out his first two batters before Conger drove a 1-0 pitch a few rows...
Josh Hamilton is back where it all started. The outfielder got a standing ovation for his pinch-hit appearance at Great American Ball Park on opening day 2007, a moment that completed his comeback from years of drug abuse. He'll get another grand introduction on Monday when his new team, the Los Angeles Angels, opens against the Reds. It'll feel a bit like home. '...
With dawn about to break on a new Angels season, there is a ton of anticipation tempered with a few nagging questions. Time will answer these for me, but I don't have that kind of patience, so call them concerns or curiosities, here's my top 5. 5) How will they start? Better than last year. Frankly, it'd be hard to start worse. Everyone who we expected to be fit, is...
This may be a first: a southern New Jersey radio station will be airing all 162 Los Angeles Angels games this year because of the local popularity of Mike Trout. Via USA Today: "WSNJ-AM 1240 will broadcast all 162 Los Angeles Angels games after reaching an agreement with Major League Baseball and the Angels to re-broadcast KLAA-AM's feed from Anaheim. The station...
One of my favorite posts to write each year is my official predictions for the season (as opposed to my unofficial predictions, which don't exist). I love the post despite the fact that I am generally quite horrible at predicting things. Don't believe me? Well, if the court allows, allow me to enter into evidence the following predictions I made last season that went horribly...
Johnny Manziel will be throwing out the first pitch at Sunday, April 7th's Texas Rangers vs Los Angeles Angels game. Because he is Johnny Manziel.
MLB News

Delivered to your inbox

You'll also receive Yardbarker's daily Top 10, featuring the best sports stories from around the web. Customize your newsletter to get articles on your favorite sports and teams. And the best part? It's free!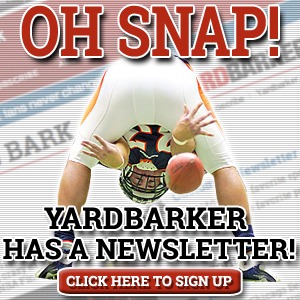 Latest Rumors
Best of Yardbarker

Today's Best Stuff

For Bloggers

Join the Yardbarker Network for more promotion, traffic, and money.

Company Info

Help

What is Yardbarker?

Yardbarker is the largest network of sports blogs and pro athlete blogs on the web. This site is the hub of the Yardbarker Network, where our editors and algorithms curate the best sports content from our network and beyond.