Found February 22, 2013 on Monkey with a Halo:
PLAYERS:
Scott Downs
,
Chad Cordero
,
Kevin Jepsen
,
Erick Aybar
,
Fernando Cabrera
,
Efren Navarro
,
Mike Trout
,
Miguel Cabrera
,
Mark Trumbo
,
Michael Kohn
,
Albert Pujols
TEAMS:
Los Angeles Angels
,
Detroit Tigers
The February 22nd, 2013 edition of daily news for the Los Angeles Angels including Scott Downs interested in an extension, Cordero's return from tragedy and much more... The Story: Scott Downs is interested in signing a contract extension. The Monkey Says: Yeah, not so much. Downs was terrible in the second half of last season and plagued by shoulder problems, so even a one-year extension seems like a huge risk at this point. The Story: The tale of Chad Cordero's comeback from injury and the death of his infant daughter. The Monkey Says: My son is seven weeks old, so things definitely got a little dusty in the Monkey Mansion when I read this one. The Story: Kevin Jepsen is coming into the camp looking to change absolutely nothing. The Monkey Says: See? This is what I am talking about with Frieri screwing around with a cutter. Jepsen got obsesses with developing a two-seamer to offset his cutter and it ended up hurting him. Keep it simple, Ernie. The Story: The final World Baseball Classic rosters have been finalized. The Monkey Says: Erick Aybar will play for the Dominican Republic and as a result will see early action in the Cactus League. Non-roster invitees Fernando Cabrera (Puerto Rico) and Efren Navarro (Mexico) will also participate and thus probably forfeit what little chance either had of making the Opening Day roster. The Story: Mike Trout and Miguel Cabrera bonded after their AL MVP race. The Monkey Says: Don't they know that their race was a holy war between bloggers and the mainstream media? This is like finding out Reagan and Gorbachev had secret sleepovers in the middle of the Cold War. The Story: Mark Trumbo is doing everything he can to prepare for being a full-time designated hitter. The Monkey Says: Trumbo doesn't get nearly enough credit for his work ethic and how well he has accepted all the various roles and challenges that the Angels have thrown him already in his short career. The Story: Michael Kohn will pitch in one of the Angels' Cactus League game on Saturday. The Monkey Says: Wow, he really is pretty far ahead of schedule. I still think he is going to have to spend some time in Triple-A first, but all the reviews he is getting in camp are pretty great thus far. Then again, Mark Trumbo's defense at third base got good reviews last spring, so... The Story: Albert Pujols is still hungry to win another World Series. The Monkey Says: As long as he doesn't get hungry for donuts and McRibs until after the end of his contract, then this is the kind of hunger I support. The Story: The annual Angels Baseball Foundation 5K is scheduled for March 30th. The Monkey Says: If that is something that interests you. [follow]
Original Story:
http://www.monkeywithahalo.com/2013-a...
THE BACKYARD
BEST OF MAXIM
RELATED ARTICLES
The February 21st, 2013 edition of daily news for the Los Angeles Angels including Pujols won't play in games until mid-March, Rangers fans to give Hamilton the silent treatment and much more... The Story: Albert Pujols will not appear in Cactus League games until mid-March at the earliest. The Monkey Says: Most guys like Pujols don't play in games the first week...
Careful. Do not look directly in Mike Trout's eyes for too long or risk being sucked into his vortex. How can you not be mesmerized by Mike Trout? He dazzled the crowd last season with superhuman leaps at the wall to rob home runs, acrobatic diving plays, and fierce strength at the plate. He does it all with a sparkle in his eye that is simply hypnotic. The kid has charisma and...
By Christian Ilten, AngelsWin.com Contributor -- The date is December 8th, 2012. The Los Angeles Angels of Anaheim, who had recently completed the 50th Year in Franchise History decided that the 2 year reign of the Texas Rangers would be halted, as owner Arte Moreno went all in, with the aid of GM Jerry Dipoto, signing a 10 year contract with slugger Albert Pujols, along with...
Yep, he's still here. The object of every Angels fan's ire, Vernon Wells is back for a third season of what is sure to be more disappointment even though the bar continues to get lower and lower. 2012 Stats: 262 PA, .230 AVG, .279 OBP, .403 SLG, 36 R, 1 HR, 29 RBI, 3 SB, 1 CS, 35 K, .296 wOBA, 91 OPS+, 0.6 fWAR 2013 ZiPS Projections: 449 PA, .248AVG, .290 OBP, .426...
A major part of Jerry Dipoto's bullpen rebuilding plan, Sean Burnett brings a lot to the table, including a crooked hat, question marks about his health and ability to repeat his stellar 2012 performance. 2012 Stats: 56.2 IP, 1-2, 2 SV, 2.38 ERA. 2.79 FIP, 58 H, 12 BB, 4 HR, 57 SO, 2.51 GB/FB, 1.1 fWAR 2013 ZiPS Projections: 56.1 IP, 3.51 ERA. 3.40 FIP, 54 H, 17 BB, 5...
In my first article, I wrote about the limitations of the linear weights system that wOBA is based on when it comes to the context of unusual team offenses. In my second, I explained how Tom Tango, wOBA's creator, also came up with a way of addressing some of these limitations by deriving a new set of linear weights for different run environments, thanks to BaseRuns. Today, I will...
MLB News

Delivered to your inbox

You'll also receive Yardbarker's daily Top 10, featuring the best sports stories from around the web. Customize your newsletter to get articles on your favorite sports and teams. And the best part? It's free!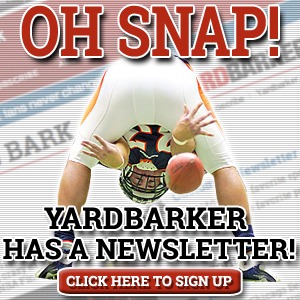 Latest Rumors
Best of Yardbarker

Today's Best Stuff

For Bloggers

Join the Yardbarker Network for more promotion, traffic, and money.

Company Info

Help

What is Yardbarker?

Yardbarker is the largest network of sports blogs and pro athlete blogs on the web. This site is the hub of the Yardbarker Network, where our editors and algorithms curate the best sports content from our network and beyond.