Found May 22, 2012 on Monkey with a Halo:
The May 22nd, 2012 edition of daily news for the Los Angeles Angels of Anaheim including Vernon Wells out 8-10 weeks due to thumb surgery, Kole Calhoun and Bobby Cassevah called up, Mike Trout is going "God Mode" and much more... The Story: Vernon Wells will be out 8-10 weks with a torn ligament in his thumb. The Monkey Says: Insert "addition by subtraction" joke here.  This sucks for Vernon as he was starting to show signs of life, but now he'll have to start at square one in two months, assuming Peter Bourjos doesn't play well enough to make Vernon obsolete by then.  Other than the depth hit the Angels take, this probably does make them any worse since even with Wells playing well, he still wasn't out-producing what Bourjos did last year and definitely wasn't providing the same defensive value. The Story: The Angels recalled Bobby Cassevah and Kole Calhoun to take the spots of Vernon Wells and Ryan Langerhans on the roster. The Monkey Says: Calhoun is a solid prospect who could challenge for a starting spot next season, but he probably isn't quite ready to be a contributor.  At best, he'll see time as a defensive replacement for Trumbo until Torii Hunter returns, whenever that is.  As for Cassevah, he was strong down the stretch last season but was very slow to recover from a shoulder problem in spring training.  In fact, he had been pretty lousy in Triple-A until about a week ago.  If he performs well enough, he should stick on the roster when Hunter comes back.  Even if he doesn't perform well, he should still be safe from demotion because David Pauley is just awful. The Story: Mike Trout goes "God Mode." The Monkey Says: I love the point in there about Trout's BABIP.  It is impossibly high right now, so he will regress before long, but his speed gives him such a huge advantage that he could sustain a higher BABIP than most mortal players.  Still, a .400+ BABIP is bonkers. The Story: For the next short while, the Angels are playing their outfield of the future. The Monkey Says: I'm still not sold that this is, in fact, the outfield of the future.  The Angels have a few guys who could slot into the corner spot next seas, including Vernon Wells if only because the team clearly isn't willing to give up on him.  They definitely need to find a permanent spot for Mark Trumbo, but they also need to find a permanent third baseman, so it would behoove them to see if they can't find a way to make his transition to the hot corner work somehow. The Story: Yesterday was the 20th anniversary of the Angels' team bus crash. The Monkey Says: That is only fitting because this whole season has felt like a prolonged bus crash. The Story: Albert Pujols has brough is OhYeah! product endorsement with him to Anaheim. The Monkey Says: And here I was thinking that he was going to bring a dangerous bat and some wins... oh, well, at least we've got a "nutrition shake."  That'll solve everything! The Story: The Angels stink, but yet we still watch, but why and for how long? The Monkey Says: I'm with you, James.  I'm still watching even though it breaks my heart most nights.  I want to quit after every soul-crushing loss, but I always come back the next night.  I'm sure I'll reach a breaking point sooner or later, but I keep hoping the Halos turn it around before that point comes. [follow]
Original Story:
http://www.monkeywithahalo.com/2012-a...
THE BACKYARD
BEST OF MAXIM
RELATED ARTICLES
Angels outfielder Vernon Wells tweeted the bad news himself: He's going to need surgery to repair a torn ligament in his right thumb. Wells was injured in the second inning Sunday in San Diego when he stole second base after drawing a leadoff walk against the Padres. He played left field for a half inning but then left the game. Manager Mike Scioscia said after the game, a...
Another day, another setback in the Los Angeles Angels' maddening start. Vernon Wells was diagnosed Monday with a torn ligament in his right thumb that will require surgery, sidelining the high-priced outfielder for at least eight to 10 weeks. ''Any time you lose a guy that you're counting on who has maybe shown some signs of getting back to his game, it's unfortunate...
Los Angeles Angels outfielder Vernon Wells will undergo surgery on the ulnar collateral ligament in his right thumb on Tuesday, the team announced on Monday. Wells sustained the injury while stealing second base during Sunday's game. He is expected to be sidelined about 8-10 weeks. Wells, 33, is hitting .244 with six homers in 38 games this season.
OAKLAND, Calif. In baseball, nothing ever stays the same. It's a game constantly in motion, always changing, always unpredictable. Six weeks ago, on opening night, the Angels' starting outfield was Vernon Wells in left, Peter Bourjos in center and Torii Hunter in right. Monday night, as they began a three-game series against the Oakland A's, their outfield was Mike...
Headed to the surgeon Los Angeles Angels' outfielder, Vernon Wells, will need surgery on his right thumb. Wells tweeted the news himself. He will have surgery Tuesday to repair a tear in his ulnar collateral ligament. According to Jon Morosi of FoxSports.com, Wells will likely be out eight to ten weeks. Wells is currently hitting .244 with six home runs in 38 games. He is the Angels'...
1. Mike Trout - He's already the best player on the Angels, but I think most of us knew that going into the season.  His .400 BA in AAA did nothing to deter that, but one has to question Scioscia's sanity for waiting so long to promote him.  In the first 20 games without Trout, the Angels were 6-14.  The next 20 games with Trout, 12-8.  That's no coincidence either...
Much-maligned Angels outfielder Vernon Wells tweeted out tonight that he has a torn ligament in his thumb. LA Times beat writer Mike DiGiovanna then tweeted that he expected Wells to be out at least eight to ten weeks with the injury. Wells injured the thumb on a stolen base attempt in the second inning of Sunday's game against the Padres. Angels fans (including our own Scotty...
The May 21st, 2012 edition of daily news for the Los Angeles Angels ...
SAN DIEGO At the end of a very bizarre, very long, very emotionally deflating day, the Angels were left with two important issues that now define their season. First, they are clearly an offensively challenged team that continually fails to produce with runners in scoring position. Second, injuries are beginning to take a toll. That's a bad combination for a team that has...
Max Scherzer (credits below) You know it's been a good day in baseball when a guy with the last name 'Van Slyke' has a pinch-hit homer, one of the best hitting prospects in baseball gets called up for his first major league game, and MLB's most interesting starter takes the mound.The aforementioned Scott Van Slyke slugged his first major league homer as a 25-year-old rookie...
Xander Bogaerts, SS/3B, Boston Red Sox Current Level: A+ 2012 Top 15 Prospects Ranking: 1st Current Value: Star-in-the-making Bogaerts lept into the hearts of prospect watchers (and diehard Boston fans) last season when he took the full-season South Atlantic League by storm and produced a wRC+ of 120 despite his relative lack of experience. Bogaerts, still just 19, is now leaving...
Here are a few more links for you today. Derek Toadvine (Kent State) has been signed by the Orleans Firebirds. He is hitting .249-0-14 this season and the Flashes will take on Buffalo today in the MAC tourney. **Stats The NYCBL has released their 2012 All-Star itinerary.  **Link The Northwoods League is proposing to renovate Simmons Field in Kenosha, WI. **Article The Springfield...
Angels News

Delivered to your inbox

You'll also receive Yardbarker's daily Top 10, featuring the best sports stories from around the web. Customize your newsletter to get articles on your favorite sports and teams. And the best part? It's free!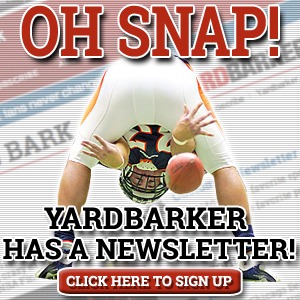 Latest Rumors
Best of Yardbarker

Today's Best Stuff

For Bloggers

Join the Yardbarker Network for more promotion, traffic, and money.

Company Info

Help

What is Yardbarker?

Yardbarker is the largest network of sports blogs and pro athlete blogs on the web. This site is the hub of the Yardbarker Network, where our editors and algorithms curate the best sports content from our network and beyond.