Found June 11, 2012 on Monkey with a Halo:
The June 11th, 2012 edition of daily news for the Los Angeles Angels of Anaheim including Wilson voted most overrated, C.J. upset at CarGo's bunt hit, Hawkins activated and much more...
The Story: A poll of MLB players rated C.J. Wilson as the most overrated pitcher.
The Monkey Says: Man, I'd sure hate to see how good Wilson would be if he was pitching up the unjustified hype that he is supposedly getting.  The thing to keep in mind is that this was an off-season poll, so players may have been a bit jealous of the big money and attention he got.  Also, Texas fans were hating on him big time (and still are) so it has become somewhat trendy to bash Wilson in recent months.  For his part, Wilson says the poll doesn't bother him.
The Story: C.J. Wilson is a bit irked at Carlos Gonzalez for bunting on him to break up a no-hit bid... in the fourth inning.
The Monkey Says: Oh, right, this is why everyone thinks Wilson is a douchebag.  There is absolutely nothing wrong with a bunt there.  Not only was it very early in the game, but it was a 2-0 at the time.
The Story: LaTroy Hawkins was activated from the disabled list with Bobby Cassevah being sent down to Triple-A.
The Monkey Says: Hawk is coming back just in time as Walden has gone into a funk again.  As for Cassevah, good riddance to bad rubbish.
The Story: Mike Scioscia has no intention of asking Mike Trout to play more carefully to prevent injury.
The Monkey Says: Amazingly, these comments were made BEFORE Trouty faceplanted into the outfield wall twice Sunday afternoon.  I actually agree with Scioscia though.  Letting instinct take over is almost always better than trying to get a guy to constantly think about what the right thing to do is.  It is when apprehension or hesitation slip into the decision-making process that bad things happen.  That being said, I don't see how Trout is going to be able to avoid the DL if he continues to play with such reckless abandon.  That might work for him at age 20, but when he bounces off a wall at age 30, he may not get up so quickly.
The Story: Chris Iannetta rehab assignment has been pushed back to Monday after he experienced some forearm stiffness.
The Monkey Says: Hopefully this doesn't turn into a larger setback.
The Story: Despite his greatly reduced role, the Angels insist that they aren't looking to trade Peter Bourjos.
The Monkey Says: I have the feeling this is going to be a statement the front office has to issue every two weeks.
The Story: Mike Trout feasts on pitchers when he sees them for the second or third time in the game.
The Monkey Says: We are dealing with very small sample sizes in those stats being shown, but it does highlight Trout's ability to make adjustments very quickly.  However, sooner or later teams will adjust to Trout and stop throwing him so many fastballs.
The Story: Albert Pujols credits increased patience at the plate for his recent improvement with the bat.
The Monkey Says: Not swinging at everything is a good idea?  Who knew?
The Story: Jerry Dipoto is feeling "comfortable" with the current roster.
The Monkey Says: The team is clicking right now, so it is easy to see why he says that.  However, Dipoto strikes me as a shark, always moving.  If he gets a chance to bring some stability to the two-hole and/or third base, I very much expect him to jump on it.
[follow]
Original Story:
http://www.monkeywithahalo.com/2012-a...
THE BACKYARD
BEST OF MAXIM
RELATED ARTICLES
LOS ANGELES At some point, the superlatives are going to sound trite. How many times can you say good things about Mike Trout without going over the top, without anointing him The Next Great Player in the game? Every time he does something special, it becomes a challenge to describe his talent, to put into words his enormous baseball skills. He's been compared to Mickey Mantle...
The June 12th, 2012 edition of daily news for the Los Angeles Angels ...
I don't know about you but this Angels team has been something of an enigma all year. Are they a power hitting team? Are they a pitching and defense squad? What on earth drives this team and how will we know it when we see it? Today I think we finally figured it out. This is Mike Trout's team. He is driving the engine and the rest of the boys are along for the ride. Angels...
After all the time and effort and attention put into turning Mark Trumbo into a third baseman, Albert Pujols has played there more often than Trumbo over the past 35 games. With the Angels playing six consecutive interleague games in Colorado and Los Angeles without the DH, the Angels opted to move Pujols to third for a game in Colorado and start Kendrys Morales at first base in...
Rediscovering patience at the plate has helped Albert Pujols and his new team turn their season around. Pujols homered and singled to drive in four runs, Mike Trout had three hits, including a two-run single, and Dan Haren pitched effectively into the sixth inning to lead the Los Angeles Angels to their eighth straight road win, 11-5 over the Colorado Rockies on Saturday. Pujols...
They say that no lead is safe at Coors Field.  Well, that should go double for anytime Ervin Santana is the one charged with protecting said lead at Coors Field.  Leave it to good ol' Big Erv to take a 6-1 lead in the second inning and turn it into a ballgame that was a lot more interesting than it needed to be. The point I think was best made by Victor Rojas and Mark Gubicza...
Mark Trumbo (credits below) Mark Trumbo simply continues to tear the cover off of the ball for the Angels.  The big man went 2-for-3 from the plate on Sunday and knocked his 13th and 14th homers out of the park to go along with 6 RBI on the night.  Over the past 14 days Trumbo has been the 3rd best fantasy player according to Yahoo!, and he's got multi position eligibility...
The Angels' Mike Trout is a definite All-Star, and the Nationals' Bryce Harper should be in the game, too. We are talking, quite possibly, about a baseball version of Magic Johnson and Larry Bird, two once-in-a-generation players we'll be comparing for the next 20 years. There is no other way to say it: Something will be terribly wrong if the two prodigies do not represent...
For those of you who know me personally, I am not a religious man.  I don't think I've actually prayed for anything since I was a little boy.  However, I now have a prayer to call my own.  A prayer to my personal lord and savior Mike Trout.  It goes a little something like this: Our Trout who art in center (and sometimes left or right),hallowed be thy name.Thy MVP will...
Dodgers manager Don Mattingly rolled the dice and Albert Pujols made him pay. The Angels had Mike Trout on second base representing the go-ahead run in the ninth inning with Pujols at the plate and first base open, but Mattingly decided against walking him and pitching to cleanup hitter Mark Trumbo. Pujols muscled a broken-bat single into left field with two outs in the top of...
The Los Angeles Angels are currently on a 14-4 run, resulting in them picking up five games in the AL West (in just three weeks!) and putting them within spitting distance of the Texas Rangers at the top of the division. Their southern California counterparts, the Los Angeles Dodgers, haven't had to make up ground. They've been in first place all year, and possess the...
@ Los Angeles Angels of Anaheim @ Colorado Rockies Pitching Probables: LAA – Ervin Santana (2-7, 5.33 ERA)  COL – Christian Friedrich (4-1, 4.50 ERA) Game Info: 12:10 PM PT; TV - Fox Sports West; Radio - KLAA 830 The last time we saw Ervin Santana, he was pitching in such a fashion that one couldn't help but wonder why there seemed to be a smell of excrement wafting...
MLB News

Delivered to your inbox

You'll also receive Yardbarker's daily Top 10, featuring the best sports stories from around the web. Customize your newsletter to get articles on your favorite sports and teams. And the best part? It's free!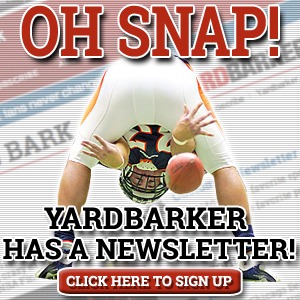 Latest Rumors
Best of Yardbarker

Today's Best Stuff

For Bloggers

Join the Yardbarker Network for more promotion, traffic, and money.

Company Info

Help

What is Yardbarker?

Yardbarker is the largest network of sports blogs and pro athlete blogs on the web. This site is the hub of the Yardbarker Network, where our editors and algorithms curate the best sports content from our network and beyond.