Found March 12, 2013 on Fox Sports North:
By Craig HandelSpecial to FOXSportsNorth.com FORT MYERS, Fla. Six years. Maybe seven. That's the last time Rich Harden's shoulder felt as good as it has the past few weeks. His right arm has been at the right angle, his elbow where it should be. The ball came out of his hand the way he wanted, and what's best is he's starting to throw instinctively. "I didn't think about it," said Harden, who the Twins signed to a minor-leage contract in the offseason. "It's coming along. To have a day (March 5) like that. I haven't felt like that in a while." It has been 13 months since Harden, 31, had surgery to tighten his shoulder capsule. The procedure kept him out of the 2012 season. He's hoping this is the magic mend after injuries have put him on the disabled list 10 times in the past nine years and prevented him from pitching 100 innings four of the past nine seasons. "The decision to do surgery was the right decision," Harden said. "I think it makes it a little easier in that I want to do this right after the surgery and rehab. So I'm not expecting to be back at a certain time. I'm just going day-to-day on it. I'm doing everything I can. I feel better because I'm making progress." Twins pitching coach Rick Anderson agreed there's no set date on a return because the 6-foot-1, 190-pounder first must string together a number of successful throwing sessions. Harden has been going through stretches of great day, great day, great day, so-so; feels good, feels good, feels good, feels OK. "The biggest think I know is that we've talked to him and talked to the trainers about is range of motion," Anderson said. "We need to get him back with that stretch before his release. That means more flexibility. The shoulder also is tight, so we want to get him consistent and flexible." From 2003-06, Harden showed flashes of being one of baseball's power pitchers. In that time, he went 30-16 with the Oakland Athletics while striking out 404 in 439 innings. "I saw him when he was in his prime coming up Double-A and Triple AAA," Twins reliever Jared Burton said. "Effortless velocity and the stuff he had. His velocity is down a tick from then, but he has those fast-twitch fibers, man. You'd look at the gun, 96 miles an hour." "If he can stay on the field, he'll be a huge, huge asset for us." Injuries have kept Harden off the field a lot in his career. 2005: Missed a month with an oblique injury and later underwent labrum surgery on his left shoulder. 2006: Had two long stints on the disabled list (sprained his right ulnar collateral ligament, strained lower back). 2007: Made another trip to the DL (shoulder impingement). 2008: Lasted until just his second start when he returned to the DL. 2009: Suffered a lower back strain that put him on the DL. 2010: Returned to the DL (gluteal strain, strained left hip). 2011: Trade to Boston was voided when the Red Sox front office looked at his medical records and felt he wouldn't make it through season without an injury. 2012: Missed season due to shoulder strain. Had shoulder surgery. When he's been on the mound, Harden has been excellent. His career numbers include a 59-38 record and a 3.76 ERA with 949 strikeouts in 928 13 innings. Though he has a 1.30 WHIP, batters have hit just .228 against him. However, Harden often paid a nasty price when he pitched. To compensate for his shoulder problems, he changed mechanics, which seemed to make his injuries worse. He also felt like he was pushing the ball instead of throwing it. "He got in bad habits when his shoulder hurt and he tried to compete," Anderson said. Harden recalled one game where his fastball was clocked at 82 mph before a start. "But I got through," he said. However, the pain started to affect him off the field. "Oh, yeah," he said. "I'd wake up in the middle of the night. I had trouble putting on my seat belt so I used my left hand."Everything was hard." During the rehab, Harden needed to break his old mechanics and retrain his muscle memory. Anderson talks about him getting on top of the ball, which Harden understands as being able to throw more overhand. That will give him a better downward angle on his pitches. "The idea is to finish with a good backspin, which gives the ball that extra jump when it goes though the zone," Harden said. "The more repetitions you do correctly, the more it becomes muscle memory. You're training yourself, but part of it is doing it instinctually every time. Right now, if you broke it down, I'm thinking about it more. "I'm definitely learning things all over again, but that's the way it is." Harden started throwing off a mound but recently has spent more time throwing long toss from 120-150 feet. He's thrown mainly fastballs and straight changes. He yearns for the day when he can throw his combination split-finger, knuckleball pitch called a spluckle. "It's like a forkball, goes down," he said. "Not a lot of spin. It's something I got away from for a while. I just haven't been able to throw it." He remains in good spirits despite the uncertain return date. A recent talk with his surgeon, the renowned Dr. William Andrews, encouraged him. "He was happy where I was at," Harden said. "He said, It's gonna take time. There will be good days and not-so-good days.' "It does take time. It's a long process."
Original Story:
http://www.foxsportsnorth.com/03/12/1...
THE BACKYARD
BEST OF MAXIM
RELATED ARTICLES
The Minnesota Twins have made another round of cuts in spring training, optioning six players Monday to minor league camp. The team announced that catcher Chris Herrmann was optioned to Triple-A Rochester, while pitchers B.J. Hermsen, Trevor May and Michael Tonkin, catcher Josmil Pinto and infielder Danny Santana were optioned to Double-A New Britain. None of those moves came as...
What else can baseball fans do in January but dream of October? In You May Say I'm a Dreamer, the Outside Corner staff will imagine the route to a World Series in 2013 title for all 30 teams. You want improbable? How's *this* for improbable: the Minnesota Twins are World Champions despite a patchwork, mediocre rotation and an offense that seemed to be better in 2008 than...
Ask the casual fan about the Minnesota Twins, and you'll probably be amused by the responses. Everyone can probably name Joe Mauer, most can name Justin Morneau, and then...uh, well, I bet that some can come up with the name Josh Willingham. And then, nothing. How many casual fans can name even one member of the Twins pitching staff? What I'm trying to imply is that while...
Continuing from this morning's season preview of the Minnesota Twins... Simply put, will the Minnesota rotation be good enough to push them into contention in 2013? The Twins rotation is...well, calling them a motley bunch might not be the appropriate terminology. The Opening Day status of their best starter from a year ago, Scott Diamond, is up in the air after he had...
It really wasn't that long ago that the Minnesota Twins were the class of the AL Central -- from 2001 to 2010, the Twins finished first or second in the division eight times. That's an incredible run for a small-market club, even if they could never figure out a way past the Yankees. After muddling through two years of injuries, bad pitching and back-to-back last-place finishes...
In the This Is My Nightmare series, we'll take a look at what the absolute worst case scenario for each team would be in 2013. Think of it as the negative complement to our You May Say I'm A Dreamer series that we'll be running during our preview series. I think the last two seasons were enough of a nightmare for the Minnesota Twins. The team lost 96 games in 2012...
Vance Worley will be displaying his uniquely-diverse repertoire in the Twin Cities this summer. Ditto his deception. Acquired by Minnesota from the Phillies in the Ben Revere deal, the 25-year-old right-hander throws six different pitches. They include a four-seam fastball that acts like a cutter and a cutter that acts like a slider. His delivery has produced a k-swing% markedly...
We've completed previews for four of the six divisions across baseball, and today, we start our fifth: the AL Central. The Tigers won the division last year after being favored heavily before the season, but not without a huge challenge from the Chicago White Sox. In 2013, the Tigers and White Sox looked primed to contend again, with the Royals potentially being a dark horse...
PORT CHARLOTTE (AP) Sure, Desmond Jennings wants to see more pitches per at-bat. Yes, he'd like to take more walks this season. And maybe this is the year he finally masters the bunt. But the Tampa Bay Rays center fielder and leadoff man sees his job as a simple one: get on base. He did that two more times on a Monday night, but the Minnesota Twins rallied to tie it in the...
FORT MYERS, Fla. (AP) -- Brian Matusz pitched four hitless innings and retired his first 11 batters before a walk in the Baltimore Orioles' 9-4 win over the Minnesota Twins on Wednesday night. After a season that saw him sent to the minors and then return as a reliable reliever, the left-hander is trying to earn a rotation spot with the Orioles. He struck out seven. Chris Dickerson...
MLB News

Delivered to your inbox

You'll also receive Yardbarker's daily Top 10, featuring the best sports stories from around the web. Customize your newsletter to get articles on your favorite sports and teams. And the best part? It's free!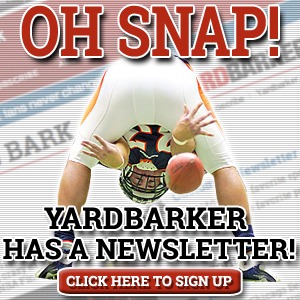 Latest Rumors
The Backyard

Today's Best Stuff

For Bloggers

Join the Yardbarker Network for more promotion, traffic, and money.

Company Info

Help

What is Yardbarker?

Yardbarker is the largest network of sports blogs and pro athlete blogs on the web. This site is the hub of the Yardbarker Network, where our editors and algorithms curate the best sports content from our network and beyond.