Found April 05, 2013 on Taking Bad Schotz:
Think back 10 years. What do you remember about the MLB? I remember stars all over the place. Bonds, Sosa, McGwire, Nomar, Clemens, and A-Rod just to name a few. Albert Pujols was beginning his 3rd season. Miguel Cabrera was about to splash on the scene as a skinny leftfielder for the Marlins. But just a few years later, something happened and these stars were gone. Bonds, Sosa, McGwire and Clemens retired and became tainted by steroid use. Rodriguez became tainted as well and also broke down with injuries. Nomar got hurt and fell out of the league. We lost our stars. Yes Albert Pujols had one of the most amazing 10 year stretches in MLB history, but his future is up in the air. 10 years after the MLB was filled with stars from Nomar to Bonds, we have a league with just a few stars. Photo: (Denis Poroy/ AP) Last year, two rookies dove onto the scene and took over the MLB. Mike Trout and Bryce Harper. Trout had a season never before seen in the history of the game. Harper was the 19 year old wonder-kid who made it to the Bigs after graduating high school early, leaving Junior College after one year, and spending just one year in the Minors. In just a few months, these two rookies brought some stardom, or at least potential stardom, back to Major League Baseball. Harper and Trout will forever be linked. They will be the MLB version of Magic and Bird. In 1979, the NBA was changing. The merger with the ABA had just been completed and the NBA signed its first deal with a cable television provider. Magic Johnson and Larry Bird played their rookie years in 1979. They brought with them a budding rivalry created in the 1979 NCAA Championship Game. Magic had more immediate success winning a championship in his first season and winning the Finals MVP. In 1984, Magic and Bird met in the NBA Finals for the first time. The Magic-Bird "rivalry" continued into the 1990s when both players retired. This "rivalry" between Magic and Bird changed the NBA. They both became stars, both became top 20 all-time players and both helped bring attention to the NBA and to basketball around the world. Photo: (Peter Read Miller/SI) The MLB can only hope that Trout and Harper form a Magic-Bird type relationship. In their first season in the Bigs, both made the All-Star team and both won the Rookie of the Year for their respective leagues. Both players are throwback, grind it out, hustle players. They are combinations of both Magic and Bird in that they have all the talent in the world but also make themselves even better by being smart. They both showed incredible raw talent in the field from Trout's web-gems to Harper's absolute cannon. And their smarts shone through on the basepaths where Harper's helmet flew off as he took extra-bases and Trout stole bases at ease. Both Trout and Harper made huge splashes and have put themselves in pre-season discussion for the MVP in just their second season. Trout and Harper are in similar situations, each will be the corner stone of teams that had great success last year. Both will play the outfield everyday with other stars on the field. And both had great expectations put on them before the second season began. There is no room for a "sophomore slump" for these two players, they are expected to be above that. And if they can beat the slump, they will be the stars the MLB has been searching for. via lockersmash.com Being in separate leagues, it is only a matter of time before Trout and Harper meet in the World Series, it could even be this year! The comparisons will go on forever between Trout and Harper. They will be competing for World Series and top star status. Eventually the two will be competing for top contract status and for the starting centerfield job on Team USA in a World Baseball Classic (or maybe Olympics if the sport is re-added and the MLB agree to allow MLB players to play). Trout and Harper have the chance to become the preeminent duo of the next decade and even more. People may be debating who is better, Trout or Harper like kids of the 50s with Willie, Mickey and the Duke (there is even a song about those three) or A-Rod, Nomar and Jeter in the late 90s early 2000s (but unfortunately, they don't have a song). Photo: (Christine Cotter/AP)   Trout and Harper are about to create something special. They are unbelievably marketable for the MLB. Almost anyway you look at it, Trout and Harper are exactly what Major League Baseball needs, just like the NBA was searching for stars like Magic and Larry. Bud Selig is probably salivating in the Commissioner's Office over the possibilities that arise when Bryce Harper and Mike Trout hit their potential. Personally, I want to see a new version of this Gatorade commercial. 34 years ago, Magic and Bird came onto the scene in the NCAA Championship Game and then carried that over to the NBA. Magic and Bird were incredibly influential on the National Basketball Association through the mid-90s when they retired. Trout and Harper have a chance to bring people back to baseball the way McGwire and Sosa brought people to the parks in 1998 with their home run race*. Trout and Harper will be invaluable to the league. At a time when the MLB needed marketable superstars, Trout and Harper splashed onto the scene and gave the league two young potential superstars. As I sit here writing this, I saw a commercial that only showed Mike Trout and basically said, if you want to see Mike Trout, watch Sunday Night Baseball. Trout and Harper are vital to the success of the league over the next 15-20 years as they play and maybe even longer if they can influence a young generation to play baseball. -Goldberg
Original Story:
http://www.takingbadschotz.com/?p=13238
THE BACKYARD
BEST OF MAXIM
RELATED ARTICLES
CHALLENGE ME TO A DUEL?
It's pretty safe to say that Bryce Harper is a breakout star, right?  I mean, the Washington Nationals wunderkind broke out in a huge way last season and, so far this season, doesn't appear to want to quit. But, it's his older brother Bryan, a pitcher with the Nats Class A affiliate Hagerstown, that's turning heads...but it has nothing to do with his pitching skills...
Above is a photo of Bryce Harper's family: dad Ron, mom Sherri, sister Brittany and big brother Bryan). This nice photo was taken in 2009 in Las Vegas. Since then, both brothers have moved on to playing higher level baseball: Bryce as a young phenom with the Washington Nationals (who has started off this young season in superstar fashion) and brother Bryan with Washington's Single...
So Bryce Harper had a fairly nasty collision with Marlins catcher Rob Brantly in the first inning on Thursday in the process of scoring on a double by Ryan Zimmerman  (video here). Screen cap of the aftermath above, via MASN. It sort of looked like Brantly threw an elbow to Harper's chin: Anyway, a day after Gio Gonzalez delivered an early candidate for quote of the...
Mike Trout will be the focus of a feature story in the April 2013 issue of GQ magazine and grace the cover of its "Style Bible" edition.  The article and photo spread will profile the Los Angeles Angels' 21-year-old phenom and his strong connection to his hometown Millville, N.J. GQ's Daniel Riley talked with Trout about living at his parents' home during...
The Nats took care of business today, sweeping the Marlins on the strength of yet another strong start, scoreless relief and the longball. That's three wins in a row to start the season, and, thankfully, they didn't lose baseball's most exciting player to a broken jaw either (via DC Sports Nexus): Now, I'm not sure how bad that looks to you, because the GIF is clipped pretty...
While Bryce Harper is tearing up the MLB, his older brother Bryan and his unbelievable mustache are dominating at life.
The April 5th, 2013 edition of daily news for the Los Angeles Angels including Mike Trout's strikeout problem, Hamilton ready to return to Texas and much more... The Story: A look at Mike Trout's one weakness of striking out too much. The Monkey Says: I don't think it is really a big deal, but it is weird that he whiffs so much given his good eye and approach...
Bryce Harper is off to a hot start as he heads to a ballpark he fared poorly in last season against a pitcher he has never faced. Harper will get his first look at Cincinnati Reds starter Homer Bailey on Friday night at the Great American Ball Park in the opener of a three-game set with a Washington franchise in search of its first 4-0 start in 30 years. The 20-year-old center...
It's always been on my sports bucket list to see Bryce Harper hit a home run live while I was at the park. Just 144 career games and 25 home runs into his big league career, I can cross it off my list. It never would have been made possible without the help of Mike Leake. Mike, we salute you. Also, some scout somewhere should be fired for giving Reds his blessing to draft this...
MLB News

Delivered to your inbox

You'll also receive Yardbarker's daily Top 10, featuring the best sports stories from around the web. Customize your newsletter to get articles on your favorite sports and teams. And the best part? It's free!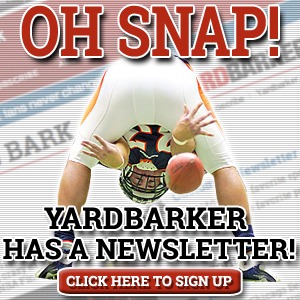 Latest Rumors
Best of Yardbarker

Today's Best Stuff

For Bloggers

Join the Yardbarker Network for more promotion, traffic, and money.

Company Info

Help

What is Yardbarker?

Yardbarker is the largest network of sports blogs and pro athlete blogs on the web. This site is the hub of the Yardbarker Network, where our editors and algorithms curate the best sports content from our network and beyond.