Found October 29, 2012 on IT IS HIGH, IT IS FAR, IT IS caught:
Thank God we didn't have to play the Giants. It would have taken them two games to sweep us in four. We wouldn't have gotten a hit - not one - and the Giants would still be batting in game two. The lead would be something like 104 to 0, and Nick Swisher would be pitching for us. Girardi would still be keeping A-Rod on the bench - resting him for the critical moment - and our best hope would be the hurricane.How did they build such a team without spending $400 million on payroll? Because that's what it would take us. Keep in mind that Brian Sabean, the general manager who built the Giants, is a former Yankee administrator. He's the Brian that couldn't handle working for maniacal old King George. We kept the Brian that maniacal old King George preferred. Hmm. And holy crap! look who else is up there in their baseball operations: Dirt Tidrow is the vice president of player personnel. Along with Felipe Alou, a special assistant, and guess who is the director of playe...
Original Story:
http://johnsterling.blogspot.com/2012...
THE BACKYARD
BEST OF MAXIM
RELATED ARTICLES
Timothy Burke, the video and screen-grab genius over at Deadspin, somehow caught this gem of a screenshot. The image features CSN Bay Area interviewing Matt Cain following the San Francisco Giants World Series sweep, while Ryan Theriot is in the background using the urinal to relieve himself.  Not much else needs to be said here. via Mocksession Article found on: Cosby Sweaters
Buffalo News (New York)October 21, 2012 Sunday Dear Editor:The Yankees have been eliminated and gone into hibernation. Unfortunately Cano, Rodriguez, Granderson and Swisher were already there long before they were swept by Detroit. Let's face it, without Ibanez's heroics, the Yankees wouldn't have gotten by Baltimore. Along with occasional contributions, Teixeira...
The New York Yankees have exercised their $15 million contract options for second baseman Robinson Cano and outfielder Curtis Granderson for next season. Cano hit .313 with 33 home runs and 94 RBIs this season and Granderson hit 43 homers and drove in 106 runs, but with a .232 average. The Yankees were swept in the ALCS by the Detroit Tigers, who went on to lose the World Series...
The New York PostOctober 21, 2012 SundayDear EditorAs a Yankees fan, I have this to say about Derek Jeter's injury:Winning teams overcome injuries. Losers make excuses. TONY ROCCAMO Bronx
Giants catcher Buster Posey had a two run home run down the left field line at Comerica Park during Game 4 of World Series.  This lucky fan was right in the line of the hit and unfortunately for his face, misjudged the path of the ball. I'm sure next time this guy will remember to bring his glove.
The Yankees are known to spend a bit too much money on washed-up stars. They've also been talking about changing their ways and trying to stay under the luxury tax threshold moving forward. But they're willing to pay for established, premium in-house talent -- that is, if the talent produces. Oh, the irony that New York just exercised two player options that will cost...
The New York PostOctober 21, 2012 SundayDear EditorEveryone has an opinion on the Yankees' embarrassing ALCS showing. What cannot be debated is the entire team's carefree demeanor throughout the playoffs. This is about a group of men who showed no heart, no fight and no passion for the game. They rolled over and played dead, a huge smack in the face to every loyal Yankees...
The New York Yankees made two big signings on Monday, locking up sluggers Robinson Cano and Curtis Granderson through next season. While these two signings came as no surprise -- even though Cano and Granderson struggled mightily in the postseason -- the biggest news of the New York offseason may come from another aging star. Alex Rodriguez had a miserable postseason...
The MVP - Most Valuable Panda - sat in the interview room and smiled. A trophy, another World Series ring and the best nickname in baseball all were his. Pablo Sandoval, the Kung Fu Panda, was voted World Series MVP following the San Francisco Giants' sweep of Detroit. He hit .500 with three home runs, a double and four RBIs in 16 Series at-bats. ''I was ready for...
It's over, and it's done. The 2012 MLB season is in the books, and the San Francisco Giants are World Champions. -Giants 4, Tigers 3 (ten innings) Well, where do we go from here? The offseason is now officially upon us, and before we go fully into offseason mode, we're going to reflect on the Giants World Series victory, with five observations from the series...
NBC Sports Baseball Analyst Darryl Hamilton joins Fox Sports Tonight to recap the San Francisco Giants World Series victory.
Tiger Hitters, Not Looking Spry 10) If you are not a Tiger or Giant fan, and are still watching this series, you are, well, me9) This game has 2 runs and 12 hits, and since both of them happened in the second inning, so if didn't tune in early, you really didn't need to tune in at all8) As the Tigers are the first AL team since 1919 to suffer back to back World Series shutouts...
MLB News

Delivered to your inbox

You'll also receive Yardbarker's daily Top 10, featuring the best sports stories from around the web. Customize your newsletter to get articles on your favorite sports and teams. And the best part? It's free!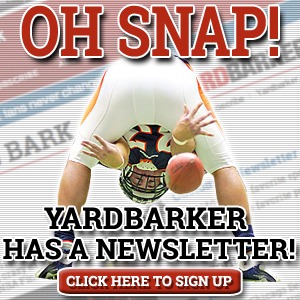 Latest Rumors
Best of Yardbarker

Today's Best Stuff

For Bloggers

Join the Yardbarker Network for more promotion, traffic, and money.

Company Info

Help

What is Yardbarker?

Yardbarker is the largest network of sports blogs and pro athlete blogs on the web. This site is the hub of the Yardbarker Network, where our editors and algorithms curate the best sports content from our network and beyond.