Found April 16, 2013 on Fox Sports:
PLAYERS:
Jedd Gyorko
,
Jesus Guzman
,
Chase Headley
,
Ryan Klesko
,
Conor Gillaspie
,
Jeff Keppinger
,
Tyler Greene
,
Angel Sanchez
,
Brent Morel
,
Gordon Beckham
,
Juan Francisco
,
Chris Johnson
,
Blake DeWitt
,
Chipper Jones
,
Evan Gattis
,
Brian McCann
,
Ryan Flaherty
,
Chris Davis
,
Wilson Betemit
,
Buck Showalter
,
Lonnie Chisenhall
,
Mike Aviles
,
Mark Reynolds
,
David Price
,
Jack Hannahan
,
Pedro Alvarez
,
Gaby Sanchez
,
Brandon Inge
,
Clint Hurdle
,
Josh Harrison
,
Kevin Youkilis
,
Jayson Nix
,
Eduardo Nunez
,
Alex Rodriguez
,
Gil Velazquez
,
Chris Nelson
,
Reid Brignac
,
Jordan Pacheco
,
Nolan Arenado
,
Josh Donaldson
,
Jed Lowrie
,
Eric Sogard
,
Luke Hughes
,
Adam Rosales
,
Scott Sizemore
TEAMS:
San Diego Padres
,
Chicago White Sox
,
Atlanta Braves
,
Baltimore Orioles
,
Boston Red Sox
,
Cleveland Indians
,
Tampa Bay Rays
,
Cincinnati Reds
,
Pittsburgh Pirates
,
New York Yankees
,
Colorado Rockies
,
Oakland Athletics
This week, we look at some interesting third-base situations from around the league. Without any further ado ... Padres Starter: Jedd Gyorko Next: Jesus Guzman On the mend: Chase Headley (thumb) Jedd Gyorko may have been the Padres' Opening Day starter at second base, but he spent six of the team's first eight games manning third base with Chase Headley out with a fractured thumb. However, he returned to second base Thursday through Saturday. Why? Because Headley should be back in the Padres' infield this week. His return should push Gyorko back to second on a full-time basis, and should push Jesus Guzman into a deeper reserve role. Other Observations: Gyorko slugged .588 last year at offensively-inflated Triple-A Tucson, but his power has been notably absent through 40-plus at-bats. Guzman's two starts at third base this past weekend were his first appearances at the position in his four-year career. Headley had 31 home runs and 17 steals in 2012, which made him the first Padre to record 30-plus home runs and 10-plus steals in a season since Ryan Klesko in 2001. White Sox Starter: Conor Gillaspie Next: Jeff Keppinger, Tyler Greene Injured: Angel Sanchez It is quite telling that the White Sox did not recall Brent Morel from Triple-A Charlotte over the weekend when it became evident that Jeff Keppinger would need to slide from his regular third base gig to second on an everyday basis to cover for the injured Gordon Beckham. Morel has a .372 OBP through his first 10 games at Charlotte, and his recall would not have cost the organization a 40-man spot (as Tyler Greene did). It either means they have a lot of confidence in Conor Gillaspie, or none in Morel. Gillaspie's power the past few seasons may have been boosted by the Pacific Coast League, but he makes contact more often than most of the White Sox's regulars. Morel, on the other hand, already has 13 strikeouts at Charlotte. The gig is likely Gillaspie's until Beckham forces an infield crunch in June. Other Observations: The White Sox have been among the league leaders in team home runs the past few seasons, but they have not had a third baseman hit 20-plus home runs since Josh Fields did so in 2007. Tyler Greene played one game at third for Charlotte before the White Sox purchased his contract, but he had only played 11 games there over his eight-season minor league career. Still, he could see a few games there during his stay in Chicago. Braves Starter: Juan Francisco Next: Chris Johnson, Blake DeWitt The Braves opened the post-Chipper Jones era with a platoon of Chris Johnson and Juan Francisco at third base. However, Johnson was quickly shuttled across the infield to cover for the DL'd Freddie Freeman. That's probably for the best, as Francisco has more upside for fantasy purposes. He had a career .501 slugging percentage over six minor league seasons, which includes 75 home runs between 2007 and 2009. Johnson has seen the ball well so far this season (4.3 pitches per plate appearance), but 13 of his 15 hits have been singles. Blake DeWitt still plays baseball, but he will likely be limited to a late-inning role when it comes to third base responsibilities. Other Observations: Would the Braves try Evan Gattis at third base to keep his bat in the lineup once Brian McCann returns? Probably not, but it will probably be discussed as McCann's return draws near. Jones had a higher FanGraphs WAR in his final season in the big leagues than Johnson and Francisco combined in 2012 (2.6 versus 2.0). Orioles Starter: Manny Machado Next: Ryan Flaherty, Chris Davis Injured: Wilson Betemit Manny Machado had a weak opening to his 2013. He had nearly as many strikeouts (four) as hits (five) in the Orioles' first two series. However, manager Buck Showalter did not budge Machado from the No. 2 spot in the lineup, and he followed that up with an .826 OPS in six games against the Red Sox and Yankees. He has also exhibited an above-average glove at third. That's good, as the O's do not have much depth behind him. Ryan Flaherty can play the position, but he can't hit. Wilson Betemit was recently transferred to the 60-day DL. Chris Davis is best suited as the team's everyday first baseman. Other Observations: The Orioles started six players at third base last season. Of those six, only Betemit and Flaherty are still on the active roster. Indians Starter: Lonnie Chisenhall Next: Mike Aviles, Mark Reynolds On April 7, Lonnie Chisenhall went 2-for-5 with a three-run home run off the Rays' David Price. He has gone 0-for-10 with five strikeouts over his next three starts. Such is life with the former top-30 prospect, who failed to secure the Indians' everyday third base job in his first two seasons in the majors. His youth and pedigree will likely force the Indians to continue trotting him out to third. However, Mike Aviles will nip a few starts here-and-there, and Mark Reynolds could see some innings here when other batters need to DH. Other Observations: Chisenhall has only put the ball in play in 61 percent of his plate appearances this season, down from a career 71 percent. How bad has third base been for the Indians in recent years? Jack Hannahan was the Opening Day starter in 2011 and 2012. Pirates Starter: Pedro Alvarez Next: Gaby Sanchez On the Mend: Brandon Inge It would be difficult for the Pirates to steer away from Pedro Alvarez, who hit 30 home runs as a 25-year-old in in 2012. However, he might rack up 30 strikeouts before the end of April, and he has yet to tally an extra-base hit through 38 at-bats. Of course, I don't mean to surmise that Alvarez will lose his job, but manager Clint Hurdle may opt to sit him for a few days. That may be more likely once the Pirates activate Brandon Inge from the disabled list, as they sent their only other player with third base experience (Josh Harrison) to Triple-A Indianapolis on Sunday. Other Observations: It should come as no surprise that all three of Alvarez's hits have come against right-handed pitchers. He has gone 0-for-14 with nine strikeouts against left-handed pitchers. Inge has gone 0-for-7 against minor league left-handed pitchers over 10 rehab games. Gaby Sanchez played 148 games at third in his minor league career, but he has yet to play an inning of the position since coming to the majors in 2008. Yankees Starter: Kevin Youkilis Next: Jayson Nix, Eduardo Nunez Injured: Alex Rodriguez Kevin Youkilis through his first 11 games in 2013: 333/.404/.571. Kevin Youkilis through his first 11 games in 2012: .195/.261/.317. The change in scenery probably helped, as did a fully-healthy offseason. However, his current line is more than a little bit skewed by the small sample size, and the Yankees will probably shift him over to first base on a more regular basis as the season wears on to keep him fresh. Jayson Nix served as the Yankees' Opening Day third baseman, but his defensive versatility will likely keep him floating around the ailing infield rather than sticking at third for an extended period of time. Alex Rodriguez may be able to play some third once he returns from the disabled list, but he is still in the "baby step" phase of his rehab. Other Observations: There isn't any help on the way coming through the Yankees' minor league system should injury befall Youkilis. None of the Yankees' top-10 prospects play the infield, and the starting third baseman at Triple-A Scranton/Wilkes-Barre is the 33-year-old Gil Velazquez. Rockies Starter: Chris Nelson Next: Reid Brignac, Jordan Pacheco Minors: Nolan Arenado Chris Nelson broke camp as the Rockies' starting third baseman after OBP'ing .379 over the final two months of 2012. Nelson has shown zero semblance of power through his first 33 at-bats of 2013 (zero extra-base hits), but that is acceptable given his above-average on-base ability and the prevalence of pop elsewhere in the lineup. Jordan Pacheco, who started 82 games at third in 2012, has yet to appear there in 2013. Reid Brignac, on the other hand, already has as many appearances at third for the Rockies in 2013 as he did for the Rays from 2008-12. Other Observations: Through Sunday, Nelson had hit six times as many groundballs as flyballs, but he had zero infield hits. Nolan Arenado, who enjoyed an excellent spring with the Rockies, has 10 extra-base hits for Triple-A Colorado Springs in 34 at-bats. He should be in Denver later this summer. A's Starter: Josh Donaldson Next: Jed Lowrie, Eric Sogard Third base was something of a black hole for the A's in the first half of 2012. Five different men played the position, including Luke Hughes and Adam Rosales. However, Donaldson, a converted catcher, stabilized the spot after returning to the lineup in mid-August, and he proceeded to slash .290/.356/.489 from August 14 til the end of the season. He has gotten off to a similarly strong start to 2012. He had a string of five multi-hit games this past week, and owns a pair of home runs through 13 contests. He faces no immediate threat for playing time, as both of the team's other likely candidates to play the position are firm starters elsewhere on the infield (Eric Sogard at second and Jed Lowrie at short). Sogard could slide over if the team recalls Jemile Weeks at some point. Other thoughts: Donaldson has already hit into a league-leading five double plays this season. Scott Sizemore's torn ACL provides everyone else on the infield with a good amount of job stability. Get a FREE RotoWire 10-day trial (no credit card required) at RotoWire.com .
Original Story:
http://msn.foxsports.com/fantasy/base...
THE BACKYARD
BEST OF MAXIM
RELATED ARTICLES
Chase Headley is expected back any day now.  The Gold Glove winning third baseman for the San Diego Padres suffered a fractured thumb during spring training when he jammed it on the second base bag.  He has been rehabbing ever since, but Headley appears ready to join his team and come off the 15-day DL. Austin Laymance of MLB.com says the Padres have even left an open locker...
MLB News: The San Diego Padres made a pair of moves on Wednesday, activating third baseman Chase Headley from the 15-day disabled list while placing outfielder Cameron Maybin on it. Fantasy Ramifications: Headley, who always had a bandwagon but never the horse, came into his own in 2012 going for 31 home runs and a .286 batting average. He is considered a very solid fantasy third...
Hot News for 3B Chase Headley
MLB News: The Chicago Cubs claimed infielder Cody Ransom off of waivers from the San Diego Padres on Tuesday. His role is expected to be the utility infielder for the Cubs. The journeymen veteran will be playing for his 8th team in 11 seasons. Fantasy Ramifications: None. The post Chicago Cubs Claim Cody Ransom From San Diego Padres appeared first on Fantasy Sports Player Rankings...
Jason Marquis pitched three-hit ball over 7 2-3 innings for his first win of the season and Alexi Amarista tied a career high with four RBIs, leading the San Diego Padres to a 9-2 victory over the Los Angeles Dodgers on Tuesday night. Marquis (1-1) allowed his only run on Mark Ellis' bases-loaded sacrifice fly and struck out five. Nick Hundley and Yonder Alonso each had two...
It's been a while since Jason Marquis won on a consistent basis. Now that he's gotten his first victory of the season for the San Diego Padres, he's hoping to build on it in a big way. Marquis pitched three-hit ball over 7 2-3 innings for his first win of the season and Alexi Amarista tied a career high with four RBIs, leading the Padres to a 9-2 victory over the Los...
Clayton Kershaw gave up his first three home runs of the season in a span of three innings and the San Diego Padres beat the Los Angeles Dodgers 7-2 on Wednesday night to finish a three-game sweep. Everth Cabrera, Chris Denorfia and Kyle Blanks all connected off Kershaw (2-2), who entered with a 1.16 ERA in three starts. But the 2011 NL Cy Young Award winner left this one trailing...
I apologize for the lateness of my recaps the last couple games.  I have been fighting a pretty bad chest cold and find myself drained of energy at the end of the day, so for the second consecutive morning, I bring you a hearty coughing fit and a morning after game summary. Frankly, the Dodgers look like they've come down with my cold.  See, their offense got sick again around...
Clayton Kershaw gave up his first three home runs of the season in a span of three innings and the San Diego Padres beat the Los Angeles Dodgers 7-2 on Wednesday night to finish a three-game sweep. Everth Cabrera, Chris Denorfia and Kyle Blanks all connected off Kershaw (2-2), who entered with a 1.16 ERA in three starts. But the 2011 NL Cy Young Award winner left this one trailing...
Probably the biggest baseball story of last week was Carlos Quentin charging the mound after a hit-by-pitch and in the process badly injuring Zack Greinke. At first it looked like Quentin had done something completely stupid, then after some additional consideration, it looked like Quentin had done something completely stupid and Greinke also hadn't helped himself. (Nuance.) The...
The April 16th, 2013 edition of daily news for the Los Angeles Angels including Angels potential suitors for Headley, Arte Moreno paying for his own moves and much more... The Story: The Angels could be a suitor for Chase Headley if/when he becomes available via trade. The Monkey Says: I seriously doubt it, but I understand why people will bring it up. Frankly, the Angels...
MLB News

Delivered to your inbox

You'll also receive Yardbarker's daily Top 10, featuring the best sports stories from around the web. Customize your newsletter to get articles on your favorite sports and teams. And the best part? It's free!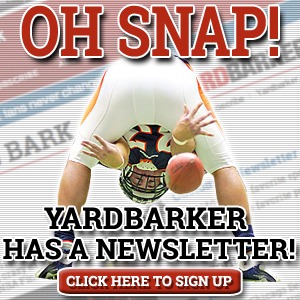 Latest Rumors
The Backyard

Today's Best Stuff

For Bloggers

Join the Yardbarker Network for more promotion, traffic, and money.

Company Info

Help

What is Yardbarker?

Yardbarker is the largest network of sports blogs and pro athlete blogs on the web. This site is the hub of the Yardbarker Network, where our editors and algorithms curate the best sports content from our network and beyond.