Found May 22, 2012 on SF Giants Nirvana:
PLAYERS:
Hector Sanchez
,
Buster Posey
,
Madison Bumgarner
,
Prince Fielder
,
Ryan Braun
,
Nate Schierholtz
,
Brandon Crawford
,
Norichika Aoki
,
Sergio Romo
,
Bruce Bochy
,
Brett Pill
,
Francisco Rodriguez
,
Brandon Belt
TEAMS:
San Francisco Giants
,
Detroit Tigers
,
Milwaukee Brewers
In the first inning of this game, Buster Posey unloaded a monster of a three-run homer into the left field bleachers. It was only the third three-run homer of the season for the Giants (along with zero grand slams), and it was the first in about a month. So Madison Bumgarner took the mound with a three-run lead; and that was supposed to be enough. Because he's Madison Bumgarner. He's been great all season long (3.10 ERA across his first eight starts), but we had yet to see the overpowering Bumgarner — the one that would rack up double-digit strikeouts toward the end of last season. And for the first time in 2012, that Bumgarner made his appearance. He was phenomenal. In the first inning, he retired the side in order. In the third, he struck out the side in order (all three of them swinging strikeouts). In the fourth, he set down the heart of the Brewers' order (admittedly not as intimidating with Prince Fielder now in Detroit) on nine pitches. Through five innings, he had recorded seven strikeouts (already a new season-high), with just two hits and one walk allowed. Then the Brewers managed to score a run off of Bumgarner in the sixth, but that wasn't all his fault. Ryan Braun had reached on a single to second base that wasn't played very well by Charlie Culberson, and Nate Schierholtz — uncharacteristically — failed to keep Braun from scoring on a double to right field. He had run into the wall, and couldn't fire off a good throw. In any event, Bumgarner got out of the inning without much damage done, and continued to cruise along. The seventh inning was an eight-pitch 1-2-3. In the eighth, Bumgarner struck out the first two batters he faced — bringing him to a total of ten K's on the day. Then Brandon Crawford — who would later strike out with runners on first and second to end the ninth inning — committed his ninth error of the season on a routine groundball to short, which allowed Norichika Aoki to reach base. Two outs in the eighth inning, a two-run game, a runner on first, the lefty Bumgarner at 106 pitches, and the reigning NL MVP — right-handed slugger Ryan Braun at the plate. At that point, I tweeted the following: "Gotta be honest, I think I'd go to Romo at this point." Bumgarner had looked phenomenal, but the safe decision was obviously to bring Sergio Romo into the game. And of course, Braun proceeded to launch the ball into the left field bleachers, tying the game at three. Bringing in Romo wasn't an obvious decision (at least, not as obvious it's been made out to be) — Bumgarner is an excellent pitcher, after all. But it was a risky one, and — in retrospect — the wrong decision. I don't think this was nearly as bad as some of Bruce Bochy's other recent failures with pitching management. But it also wasn't an isolated incident. It seems like time and again, Bochy leaves a pitcher in just too long. And it's been costly. I'm not sure that was even his worst decision, though. How about leaving Brett Pill in the game to bat in an important situation (runners on the corners, less than two outs) against right-handed reliever Francisco Rodriguez, only to bring Brandon Belt into the game the next half-inning? …then another five innings happened. And Hector Sanchez was double-switched into the game (a prudent measure, given that Buster Posey had just ended the previous inning, and had already caught 13 innings). And, leading off the fourteenth inning, crushed a ball into the Brewers' bullpen to give the Giants the lead. The homer brought his line up to .297/.299/.438 for the season (no, that OBP isn't a typo). But hey, that's good for a 99 wRC+. Which is great for a catcher. It's amazing what a homer can do to player's numbers, even this late in the season (Sanchez entered the game with his wRC+ at 80). Anyway, after going scoreless for 12 consecutive innings, they actually won. With some sloppy defense, fruitless offense, and questionable decisions, they made it longer than it needed to be. But they won.
Original Story:
http://feedproxy.google.com/~r/Splash...
THE BACKYARD
BEST OF MAXIM
RELATED ARTICLES
KNEES WERE A-KNOCKIN'
Here is the video of San Francisco Giants pitcher Santiago Casilla taking an at-bat in the 14th inning last night against the Brewers.Look at how far away he tries to stand from the batter's box. Casilla is not used to hitting at all and he is very scared of getting hit by the pitcher. The fun begins around the 1:05 mark of the video. Here is another at-bat from...
  Throughout this season, the Giants have had flashes of brilliance, mixed in with moments of complete disgust – typical roller coaster San Francisco baseball (commonly known as "torture"). After over a month of baseball this season, where do we pinpoint the source of the Giants struggles? The Giants offense has been much better than expected (3.78 runs per game), but still...
What's up with San Francisco Giants pitcher Tim Lincecum? The question keeps being asked. On Sunday, his record slipped to 2-5 after a 6-2 loss to Oakland and his ERA rose to 6.04. "Throughout this year -- not me personally -- it's been like people are waiting for something bad to happen," Lincecum said. "They're waiting for that bad inning and...
There's a verb in Giantsville describing a pitcher who has an excellent game and walks away without a win. It's called Cain. Or the act of getting Cained. Nobody has been Cained more than Matt Cain in recent years, the victim of lousy run support year after year. Well, things are changing. He gave up four runs in each of his past two starts and won them both. The...
On May 16th San Francisco Giants Manager Bruce Bochy batted starting pitcher Madison Bumgarner 8th in the batting order, and he almost issued a written apology over it. In interviews before and after the game, Bochy grumbled, looked down and seemed embarrassed as he told reporters he's trying to score more runs but "this probably won't happen again".Bruce Bochy...
Federal weapons charges have been filed in Los Angeles against two men accused of brutally assaulting a San Francisco Giants fan at Dodger Stadium during opening day last year. The criminal complaint filed Monday against Louie Sanchez and Marvin Norwood charges both with being a felon in possession of firearms. If convicted, they each face up to 10 years in federal prison. Several...
LIKE A CANNON, THAT ARM
Here is a video of an amazing throw by San Francisco Giants left fielder Melky Cabrera to gun down Norichika Aoki at home plate. This happened last night in Milwaukee where the Giants defeated the Brewers 6-4.The ball hit by Nyjer Morgan to medium left field seemed deep enough to score the speedy Aoki from third base but Aoki and the Brewers underestimated Cabrera's strong arm...
Buster Posey homered off the Miller Park scoreboard and had three RBIs as the San Francisco Giants beat the Milwaukee Brewers 6-4 on Tuesday night. The Giants won for the eighth time in 11 games despite being outhit 11-5. The Brewers went 2-for-13 with runners in scoring position off San Francisco starter Matt Cain (4-2) and have lost six of seven. Cain pitched out of trouble...
Collin Cowgill drove in the go-ahead runs and scored in a home plate collision with pitcher Tim Lincecum, and the Oakland Athletics snapped an 11-game losing streak in San Francisco with a 6-2 victory over the Bay Area rival Giants on Sunday. Cowgill capped a four-run fourth inning against Lincecum and the collision put a scare into San Francisco and its struggling, shaggy-haired...
Alright, I've gone too long without a good rant and after a loss like last night's stinker against the Bucs, today's as good a day as any. Let me begin with Andres Torres who has stunk up the joint considerably since his hot week after coming off of the disabled list. Torres is now batting .189 on the season and is 4-42 in his last 11 games started – all of them batting in...
Tim Lincecum gave up four runs to the A's. That's like giving up a 3-pointer to Ronny Turiaf. He's broken folks. Sure, some of those hits were on good pitches and just found holes, but hitters used to struggle to make contact on Timmy's pitches. Missing bats is what won him two Cy Young awards and got him to four consecutive All-Star games. Oh, and the hair. The hair helps...
It was a tough weekend for the Oakland A's, who lost two of three games to the San Francisco Giants and got some bad injury news. Can the team recover on their current homestand? Chris Biderman previews the A's series versus the Los Angeles Angels.
MLB News

Delivered to your inbox

You'll also receive Yardbarker's daily Top 10, featuring the best sports stories from around the web. Customize your newsletter to get articles on your favorite sports and teams. And the best part? It's free!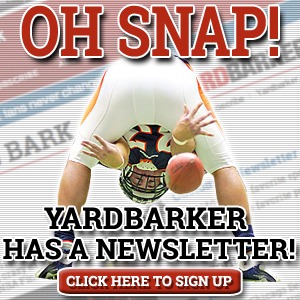 Latest Rumors
Best of Yardbarker

Today's Best Stuff

For Bloggers

Join the Yardbarker Network for more promotion, traffic, and money.

Company Info

Help

What is Yardbarker?

Yardbarker is the largest network of sports blogs and pro athlete blogs on the web. This site is the hub of the Yardbarker Network, where our editors and algorithms curate the best sports content from our network and beyond.