Found February 21, 2013 on MetsZilla:
PLAYERS:
Daniel Murphy
,
Chris Young
,
Johan Santana
,
Shaun Marcum
,
Dillon Gee
,
Matt Harvey
,
RA Dickey
,
Jon Niese
,
Jeremy Hefner
,
Greg Burke
,
Chad Bradford
,
Brandon Lyon
,
Scott Atchison
,
LaTroy Hawkins
,
Scott Rice
,
Aaron Laffey
,
Pedro Feliciano
,
Bobby Parnell
,
Jeurys Familia
,
Robert Carson
,
Elvin Ramirez
,
John Buck
,
Ike Davis
,
Ruben Tejada
,
David Wright
,
Lucas Duda
,
Jamie Hoffman
,
Justin Turner
,
Brandon Hicks
,
Omar Quintanilla
,
Jordany Valdespin
,
Brian Bixler
,
Anthony Recker
,
Landon Powell
,
Scott Hairston
TEAMS:
New York Mets
,
Toronto Blue Jays
,
Chicago Cubs
We are at the end of one of those brief two-week periods each year when there is actually very little to talk and write about when it comes to MLB and the New York Mets. The news of the day is generally not compelling and what little news there is (i.e. the injury to Daniel Murphy, the visa issue with Jenrry Meija and the daily d'Arnaud/Wheeler watch) is constantly analyzed and regurgitated. Needless to say, the reports out of Miami surrounding the Bosch diaries, and the few remaining free agents (in particular—Lohse, Valverde, Sizemore and even Chris Young), are among the most interesting topics in the blogosphere. There is also no shortage of doomsayers when it comes to predicting the plight of the 2013 Mets. But a closer look reveals several things to be optimistic about. As of this week, we have reached the point of full squads reporting for spring training and, believe it or not, Saturday is the first preseason contest due to all the World Baseball Classic happenstances. So, this is probably an auspicious moment to analyze the assembled talent in Port St. Lucie… STARTING PITCHING Photo by Michael G. Baron Lets start with a bold statement—Johan Santana will be healthier on opening day than he was in April 2012! And if that turns out to be fact, they also have Shaun Marcum (one of the best pitching pickups of the off-season), a healthy Dillon Gee and a full season of Matt Harvey to look forward to. If each of those four pitchers wins 13-15 games, the Mets will have more than mitigated the loss of R.A. Dickey. And of course, Jon Niese, who many claim is now the ace of the staff, should exceed his 13-9 record and 3.40 ERA over 190 innings. Providing more anticipation and excitement will be the talent down on the Vegas farm with Wheeler, Meija, Gorski, McHugh and likely Mazzoni starting games every five days or so. Jeremy Hefner should be the Citi Field spot starter (and long man from the pen) from Day One. BULLPEN While it is way too early to get a handle on the relief staff, saying the current assemblage of arms will outperform the group from 2012 is a relatively conservative prognostication. Alderson & Company have given Collins and Warthan a host of options in terms of righties and lefties, experience and youth, and most importantly—arm angles and look.  One of the best moves may have been bringing in the submarining Greg Burke, who may be able to replicate what Chad Bradford and Terry Leach were able to do in successful Mets campaigns of yesteryear. Experience is on display with Brandon Lyon, Scott Atchison, LaTroy Hawkins, Scott Rice, Aaron Laffey and Pedro Feliciano. At the same time, young studs like Bobby Parnell and Scott Edgin are joined by three talented arms who will open up the season with Wally—Jeurys Familia, Robert Carson and Elvin Ramirez. Only time will tell, but this assortment of talent may be more than meets the eye. CATCHING Photo by Michael G. Baron This may be one of the most under-appreciated improvements in terms of baseball chemistry. From all knowledgeable sources, John Buck is a very good receiver and excellent handler of pitchers. In that regard, his presence alone is a huge improvement from the past couple few seasons. A typical Buck season delivers .235 BA with about 20 HR and 70 RBI playing full-time. If he just hits 12 HRs and 50 RBI, the Mets will improve. Buck will also be a stabilizing influence and a first-rate mentor to d'Arnaud during the second half. And of course, having a legitimate backstop prospect like d'Arnaud to look forward to is something virtually unexperienced by this 52-season Mets watcher. INFIELD The Mets strength this year should be their infield. At three positions (1B, 2B and SS), they should improve more than a modicum. Valley Fever is now a thing of the past to Ike Davis, which should improve his early season performance and lend defensive stability to the entire infield. If Ike improves to a .265 BA with 35 HR and 100 RBI, it will be tremendous improvement in and of itself. Daniel Murphy made significant defensive strides last season and, if he is slotted properly in the lineup, he too can deliver improvement offensively, as well as with the glove. Ruben Tejada has been a revelation. While everyone expected the consistent glove work, few expected offensive prowess in terms of patience, balls in play and working pitchers deep into counts. Look for Tejada to improve all aspects of his game in 2013. David Wright just has to be David Wright (with an assist from a healthy Davis providing lineup protection). A typical Wright season has him batting .300 with 25 HR, 40 doubles, 100 RBI and 15 SB. Anything close, with his usual plus defense, is all that is necessary to push the Mets far ahead of 2012. This infield (including catchers and backups) can belt 90+ HRs and deliver 400 RBI. OUTFIELD Photo by Michael G. Baron Here's the rub, or the Achilles Heel, or the Big Question. In a sense, it is really about the maturation of Lucas Duda, who is not an outfielder and certainly will be better off in LF than RF. If Duda can hit 25 HR and drive in 75, the Mets will be radically improved. And while Collins has been dealt a soft hand, there are two platoons possible in CF and RF that could be very productive. RF will be manned by a platoon of Baxter with Byrd or Brown. CF will be manned by Nieuwenhuis with Cowgill or Byrd. Jamie Hoffman is another right-handed longshot . The right-handed hitting options Collins decides to go with will get a lot of playing time. An examination of the splits of all the outfielders mentioned here show that they have been effective hitters against pitchers of the opposite ilk. Having a platoon of Baxter/Cowgill at the leadoff slot in the order may also bode well for the Mets. Both can get on base and have above average speed. And if all four of the platoon outfielders are plus defenders (some of whom will spell Duda late in games), there is every reason to believe the 2013 outfield will be a decided improvement over the 2012 . BENCH Virtually nothing is settled in the "bench" department. All indications are that Justin Turner and Brandon Hicks will battle it out for the right-handed hitting infield specialist. Turner should be the favorite due to his ability to play all four spots (and perhaps some OF) and drive in runs. The battle for the other infield spot will be from two left-handed batters—Omar Quintanilla and Jordany Valdespin. Quintanilla is the plus infield glove man with bat control, but Valdespin provides power, speed and bit more versatility due to his ability to cover the prodigious expanses of the Citi Field outfield. If Turner shows some OF acumen, chances are that the Mets will go with Turner and Quintanilla to start the season. Others who are longshots for the infield/utility spots are Brian Bixler, Josh Satin and Zach Lutz. Anthony Recker or Landon Powell will backup Buck until the arrival of d'Arnaud. Since the Mets outfield will be comprised of five players getting lots of playing time, the three bench men must be able to play more than adequate defense and put the ball in play when called upon. Without Valdespin, there will not be much power or speed, but remember, there will usually be some OF talent on the bench with a variety of skill sets. The bench will not be a strong point of the team, but it should be at least as good as what was in place in 2012 sans the power of Scott Hairston, who was a slight minus defensively. INTRIGUING 2013 LINEUP S         Baxter (RF)/Cowgill (CF) R         Tejada (SS) L         Murphy (2B) R         Wright (3B) L         Davis (1B) R         Buck/d'Arnaud (C) L         Duda (LF) S         Nieuwenhuis (CF)/Byrd or Brown (RF)
Original Story:
http://www.metszilla.com/2013/02/21/h...
THE BACKYARD
BEST OF MAXIM
RELATED ARTICLES
The Mets have released their Bobblehead giveaways for the 2013 season. Last season the Mets had Rusty Staub, Tom Seaver, Keith Hernandez, Edgardo Alfonzo, and Mike Piazza. I was fortunate enough to get all but Hernandez (still looking for a reasonable price on e-Bay). This year there will be some more Bobblehead giveaways at GHMP: According to ESPN's Adam Rubin, the Mets will...
Several days ago I gave you my idea for the Mets' batting order and it included Kirk Nieuwenhuis as the leadoff hitter, so I was happy to read Adam Rubin's story he will be given first chance to win that job. Nieuwenhuis will be the leadoff hitter for Saturday's exhibition game against Washington. The Mets like Nieuwenhuis' patience – he sees over four pitches an at-bat...
Next up in our projection series is Shaun Marcum. The Mets acquired Marcum on an incentive-laden deal, to replace R.A. Dickey in the rotation. No one expects Marcum to come close to Dickey's 20 Wins or 233.2 IP or his 2.73 ERA, which is a good thing since Marcum has never done any of those things and comes in as an injury risk. Here's what we think Marcum will do in 2013...
We dont have to go another weekend with out some type of Mets baseball.  I admit I have been with with the family and our little one and have not watched 1 episode of cold stove this off season. I will thought try to get some time in front of the TV this weekend when the Mets will be on the air !   Will be good to see Gary, Keith and Ron and here there take on the lackluster off season.  It
The New York Mets today announced the promotional schedule for the 2013 season at Citi Field. The Mets will give away nearly 400,000 items to fans of all ages highlighted by the All-Star Bobblehead Series featuring Ron Darling (April 21), John Franco (May 25) David Wright (June 30), Dwight Gooden (July 21) and Tom Seaver (August 25) and special events including Banner Day (May 11...
The Mets start Spring Training starts today with an Intrasquad followed by the Nationals on Saturday, Michigan on Sunday, Astros on Sunday and the Nationals again on Monday. The following pitchers are slated to go: Intrasquad: Gonzalez German, LaTroy Hawkins, Scott Rice, Collin McHugh, Elvin Ramirez, Greg Burke, Robert Carson, Brandon Lyon, Pedro Feliciano Nationals: Shawn Marcum...
The New York Mets' injured closer is working on starting the throwing portion of his rehab program.  He has not thrown since suffering inflammation in his surgically-repaired elbow.  However, Frank Francisco is scheduled to start throwing next week. According to Mike Puma of the New York Post, Monday is the target date to get Francisco throwing. Dan Warthen says Monday...
Photo Credit: monsim When the Mets acquired Zack Wheeler for free-agent-to-be Carlos Beltran in July of 2011, GM Sandy Alderson was praised by the masses in New York.  At the time, Wheeler was considered San Francisco's top pitching prospect.  Now the Mets' top pitching prospect, he has spent the past two seasons cruising through the minor leagues, and should make his Citi...
Casey: I'll take Mets Oddities for $400, Alex. Alex: The answer is Bobby Bonilla and Jason Bay. Casey: Who are the highest paid outfielders on the 2013 Mets? Alex: Good job, Casey, and I'm afraid we're all out of time for this round as we head into Final Jeopardy. The Final Jeopardy category will be "Ponzi Schemes." Think about your responses while we go to a quick commercial...
Ben and Sam preview the Mets` season with Jason Wojciechowski, and Pete talks to Newsday baseball columnist David Lennon (at 22:11).
Once Michael Francesa got Mike Piazza out of the shower and to the New York Mets, Francesa fielded many tips to the newsroom that spies had spotted MP out on the town with weatherman Sam Champion.... Full story at Bob's Blitz ~ http://www.bobsblitz.com
MLB News

Delivered to your inbox

You'll also receive Yardbarker's daily Top 10, featuring the best sports stories from around the web. Customize your newsletter to get articles on your favorite sports and teams. And the best part? It's free!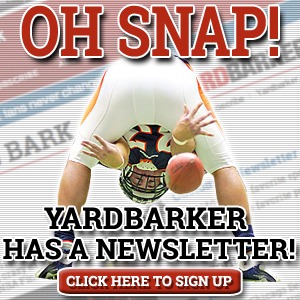 Latest Rumors
Best of Yardbarker

Today's Best Stuff

For Bloggers

Join the Yardbarker Network for more promotion, traffic, and money.

Company Info

Help

What is Yardbarker?

Yardbarker is the largest network of sports blogs and pro athlete blogs on the web. This site is the hub of the Yardbarker Network, where our editors and algorithms curate the best sports content from our network and beyond.