Found February 05, 2013 on Angelswin:
By Ellen Bell - AngelsWin.com Columnist I'm a Spring Training Veteran. For the past 11 years, I haven't missed a March in Tempe. Every year holds special memories, but last year was different.  Last year was epic. It was no longer the lazy, laid-back collection of afternoon games in the desert sunshine.     Albert Pujols was was in town and the stakes had gone through the roof. Major League Baseball focused its attention on little Tempe Diablo Stadium with expectations that even the most optimistic fan couldn't fathom.  A lock to win the AL West? We're used to that. Best rotation in the game? That's a little less familiar. But heavy favorites to win the World Series before a single pitch had been thrown? That's rarified air, even for Halo fans.  The result was a spring season that was off-the charts. Opening Day in Tempe had all the excitement of the first game at Anaheim. Seats were packed. Fans were grinning. I've seen a lot of baseball and I've never been around more ...
Original Story:
http://feedproxy.google.com/~r/Angels...
THE BACKYARD
BEST OF MAXIM
RELATED ARTICLES
It is hard for the discerning baseball fan to cull through the mountains of data that follow baseball players these days. A simple look at Baseball Reference, Baseball Prospectus, or Fangraphs can send you through a tailspin. Let's face it, many of us are beyond obsessed when it comes to regular baseball much less fantasy baseball. So, what follows is a quick tutorial in how we...
The Los Angeles Angels were champions of the 2011-12 offseason, reeling in two big catches that made them instant World Series favorites in many quarters. Landing superstar first baseman Albert Pujols and former Rangers ace C.J. Wilson will do that. Then they added another ace, Zach Greinke, at midseason. But even that somehow wasn't enough to beat out the low-budget Athletics...
Lost in all the hullabaloo of last week's Super Bowl was the fact that Head & Shoulders named their MLB "Mane Man" for the upcoming season.And that guy...none other than Los Angeles Angels pitcher, friend of The Hall, C.J. Wilson."Head & Shoulders is an iconic brand that I trust to take care of my hair and scalp so I can concentrate 100 percent on and...
How does one man go from untradeable to a forgotten player on the bench to prime trade bait back and then back to a critical starter at a premium defensive position all in one calendar year? Let's take a look at the year that was and the year that will be for Peter Bourjos to find out. 2012 Stats: 195 PA, .220 AVG, .291 OBP, .315 SLG, 27 R, 3 HR, 19 RBI, 3 SB, 1 CS, 44 K...
The February 6th, 2013 edition of daily news for the Los Angeles Angels of Anaheim including Callaspo finalizes his new contract, Keith Law ranks Kaleb Cowart the 23rd best prospect and much more... The Story: Alberto Callaspo finalized his two-year contract that will pay him $4.1 million this year and $4.875 million in 2014. The Monkey Says: Beto was out of the country and...
The February 5th, 2013 edition of daily news for the Los Angeles Angels of Anaheim including Law ranks Angels' farm system dead last, tickets go on sale February 23rd and much more... The Story: Keith Law ranked the Angels' farm system as the worst in the majors. The Monkey Says: Welp, I can't really say it any better than Law did. Hopefully the Halos can at least...
In our 2012 Fantasy Baseball Draft Guide, we listed Mark Trumbo as a $2 player in auction league's with a projected PSR of 1.10. We thought that he'd struggle to find playing time for the Angels with Albert Pujols manning first base, Torii Hunter, Mike Trout, and Vernon Wells roaming the outfield, and Kendrys Morales standing in as the team's DH. Combined with a drop in per...
The Angels hagve spent the last few off-seasons pursuing superstars and signin some of them, but even with the wallet open, they cannot fill every position in that manner. Prior to the 2011 season, one of their primary targets was Adrian Beltre, who ended up going to Texas. The Angels got revenge by taking C.J. Wilson and Josh Hamilton away, but I would imagine the Rangers are not...
By David Saltzer, AngelsWin.com Senior Writer How do you know if you are raising your children right? It's a difficult question, one that every parent struggles with from the moment of childbirth. Last year, my eldest, Michael, entered Kindergarten. When he started school, he could recognize all of his letters, which as a parent, made me proud, but he could not write all of them...
The February 4th, 2013 edition of daily news for the Los Angeles Angels of Anaheim including Torii Hunter still feels the Angels misled him, Mike Trout appears in a Super Bowl commercial and much more... The Story: Torii Hunter still seems a bit hurt by the way the Angels handled him this off-season. The Monkey Says: He claims his "mattress" tweet earlier this winter...
Angels News

Delivered to your inbox

You'll also receive Yardbarker's daily Top 10, featuring the best sports stories from around the web. Customize your newsletter to get articles on your favorite sports and teams. And the best part? It's free!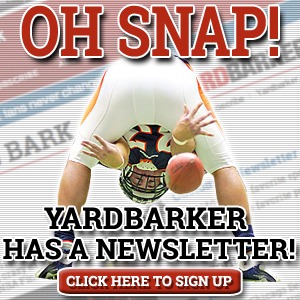 Latest Rumors
Best of Yardbarker

Today's Best Stuff

For Bloggers

Join the Yardbarker Network for more promotion, traffic, and money.

Company Info

Help

What is Yardbarker?

Yardbarker is the largest network of sports blogs and pro athlete blogs on the web. This site is the hub of the Yardbarker Network, where our editors and algorithms curate the best sports content from our network and beyond.