Found January 13, 2013 on Mets360.com:
The offensive pipe dream for the Mets this offseason has been to swing a trade for Justin Upton. Now that we've seen what the parameters for an Upton deal might be from the vetoed deal with the Mariners, it's way past time to move on to a more realistic target. Recently, another righty hitting power outfield bat was put on the market when the Nationals re-signed Adam LaRoche, which makes Michael Morse expendable. In one of the most underrated trades of the past five years, Washington traded Ryan Langerhans to Seattle for Morse. For two players who are both outfielders, they are essentially polar opposites of one another. Langerhans bats and fields left, is an outstanding defensive outfielder and has all of the punch of non-alcoholic beer. Meanwhile, Morse bats and throws right, is a poor defensive outfielder and he drew MVP votes in 2011 thanks to his .910 OPS with 31 HR. So, why on earth would the Nationals consider moving a 30-HR bat? Washington is set in the outfield aft...
Original Story:
http://feedproxy.google.com/~r/Mets36...
THE BACKYARD
BEST OF MAXIM
RELATED ARTICLES
The New York Mets are once again interested in Arizona Diamondbacks outfielder Justin Upton, but it is a "longshot" that the team will give up enough prospects to acquire the slugger, according to Marc Carig of Newsday. Sources say the Mets are again interested in trading for Justin Upton. But it's a longshot that they'll give up enough prospects for a deal. —...
He's No. 10 on the Arizona Diamondbacks, but No. 1 on wish lists throughout baseball. Justin Upton continues to be available, according to industry rumors. As Arizona approaches Spring Training with a glut of outfielders, there's been no shortage of teams inquiring about the potentially budding star, including the Mets. But as high as the demand may be, the price is equally...
Yesterday, the Arizona Diamondbacks got an offer for Justin Upton that they would say yes to, as the Seattle Mariners reportedly agreed to ship Taijuan Walker, Nick Franklin, Charlie Furbush, and Stephen Pryor to the D'Backs in exchange for their young right fielder. Today, Justin Upton is still a Diamondback, because he used his limited no-trade clause to block the deal, as Seattle...
M's try for a splash The Mariners hotstove has been quiet since the acquisition of Raul Ibanez a few weeks ago. But things have heated up this week, with MLB Trade Rumors reporting that the M's made a legitimate attempt at Arizona Diamondbacks rightfielder Justin Upton. The trade seemed like a done deal, until Upton invoked his no-trade clause. This was an interesting development...
Updated by Joe D. on 1/13 at 2:00 PM Validating what I've been saying since Friday, Diamondbacks GM Kevin Towers said he is in no rush to deal Justin Upton and that he will only move him for a similar or better deal than what he agreed to with the Mariners. That Seattle deal, or should I say non-deal, set the bar for Upton's value. The fact that Upton invoked his no-trade clause...
Updated by Joe D. on 1/11 at 3:00 PM So all of a sudden the Mets could be looking to do something significant at the major league level. If true, it would be a first for Alderson since he got here. After Justin Upton gave the thumbs down on the potential Seattle deal, rumors abound that the Mets are reengaging Arizona on the 25 year old star. The Mets had previously attempted to...
One of the worst kept secrets in MLB is the Arizona Diamondbacks' interest in trading outfielder Justin Upton. But one of the seldomly understood points is the fact that General Manager Kevin Towers wants a fortune in return. In other words, he is not so desperate to move Upton, he will settle for a package of players that would not be considered a heist. If there was any doubt...
Updated by Joe D. on 1/12 at 10:00 AM A team source tells the NY Post: "Those were some big names," one source said of the deal Upton nixed because Seattle is part of his no-trade clause. "There were some quality arms. I don't see us moving in that direction if that's what they're asking for and almost got." Like I was saying last night… Updated by Joe D. on 1/11...
It isn't on Justin Upton's level, but the Rick Porcello trade saga continues … The Detroit Tigers, who have six starting pitchers, have continued to discuss Porcello with the Arizona Diamondbacks, Seattle Mariners and perhaps other teams, according to major-league sources. The Tigers likely would ask for a shortstop, late-inning reliever or right-handed-hitting outfielder in...
How are your new years resolutions coming along? Are they still going strong eleven days in? I'm not sure if the Padres front office made any resolutions this year, but if they did I'm sure it's been broken already. Actually, I'm not even sure there is a front office with how quiet it has been. I take that back, there have been some whispers coming from the front office,...
Ben and Sam answer several questions submitted but not answered during Ben`s Monday chat.
MLB News

Delivered to your inbox

You'll also receive Yardbarker's daily Top 10, featuring the best sports stories from around the web. Customize your newsletter to get articles on your favorite sports and teams. And the best part? It's free!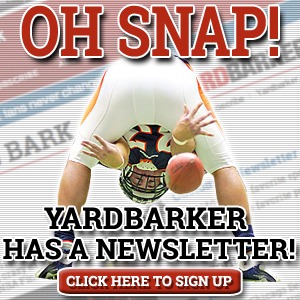 Latest Rumors
Best of Yardbarker

Today's Best Stuff

For Bloggers

Join the Yardbarker Network for more promotion, traffic, and money.

Company Info

Help

What is Yardbarker?

Yardbarker is the largest network of sports blogs and pro athlete blogs on the web. This site is the hub of the Yardbarker Network, where our editors and algorithms curate the best sports content from our network and beyond.