Originally written December 02, 2012 on
MetsZilla:
There are certainly varying opinions on how the New York Mets should handle their negotiations with reigning NL Cy Young award winner R.A. Dickey.  The 38-year-old knuckleballer is signed for $5 million through 2013, but the team is rumored to be working on 2-year extension.  Yesterday Jim Bowden (former GM of the Cincinnati Reds and Washington Nationals) made "5 Bold Predictions for the Winter Meetings" and #1 on that list was that the Mets would trade Dickey.  Jon Heyman of CBS Sports apparently also believes trading Dickey is the most logical move for New York: Mets people realized the value of Wright to the brand, the team and the future. But now it's time to do what's necessary with star pitcher R.A. Dickey. And that is to trade him. They shouldn't trade Dickey entirely because it's taken longer to do a two-year deal with him than it did to complete a contract that is the biggest in Mets history Someone with knowledge of the talks suggested three weeks ago "there's a deal to be made" between Dickey and the Mets. But there's no good reason it should take this long. Nor is there, really, a reason they should waste any more time on it. It's a two-year deal, for crying out loud. It only seems like it's taking longer than that. Dickey's intermittent leaks and remarks about how it's going aren't the reason the Mets need to cut the cord, though they are getting a bit tiresome. Frankly, it's that he doesn't fit. The Mets aren't a contender, with or without Dickey. Here's what should happen here. Dickey is under a one-year deal for $5 million and might repeat as the ace who led the National League in complete games, shutouts, strikeouts and innings. Or he might revert to the middle-rung starter who went 19-22 the previous two seasons. Anyway, the Mets aren't winning a stacked N.L. East next year, with or without Dickey. Better to fill two holes with young players, get themselves a catcher and an outfielder maybe." As for potential suitors, we've already heard that the Kansas City Royals have checked in on Dickey's availability and today T.R. Sullivan of MLB.com reported that the Rangers are interested in making a trade for the player they made their number one draft pick back in 1996 and pitched for them from 2001-06.  Heyman reported yesterday that "the Mets have fielded calls from six or seven teams that want to meet to discuss a trade for R.A. Dickey, which should keep Mets people busy at the Winter Meetings that begin Monday in Nashville, Tenn." The idea of trading Dickey is a tough to stomach, but so is heading into next season with Josh Thole as the starting catcher and an outfield with Lucas Duda, Kirk Nieuwenhuis, and Mike Baxter. The team needs to make some major moves if they're going to be competitive because just putting a 'C' on David Wright's jersey won't change the talent level that surrounds him.  This could be where we really see Sandy Alderson put his stamp on the New York Mets. Alderson did not trade Jose Reyes in 2011 and when the shortstop signed with Miami as a free agent last season, the team was only left with a couple extra draft pick as compensation (which were ultimately used on catcher Kevin Plawecki and third baseman Matt Reynolds).  There are a lot of factors to consider and the decision is a difficult one when you consider Dickey's appeal to fans, but as Ken Davidoff of The New York Post recently wrote, that's why the team brought in Alderson: Nevertheless, this isn't merely a baseball decision. We're talking about a team that remains mired in a difficult relationship with its own fan base, because of the four years of losing and payroll-cutting that has transpired. A team that has seen its attendance drop each of the last four seasons. And we're talking about a player who is, at worst, the second-most popular on the club. Whose rags-to-riches narrative, freaky pitch and knack for self-promotion have connected spectacularly with the public. Mets officials insist they have full organizational support in their efforts to explore every option with Dickey — that if they find a trade that makes sense, ownership will authorize it, no matter if it alienates some fans in the short term. So we'll see. Alderson, a godfather of the emotion-free "Moneyball" philosophy, surely wouldn't lose a wink of sleep if he traded Dickey for an attractive package.  It might be a tougher call for his bosses. Yet it very well might be the right call."
Original Story:
http://www.metszilla.com/2012/12/02/h...
MORE FROM YARDBARKER
MLB News

Delivered to your inbox

You'll also receive Yardbarker's daily Top 10, featuring the best sports stories from around the web. Customize your newsletter to get articles on your favorite sports and teams. And the best part? It's free!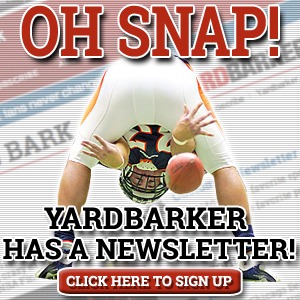 Latest Rumors
Best of Yardbarker

Today's Best Stuff

For Bloggers

Join the Yardbarker Network for more promotion, traffic, and money.

Company Info

Help

What is Yardbarker?

Yardbarker is the largest network of sports blogs and pro athlete blogs on the web. This site is the hub of the Yardbarker Network, where our editors and algorithms curate the best sports content from our network and beyond.