Found November 29, 2012 on Fox Sports Detroit:
PLAYERS:
Austin Jackson
,
Max Scherzer
,
Gerald Laird
,
Dontrelle Willis
,
Cameron Maybin
,
Burke Badenhop
,
Dallas Trahern
,
Mike Rabelo
,
Carlos Melo
,
Matt Joyce
,
Josh Byrnes
,
Daniel Schlereth
,
Phil Coke
,
Justin Verlander
TEAMS:
Detroit Tigers
,
Atlanta Braves
,
Baltimore Orioles
,
San Diego Padres
,
Tampa Bay Rays
DETROIT Baseballs winter meetings arereturning to the scene of what many Marlins fans believe was a crime.Beginning Monday, thegames general managers, agents, managers and reporters will converge on theGaylord Opryland Resort in Nashville, where on Dec. 5, 2007, Tigers GM DaveDombrowski pulled off an eight-player trade that really came down to oneplayer: MiguelCabrera, the 2012 AL MVP.That deal triggeredthree consecutive years of significant dealing at the winter meetings forDombrowski. Six players who became future starters in either the rotation orthe field -- Austin Jackson, Max Scherzer, Gerald Laird, Edwin Jackson,Dontrelle Willis and Cabrera -- came during those meetings.Five years ago, Dombrowskiacquired the franchise cornerstone at Opryland in a blockbuster deal with theMarlins. Cabrera and Willis came to Detroit for two highly-rated prospects --left-handed pitcher Andrew Miller and center fielder Cameron Maybin -- pitchersBurke Badenhop, Eulogio De La Cruz and Dallas Trahern and catcher Mike Rabelo.Miller struggled as astarter but might have finally found his niche in the bullpen last season withBoston, going 3-2 with a 3.35 ERA and striking out 51 in 40 13 innings. Maybin just signed a five-year, 25 million deal, despite hitting only .243 with26 steals, 67 runs, eight homers and 45 RBIs in 2012 for the Padres.Mike Rabelo is thehitting coach for the Connecticut Tigers after batting .234 in a brief MLBcareer, and Badenhop has been a serviceable reliever for the Marlins and Rays.De La Cruz had a cup of coffee and Trahern has yet to reach the majors.Willis was a disaster,going 2-8 with a 6.86 ERA with Detroit and winning a sum total of four majorleague games after the deal. Still, the Tigers got Cabrera.Four years ago,Dombrowski opened the meetings in Las Vegas by acquiring Laird from theRangers. He would be the regular catcher for two seasons until a lack ofoffense determined that he was an ideal backup with strong defensiveattributes. Texas got minor-league pitchers Carlos Melo and GuillermoMoscoso. Moscoso, now with the Rockies,is 11-12 with a 4.16 ERA in 57 games in the majors. Melo, 21, hasstruggled and has yet to rise above Single-A ball.Then, before partingVegas, Dombrowski traded corner outfield prospect Matt Joyce to the Rays for pitcherEdwin Jackson. Joyce made the All-Starteam in 2011, batting .277 with 19 homers and 75 RBIs. He hit .241 with 17homers and 59 RBIs last year, and has become a solid starter. Jackson had agreat first half in 2009, making the All-Star team for the Tigers and finishingat 13-9 with a 3.62 ERA. But that winter, he would become part of one of thebiggest trades in recent years.On Dec. 9, 2009, on achilly afternoon in Indianapolis, Dombrowski connected with Yankees GM BrianCashman and Diamondbacks GM Josh Byrnes to complete a stunning, seven-playerswap. Seldom has one dealworked out as well for all three clubs.Detroit receivedpitchers Max Scherzer and Daniel Schlereth from Arizona, and center fielderAustin Jackson and reliever Phil Coke from New York. Scherzer has blossomedinto a dynamite No. 2 pitcher behind Justin Verlander. Jackson nearly wonthe Rookie of the Year Award and is on the verge of an All-Star selection. Cokewent from dependable to despicable to 2012 postseason hero. Only Schlereth,injured most of last year, has not been productive.Arizona got starters IanKennedy from New York and Edwin Jackson from Detroit. Kennedy has gone 45-26with a 3.55 ERA, and went 21-4 while finishing fourth in 2011 NL Cy Young Awardvoting. Jackson didnt stay long in Phoenix, but remains a productive pitcherand just signed for 2012 with Washington for 12 million.Granderson has made twoAll-Star teams and hit 84 homers with 225 RBIs in 2011 and 2012. All was rosyuntil he struggled late last year and ended up batting .232 with 195 strikeoutsbefore getting benched in the postseason.It will take a few moreyears to be able to discern the full impact of that deal. But after threeseasons, nobody has received a bigger impact from it than the Tigers. Theyreceived two players currently performing at very high standards and the addedbonus of Coke.Dombrowski has tradedtop prospects for All-Stars and made out like a bandit. He's acquired topprospects for Tigers All-Stars and come out on top. And he's swapped a futureAll-Star for another future All-Star.Winter meetings dealsenabled Detroit to win the 2012 American League pennant, and you can be sureDombrowski will be working on a trade next week in Nashville with hopes ofreturning to the World Series and this time coming out on top.
Original Story:
http://www.foxsportsdetroit.com/11/29...
THE BACKYARD
BEST OF MAXIM
RELATED ARTICLES
FOX's Jon Morosi reported Wednesday that Brennan Boesch could be on another roster in the very near future. Continue reading →
Aside from their top two outfielders, the Detroit Tigers have a lot of questions to answer regarding the rest of the 2013 outfield rotation. Barring a potential trade of Jhonny Peralta, and once Detroit determines who will be the main man in left, the Tigers' starting lineup for 2013 is essentially set in stone. Now ask yourself: what do Brennan Boesch, Andy Dirks, and Quintin...
The Detroit Tigers on Tuesday announced their 2013 exhibition schedule. Next spring will mark the Tigers' 77th season at TigerTown in Lakeland, Fla., extending the longest-standing relationship between a major league team and a current spring training host city. The 2013 spring season marks the Tigers' 48th consecutive season of exhibition play at Joker Marchant Stadium...
If the end of the 2012 season proved anything, it's that the Detroit Tigers badly need a dependable veteran closer to help stabilize the back end of the bullpen. That's why signing one should be a very important goal the … Continue reading →
Wednesday the Detroit Tigers announced their 2013 Spring Training schedule which includes 18 games at Joke Marchant Stadium, their home away from home for 77 seasons now. The Tigers will open up the Spring Training schedule on February 22nd when they take on the Atlanta Braves from Disney World. First pitch in that game is scheduled for 1:05PM ET. Detroit will then eventually wrap...
(see what I did there? Tres? You can call me the blog post title Expert, if you'd like) It's been a while, so let's get caught up on Free Agent news around the club. There hasn't been much movement around Detroit, but some interesting things nonetheless. I am fascinated by the Josh Hamilton situation. Living in Dallas, I can tell you that the club's attitude towards him...
Earlier on in the week it looked as though the Tigers free agent wheels were turning with the news that Tigers owner Mike Ilitch was discussing Rafael Soriano with super agent Scott Boras. And given the working relationship that the longtime Tigers owner and Boras have it seemed almost like a matter of time that a deal would get done and Soriano would be closing games for the Tigers...
MLB News

Delivered to your inbox

You'll also receive Yardbarker's daily Top 10, featuring the best sports stories from around the web. Customize your newsletter to get articles on your favorite sports and teams. And the best part? It's free!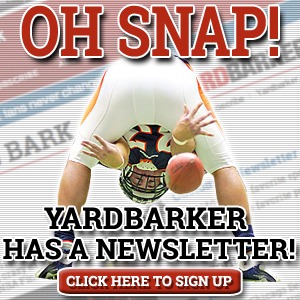 Latest Rumors
The Backyard

Today's Best Stuff

For Bloggers

Join the Yardbarker Network for more promotion, traffic, and money.

Company Info

Help

What is Yardbarker?

Yardbarker is the largest network of sports blogs and pro athlete blogs on the web. This site is the hub of the Yardbarker Network, where our editors and algorithms curate the best sports content from our network and beyond.