Found November 06, 2012 on Fox Sports Kansas City:
KANSAS CITY, Mo. With the trade of Jonathan Broxton to Cincinnati last summer and the Royals' decision to pass on Joakim Soria's contract option last week, the path has been cleared for Greg Holland to become the Royals' closer perhaps for years to come. But Holland, 26, isn't exactly relieved they're gone. "Sure, I'd love to be the closer for years," he said in a teleconference call Tuesday. "But I'd love to have both of those guys back. I don't manage (the roster) or know how all that works but they were great to have here. "I learned a lot from them. They're quiet guys, and you never knew whether they won or they lost, but I could learn just from watching them and how they went about their jobs." Holland evidently learned quite a bit. He made 67 appearances with the Royals in 2012 and finished with a 2.96 ERA and 16 saves. He also struck out 91 in 67 innings. Those numbers made him a rather easy choice as the Royals' Bruce Rice Pitcher of the Year, an honor bestowed upon him Tuesday. "I feel pretty great about that," Holland said. "I'm proud of how I came back after struggling out of the gate and coming back from injuries. I felt responsible for losing a bunch of games early." As Holland was dealing with rib and back issues, his command suffered in April and the results weren't pretty he had a whopping 11.37 ERA through the first seven games before he finally went on the disabled list. When Holland came back, he was simply phenomenal. Over his next 16 appearances, he was nicked for just one run. It got even better. After Broxton was traded and Holland inherited the closer's job, he gave up just one run in 14 13 innings in the month of August while going 9-for-9 in save situations. He also picked up two wins. "When I was hurt, I really couldn't drive to the bottom of the mound," Holland said. "That means I wasn't finishing my pitches and you know what happens when pitches get elevated they get hit. "But once I talked to the trainers and I felt healthy again, I was able to drive off my pitches again. Plus, we made a small mechanical change I stopped finishing so violently to the first-base side. It's something I talked to Luke (Hochevar) about and he agreed completely. Then I talked to (pitching coach) Dave (Eiland) about it and he said he'd been wanting me to change that from the beginning. "But sometimes it takes hearing it from other people to make that change." Holland's new delivery made him a dominant closer, but having the job hasn't changed his mindset this off-season. "Not really," he said. "I think closing (games) is as hard as you make it. It's a hard job but I now that when I was pitching out of jams in the sixth or seventh innings, it was just as hard some times. A lot of times I didn't have a three-run lead to work with. It is what you make of it." Holland said he doesn't necessarily pattern himself after any one closer, though he has a lot of respect for guys like Soria, Broxton and, of course, Mariano Rivera. "With (Rivera), he makes it look so easy," Holland said. "And believe me, it's not easy. But I also respect the fact that guys like him have done it so well for so many years. "A lot of guys with really good stuff can do it for two or three years but they can't keep going the way someone like Rivera has. That's amazing." Holland will be a key component to one of the top bullpens in baseball again in 2013, and while he admits he doesn't keep close tabs on the Royals' off-season moves, he feels this team is scary close to being a playoff contender. "I haven't followed a whole lot of what we're doing," he said. "After the season, I kind of go into my own shell. But I do know we got (Ervin) Santana.... "I just think we're really close. If every guy just makes a little adjustment here and there, that's all it takes to turn this around. It can happen fast."
Original Story:
http://www.foxsportskansascity.com/11...
THE BACKYARD
BEST OF MAXIM
RELATED ARTICLES
KANSAS CITY, Mo. Can Billy Butler do even more offensively for the Royals? That's the question that always seems to come up when fans discuss the skill level and contributions of Butler, the Royals' lone All-Star from 2012 who also on Wednesday received the Les Milgram Royals Player of the Year award. It's a tricky question, of course, considering what a force Butler...
Kansas City, MO (November 6, 2012) – The Kansas City Royals have announced that right-handed reliever Greg Holland has been named the 2012 Bruce Rice Pitcher of the Year.  The award was voted on by the Kansas City Chapter of the Baseball Writers Association of America (BBWAA). Holland, who will turn 27 on November 20, made 67 appearances for the Royals, finishing 7-4 with...
After the Kansas City Royals declined Joakim Soria's $8 million option, the former closer became a free agent.  This, of course, does not mean the Royals had no intentions of bringing him back.  It simply meant that after a year lost to Tommy John surgery, they did not feel $8 million was a sound investment.  However, now that Soria is a free agent, he is testing the waters...
Kansas City, MO (November 7, 2012) – The Kansas City Royals have announced that designated hitter Billy Butler has been named the 2012 Les Milgram Player of the Year.  The award was voted on by the Kansas City Chapter of the Baseball Writers Association of America (BBWAA). Butler, 26, earned his third Les Milgram Player of the Year award (also 2009 and 2010) after leading...
Kansas City, MO (November 5, 2012) – The Kansas City Royals have announced that shortstop Alcides Escobar was selected as the 2012 Joe Burke Special Achievement Award winner.  The award was voted on by the Kansas City Chapter of the Baseball Writers Association of America (BBWAA).  The Joe Burke is awarded to an unsung player who contributed above and beyond what was expected...
KANSAS CITY, MO (November 5, 2012) — The Kansas City Royals today announced that Terry Bradshaw was named the organization's minor league hitting coordinator.  In addition, Jose Castro was named the assistant minor league hitting coordinator while Milt Thompson was named outfield, bunting and baserunning coordinator. "Terry has been an integral part in the success of...
Joakim Soria was one of the top closers for the Kansas City Royals over the past few years, prior to missing all of the 2012 MLB season due to Tommy John surgery. Now facing a decision in free agency, Soria would like to once again establish himself as one of the elite closers in the game. Unless, of course, the New York Yankees made a phone call. That would be an entirely different...
KANSAS CITY, Mo. Former Angels right-hander Ervin Santana is virtually the perfect fit for the Royals, at least according to former Royal and present Angels broadcaster for Fox Sports West, Mark Gubicza. This is really a chance for Ervin to get out of the shadows here and be his own guy, Gubicza said by phone Tuesday. And it's a chance for him to prove he can be a No. 1 guy...
Prior to injuring his elbow and missing the entire 2012 season, Kansas City Royals free agent, Joakim Soria did not want to be a setup man, even for Mariano Rivera and the New York Yankees. Oh, how much changes when … Continue reading →
MLB News

Delivered to your inbox

You'll also receive Yardbarker's daily Top 10, featuring the best sports stories from around the web. Customize your newsletter to get articles on your favorite sports and teams. And the best part? It's free!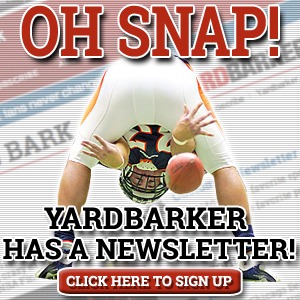 Latest Rumors
The Backyard

Today's Best Stuff

For Bloggers

Join the Yardbarker Network for more promotion, traffic, and money.

Company Info

Help

What is Yardbarker?

Yardbarker is the largest network of sports blogs and pro athlete blogs on the web. This site is the hub of the Yardbarker Network, where our editors and algorithms curate the best sports content from our network and beyond.