Found April 16, 2013 on isportsweb.com:
A 105 year World Series drought does not just happen; unless you're the loveable losers of course.  The Boston Red Sox broke the 86 year curse of the bambino in 2004, and the Cross town White Sox broke their 80 plus year drought in 2005.  Both 2004 in Boston and 2005 on the south side of Chicago were magical seasons, as any fan of either team would undoubtedly explain.  Other than those two, there have been no droughts even close to the one the Cubs are currently enduring.  Just what is it exactly that prevents the Chicago Cubs from having one of these miracle season that ends in a world championship?  The answer is quite simple, they can not win a world series until the fans and players actually believe that they can. Those who have been Chicago Cubs fans for long enough know exactly how things go when it comes to watching Cubs baseball.  If the Cubs have a one run lead in the ninth, they expect it to be blown.  If the Cubs leave runners in scoring position early in the game, they know it will cost them the game.  These are just things that Cubs fans know.  These expectations for failure are essentially self fulfilling prophecies.  Since Cubs fans, and some players I'm sure, expect to go out and disappoint every year, as soon as there is a sign of trouble there is a collective, "Here we go again" throughout the north side.  There was no better example of this than that night in October 2003, which every Cubs fan wants to forget. Steve Bartman shouldered most of the blame for the Cubs' loss in the 2003 NLCS To any other professional sports franchise it would have just been another foul ball hit out of play but for the Cubs, Luis Castillo's pop up down the left field line which Moises Alou failed to catch due to Steve Bartman's interference would become another chapter in the anthology of agony that is Cubs baseball.  Maybe if Alou hadn't reacted so angrily no one would have noticed, regardless, the Cubs still had a three run lead with one out in the eighth inning and a chance to go to the World Series.  But after Bartman knocked that ball away and Alex Gonzalez muffed an easy double play ball, Cubs fans everywhere just knew that it was all over.  It didn't matter that they had two more at bats to mount a comeback, or that they would be sending their ace Kerry Wood to the mound in game seven.  It was over.  The Cubs just didn't have a chance, because as soon as something went wrong everyone instantly said, "It was only a matter of time before they blew it". The 2003 NLCS is the most glaring example of an attitude that has surrounded the Cubs for a long time.  This attitude is a disease which infects all who love and watch Cubs baseball.  It is transmitted to new generations of Cubs fans through tales of Leon Durham's botched ground ball in 1984 and the Bartman saga in 2003.  Cubs fans need to stop the spread of this infectious attitude and start to believe that their beloved Cubs can win a World Series.  It seems that sometimes Cubs fans almost enjoy the role as loveable losers so much that they don't mind when the Cubs do things that would make high school coaches pull their hair out.  Perhaps Cubs fans need to be reminded that although being loveable is great if you're Winnie the Pooh, being a loser is the worst thing to be called in all of sports. While a $500 million renovation of Wrigley Field is great, and all the talent in the minor leagues is excellent, the most important thing that the Cubs organization needs to do to win a World Series is convince the fans, coaches, players, ball boys, ushers, grounds crew, and everyone else that that they can win a World Series.  While the Cubs organization waits for their young talent to reach the major leagues they should ponder a new team slogan.  To combat the unofficial Cubs slogan of "Wait til' next year," the Cubs should adopt something that would be able to get Cubs fans to believe in the team.  What Epstein and company should do is implore Cubs fans everywhere to ask themselves, "Why not this year?"
Original Story:
http://feedproxy.google.com/~r/isport...
THE BACKYARD
BEST OF MAXIM
RELATED ARTICLES
Good news, everyone! Hisanori Takahashi and Brent Lillibridge have been designated for assignment. Hisanori Takahashi was last relevant in 2011, when he was a relatively successful LOOGY/7th/8th inning guy. The wheels fell off in 2012 in 51 appareances between the Pirates and Angels. There's a great chance he makes it through waivers. Brent Lillibridge was ONLY relevant in 2011...
Chicago Cubs chairman Tom Ricketts believes the framework for a deal to renovate Wrigley Field will bring a World Series to a club and fan base that hasn't seen a championship since 1908. "This massive investment will help
This is a short Cubs minor league recap seeing as the Iowa Cubs and Kane County Cougars were postponed. Tennessee Smokies 4 @ Huntsville Stars 1 Eric Jokisch struckout 7 and walked none over 6 innings today. He gave up 3 hits and no runs. The 23-year old left-hander is off to a fantastic start in AA. He's thrown 6 innings in each of his three starts and has not allowed more than...
When the Ricketts family first took over the Cubs, some of the first words out of their mouths were expressions of unbridled love of Wrigley Field. They were going to win and they were going to win in Wrigley Field. That was their story. Tom went around telling anybody who would listen that he once lived across the street from Wrigley. He skipped classes at University of Chicago...
The Cubs today will make some roster moves including the return of everyone's least favorite closer since Mel Rojas. According to Twitter, the moves will be Darwin Barney being reinstated from the disabled list to begin his 2013 scrappy campaign. He'll be joined by 37-year-old Cody Ransom, which will give Barney a nice peak into his MLB future while also rescuing us fans...
MLB News: Tuesday the Chicago Cubs activated 2B Darwin Barney from the 15-day disabled list. He began the season on the disabled list because of a deep gash in his knee. Fantasy Ramifications: Barney will be a mainstay in the Cubs lineup, not because of his bat but rather because of his superior defensive skills. His fantasy value is minimal at best due to his lack of power, speed...
Follow me on Twitter @DSchmelzerTSB A few weeks ago, I wrote a piece about the Chicago Cubs possibly moving out of Wrigley Field. Well, that is definitely not going to happen now, because late last night/early this morning, the Cubs and City of Chicago came to an agreement that will allow the Cubs to renovate Wrigley Field, and will keep them in the park for a very long time. The...
Hot News for RP Kameron Loe
MLB News: The Chicago Cubs claimed infielder Cody Ransom off of waivers from the San Diego Padres on Tuesday. His role is expected to be the utility infielder for the Cubs. The journeymen veteran will be playing for his 8th team in 11 seasons. Fantasy Ramifications: None. The post Chicago Cubs Claim Cody Ransom From San Diego Padres appeared first on Fantasy Sports Player Rankings...
In the aftermath of the recently announced deal with the city to renovate Wrigley Field, Theo Epstein spoke to the media about its potential benefits to the team: Our payroll now is third in the division. That's fine. But it should be first in the division. So this is one of the ways that we're going to get there. It should be, we are on the same page. And this is one of the...
YAOWA EMAILZ: worldseriesdreaming@gmail.com iTunes Twitterz: @WSDreaming_Cubs @CubicSnarkonia @MRubio52 Por favor, send us emails and iTunes reviews. CATS AND DOGS ROSTERMAGEDDON Wrigley deal is donzo! Matt Garza and Ian Stewart are back, YAY! BLOLpens and why the usage sucks BAI
Cubs News

Delivered to your inbox

You'll also receive Yardbarker's daily Top 10, featuring the best sports stories from around the web. Customize your newsletter to get articles on your favorite sports and teams. And the best part? It's free!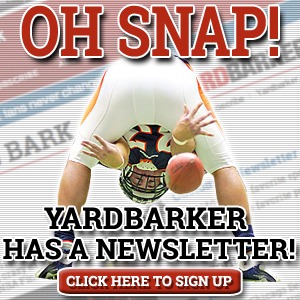 Latest Rumors
The Backyard

Today's Best Stuff

For Bloggers

Join the Yardbarker Network for more promotion, traffic, and money.

Company Info

Help

What is Yardbarker?

Yardbarker is the largest network of sports blogs and pro athlete blogs on the web. This site is the hub of the Yardbarker Network, where our editors and algorithms curate the best sports content from our network and beyond.