Found November 15, 2012 on Fangraphs:
PLAYERS:
Jeffrey Loria
,
Fred Wilpon
,
Frank McCourt
,
Jerry Buss
,
Donald Sterling
,
Dan Snyder
,
Ken Griffey
,
Warren Spahn
,
Aaron Henry
TEAMS:
Miami Marlins
,
New York Mets
,
Los Angeles Dodgers
,
Los Angeles Lakers
,
Los Angeles Clippers
,
Minnesota Twins
,
Chicago White Sox
,
Washington Redskins
,
Cleveland Cavaliers
,
Boston Red Sox
Every so often, someone somewhere will write a "worst owners ever" list. It's almost always timely, since between the four major sports there is always at least one horrendously incompetent or actively malign owner who is justifiably despised by fans. And it ticks off two key attributes for succe...
Original Story:
http://www.fangraphs.com/blogs/index....
THE BACKYARD
BEST OF MAXIM
RELATED ARTICLES
The Marlins have been highly criticized in the wake of their mega-trade with the Toronto Blue Jays, and perhaps rightfully so. It's the team's third firesale in its 20-year franchise history, and second under current owner Jeffrey Loria, who secured about 80 percent public funds for the team's new ballpark which opened in 2012 — a cost which could rise to about $2.4 billion...
The Miami Marlins' blockbuster trade with the Toronto Blue Jays has been the cause of much outrage, and most of it has focused on Marlins owner Jeffrey Loria. Obviously, the next step of that outrage is to animate it. The good folks over at Next Media Animations got right on that, as the Taiwanese animation of the deal certainly lives up to expectations. In it, Loria is shown destroying...
Following the latest despicable Miami Marlins trade, I am holding nothing back this time in ripping owner Jeffrey Loria. I am not one to say I told you so, but… Actually, wait. I am one to say that. I have said it before, I will say it again, although I am sick of repeating the same thing over and over again. Jeffrey Loria is the worst owner in all of professional sports. The Miami...
Miami Marlins owner Jeffrey Loria doesn't care if he's taking heat for the huge 12-player deal between his team and the Toronto Blue Jays. "We finished in last place. Figure it out," Loria told CBSSports.com on Wednesday as he headed for the Major League Baseball owners meetings in Chicago. Loria was both defiant and almost confrontational in his brief exchange...
The Marlins and owner Jeffrey Loria were already on baseball's hot seat, and the veritable fish tank's water may soon get even hotter. Back in 2009 and 2010 the Major League Baseball Players Association was very unhappy with the Marlins. In the days of revenue sharing among MLB teams, the Marlins, by all outward appearances, had continued to pocket that money rather than spend...
Who knew the Marlins had such passionate fans? The stadium is always empty so it came as quite a shock that so many Marlins bros were pissed off after yesterday's blockbuster trade. Owner Jeffrey Loria caught the brunt of the anger and hate, including numerous death and rape wishes. Really? All this over a washed up Mark Buehrle? An overpaid, injury prone Jose Reyes? One bro, ...
Those dastardly Taiwanese animators are at it again.  In their crosshairs, The Florida Miami Marlins (and former Montreal Expos) owner Jeffery Loria.  In the high quality animation, Loria is shown to be a dastardly devil out of the Snively Whiplash mold, and is labeled to be worse that Frank McCourt. What more, Loria is shown giving the Expos [...]
Days after trading star shortstop Jose Reyes and standout pitchers Josh Johnson and Mark Buehrle to the Toronto Blue Jays for a slew of prospects, the city of Miami remains wrongly outraged at Marlins owner Jeffrey Loria for conducting yet … Continue reading →
A year ago, the Marlins signed a bunch of free agents to long term contracts that were backloaded in salary and didn't include no-trade clauses. At the time of the deals, many skeptics suggested that the organization's past history and the structure of these deals suggested that the entire spending spree was a mirage designed to fool the city of Miami into thinking that they...
The biggest news this week was not Cubs-related.  The Miami Marlins, one year after splurging on marquee free agents and opening up their new stadium, underwent a major fire sale with the Toronto Blue Jays.  The trade is expected to be completed by Monday, but in the meantime, nobody wanted to talk to Jeffrey Loria (who is the Devil), the National League Central and West divisions...
Major league owners descended on Chicago on Wednesday while the Miami Marlins and Toronto Blue Jays worked on a blockbuster trade with implications for the rest of the sport. It looked as if the owners and baseball executives were interested in hearing more about the deal, even if they didn't want to talk about it just yet Marlins owner Jeffrey Loria strolled by a group of...
The Miami Marlins disgrace to baseball continues.   Two reports have surfaced that the Marlins are unloading even more of their talent.   First, Bob Nightengale of USA Today reports that the Marlins are letting teams know that "virtually everyone" is available.   Then, Jon Morosi of Fox Sports just reported that the Marlins are close to sending the Marlins' best...
MLB News

Delivered to your inbox

You'll also receive Yardbarker's daily Top 10, featuring the best sports stories from around the web. Customize your newsletter to get articles on your favorite sports and teams. And the best part? It's free!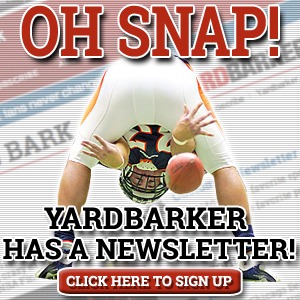 Latest Rumors
Best of Yardbarker

Today's Best Stuff

For Bloggers

Join the Yardbarker Network for more promotion, traffic, and money.

Company Info

Help

What is Yardbarker?

Yardbarker is the largest network of sports blogs and pro athlete blogs on the web. This site is the hub of the Yardbarker Network, where our editors and algorithms curate the best sports content from our network and beyond.