Found November 22, 2011 on Fantasy Baseball 365:
PLAYERS:
Howie Kendrick
,
Dustin Pedroia
,
Robinson Cano
,
Ian Kinsler
,
Dan Uggla
,
Chase Utley
,
Rickie Weeks
,
Ben Zobrist
,
Dustin Ackley
,
Michael Cuddyer
,
Danny Espinosa
,
Mike Scioscia
,
Mark Trumbo
,
Mike Trout
,
Peter Bourjos
TEAMS:
Los Angeles Angels
,
Boston Red Sox
,
New York Yankees
,
Texas Rangers
,
Atlanta Braves
,
Philadelphia Phillies
,
Milwaukee Brewers
,
Tampa Bay Rays
,
Seattle Mariners
,
Minnesota Twins
,
Washington Nationals
Key Stats: Howie Kendrick's infield fly ball percentage last season was 0.0% - nobody else in baseball did that last season. When he puts the ball in play, there's a great chance he's going to get a hit. When he puts the ball in play being the key part of that sentence. Kendrick had the worst strikeout rate of his career last season striking out more than 6% more than he did in 2010. 
Skeptics Say: The 18 home runs that Kendrick finished with is a bit of a head scratcher. He hit one home run every 60.4 at-bats up until last season. Last season he hit one home run every 29.8 at-bats. It could be the fact that Kendrick is finding his power stroke heading into his late 20s, but I doubt it. The 16.5 HR:FB rate was a career best and about 10% better than it was in 2010. 
Peer Comparison: Tristan Cockcroft and Rotochamp have Kendrick ranked a lot higher than we do here. Usually I dislike tiers because players can be in the same tier, but if there is a two home run differential between those players that could make all the difference in the final standings. That said, this is a case that I argue in favor of tiers. Kendrick is hardly in the class of Dustin Pedroia, Robinson Cano, and Ian Kinsler. Nobody will argue that. Dan Uggla, Chase Utley, and Brandon Phillips crush Kendrick under the consistency test. While health has always been an issue, Rickie Weeks has much more upside and brings much more to a team when healthy. And finally, Michael Young appeared in 14 games at second base, if he's eligible that's an easy call over Kendrick. Kendrick does not even enter the conversation with any of these players who can all be top sixty overall picks. 

Then there's a break on taking second basemen. And then there's these guys.

Player A: 86 R, 18 HR, 63 RBI, 14 SB, .285
Player B: 99 R, 20 HR, 91 RBI, 19 SB, .269
Player C: 70 R, 11 HR, 65 RBI, 11 SB, .273
Player D: 70 R, 20 HR, 70 RBI, 11 SB, .284
Player E: 76 R, 12 HR, 83 RBI, 9 SB, .273
Player F: 72 R, 21 HR, 66 RBI, 17 SB, .236

That's Kendrick, Ben Zobrist, Dustin Ackley (based on 162 games pace), Michael Cuddyer, Neil Walker, and Danny Espinosa. Those are the top 13 (or 14 counting Young) at the position. If I'm missing on the top batch I'll take what's left from the second batch late in standard drafts and cheap in auction styles. 
Lineup Outlook: Kendrick registered more than 20 games in four different spots in the Angels batting order last year which is a back-handed compliment from Mike Scioscia. The Angels would love to add a healthy and effective Kendrys Morales, but that's a hope at this point. Then there are the young players - which will drive Kendrick's ranking by 20 spots in either direction. Can Mark Trumbo improve his walk rate? Will Mike Trout succeed over the course of a whole season at the highest level? Can Peter Bourjos build on his second half? Each player is a variable - this is one of the hardest teams to set expectations for offensively in 2012. 
What They're Saying: CBS Sportsline: #10 Second Baseman; Tristan Cockcroft of ESPN.com: #8 Second Baseman & #96 Overall; RotoChamp: #90 Overall 
Projection: One thing not mentioned above is Kendrick's durability. He's been a full-time Major Leaguer essentially since 2007 and has missed more than 20 games in all but one of those seasons. That is something to consider within the projections. 
80 R 14 HR 61 RBI 12 SB .290 AVG .335 OBP .818 OPS 
Original Story:
http://www.fantasybaseball365.com/art...
THE BACKYARD
BEST OF MAXIM
RELATED ARTICLES
Interview Conducted by David Saltzer, AngelsWin.com Senior WriterAs we head into the holidays, there are many things for which we should all be thankful. Whether it's our health, our family, our friends, being Americans, our jobs, we all have things to appreciate.Baseball fans, though, have one more thing about which we should be thankful. We should be thankful for the hard work...
Next up on in our Top 30 prospect countdown, the anti-Conger catching prospect, Carlos Ramirez.  Unlike Conger, Ramirez carries a strong defensive reputation, but is dogged by questions about whether or not he can hit enough to be a big league catcher.  But now that he is coming off a terrific offensive campaign with the Inland Empire 66ers, is it safe to believe in Ramirez'...
The November 21st, 2011 edition of daily news for the Los Angeles Angels of Anaheim including Angels set their 40-man roster, DiSarcina named field coordinator, the Angels full spring training schedule is set and much ...
The Los Angeles Angels of Anaheim have stepped up their pursuit in free agent pitcher C.J. Wilson. A couple members of the organization will be having dinner with their former foe tonight. The Angels' pursuit of free-agent pitcher C.J. Wilson will continue Monday night when Manager Mike Scioscia and General Manager Jerry Dipoto have dinner with the veteran left-hander in Los...
The Angels' pursuit of free-agent pitcher C.J. Wilson will continue Monday night when Manager Mike Scioscia and General Manager Jerry Dipoto have dinner with the veteran left-hander in Los Angeles. The meeting was confirmed by a source familiar with the situation but not authorized to speak publicly about it because of the sensitive nature of talks. It is not known whether Arte...
Angels manager, Mike Scioscia, and GM, Jerry Dipoto had dinner last night with lefty free agent C.J. Wilson according to a source familiar with the situation close to Mike DiGiovanna of the Los Angeles Times. Moreno "already established a relationship with the Texas Rangers star from bargaining sessions for baseball's new labor agreement," adds DiGiovanna. Dipoto already...
86-76, 2nd place, 10 GBFragile Freddy's "Two A Days" series continues today with the Los Angeles Angels of Anaheim.  Each day (except Saturday) I will feature two clubs, one AL club, one NL club, and look back at their season.  For each club I will comment on a key position player and pitcher (generally in a positive tone), their #1 prospect according to Baseball America...
The November 23rd, 2011 edition of daily news for the Los Angeles Angels of Anaheim including Angels interested in trading for Reds catcher Ryan Hanigan, Scioscia shows off his softer side, MLB announces their new collective bargaining agreement and ...
This grainy image reveals the secret to Peter Bourjos' defensive range. Table of Contents Here's the table of contents for today's edition of Offseason Notes. 1. Assorted Headlines 2. SCOUT Leaderboards: Venezuelan Winter League 3. Projecting: ZiPS for Los Angeles (AL) Assorted Headlines Baltimore Nearing Deal with Korean Reliever Chong The Orioles are closing in on signing...
The Angels on Friday hired Matt Klentak as assistant general manager. The 31-year-old spent the previous four seasons as the Orioles' director of baseball operations.
The Angels appear focused on acquiring catching help, Buster Olney of ESPN reports. One name that has surfaced as a possible trade target is Ryan Hanigan of the Reds, Ken Rosenthal of FOXSports adds.
MLB News

Delivered to your inbox

You'll also receive Yardbarker's daily Top 10, featuring the best sports stories from around the web. Customize your newsletter to get articles on your favorite sports and teams. And the best part? It's free!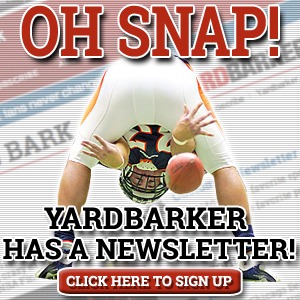 Latest Rumors
Best of Yardbarker

Today's Best Stuff

For Bloggers

Join the Yardbarker Network for more promotion, traffic, and money.

Company Info

Help

What is Yardbarker?

Yardbarker is the largest network of sports blogs and pro athlete blogs on the web. This site is the hub of the Yardbarker Network, where our editors and algorithms curate the best sports content from our network and beyond.