Found January 26, 2013 on Fox Sports Detroit:
DETROIT -- Torii Hunter made his way to the radio-interview platform at TigerFest and, before he was even introduced, received a rousing ovation from several hundred fans. A fan wearing a Tigers cap and jacket in the third row of folding chairs began to chant, TORE-ee! TOR-ee! The fans around him joined in, too, greeting Detroits new right fielder. Hunter took a seat and was taken aback, grinning ear to ear. This is crazy! he said into a microphone. Man, Tigers fans pack the house. Hunter, who has tormented the Tigers as a member of the Minnesota Twins and most recently the Los Angeles Angels of Anaheim, signed a two-year deal worth 26 million as one of the first free agents to come to terms this winter. He noted that he often conversed with Tigers fans as an opponent, and told a story to illustrate how knowledgeable he found them to be. One fan was telling me that I was 0 for 15, Hunter said. I said, Dude, I dont even know that. So you guys are kind of like family. The fans clapped their glove-covered hands once more for him. We love you! a lady yelled from one of the back rows. And I love you, too! Hunter shouted back. Another fan shouted, You chose the right team! Hunter shook his head and kept smiling, adding, Wow, these guys are good. I chose you guys, and thank you for allowing me to play for your team. Keep in mind that none of this was orchestrated; it was a spontaneous outpouring of love from Tigers fans for a player they respect with a personality they find engaging. It also was their way of saying how much they appreciated Hunter picking Detroit over, say, the Yankees or the Red Sox. I asked Tigers manager Jim Leyland about the impact Hunter will have not only on the field -- Hunter has won nine Gold Gloves and batted .313 with 92 RBIs last year -- but in the clubhouse. Hes a great guy and a great person, Leyland said. But Torii Hunter is a great player, and thats why we got him. "We dont need a mayor (in Detroit); weve got Dave Bing. And Torii is probably a better outfielder than Dave Bing. His point is well taken, but in a long season filled with ups and downs and various personality conflicts, it helps to have a strong clubhouse leader. Hunter will be that. Detroit missed Brandon Inges impact that way when it parted ways with him early last season. Adding Hunter and getting the return of a healthy Victor Martinez -- another player who teammates follow -- will pay dividends that cant be quantified on baseball cards. Tigers officials marveled at how Hunter fed off the fans and they fed off him all day long. He even came back for a second radio interview. The whole season, I knew I was playing with the Tigers if I left (the Angels), said Hunter, who was eventually replaced in Anaheim by free-agent slugger Josh Hamilton. Hunter said Tigers general manager Dave Dombrowski was pleasantly surprised to discover the level of interest Hunter had, and they quickly came to terms. People thought I was crazy, Hunter said. But I want the ring ... Ive been searching a long time for the ring. "Im tired of sitting on the couch and watching other guys celebrate (a World Series triumph). I want to win the World Series, and I want to win it with Detroit. This is my last push. Hunter will be 39 when this contract runs out. He likely will bat second and rattled off the names of the hitters behind him: Miguel Cabrera, Prince Fielder and Victor Martinez. His eyes lit up. Hunter recalled robbing Cabrera of several hits in a recent series at Comerica Park. Cabrera was pretty pissed off about it, Hunter said. The crowd roared with laughter, and Hunter added, Can I say pissed off? I robbed him three or four times. I ran past him and said, Whats up, Miguel? He said, 'Agghhhhh.' Then I saw him on the bases and he said, Stay away from the ball! Why do you pick on me? I asked Cabrera about that exchange. Great! Cabrera said. It is great we have him now. We are going to have him get the outs. Hunter can do it all. He even was a barista at a local Dunkin Donuts during this weeks Tigers caravan through the state. On the caravan, Hunter said, Ive seen a different side of Detroit and the metroplex. Its nice! Its nice, man! "People have asked me, Why do you want to go to Detroit? I tell them, Its nice, man. Its the place to be. Who knows, years from now, when hes done stealing hits and scoring runs and Bing has stepped aside, maybe he'll run for mayor.
Original Story:
http://www.foxsportsdetroit.com/01/26...
THE BACKYARD
BEST OF MAXIM
RELATED ARTICLES
DETROIT -- Torii Hunter Jr. might be ready to play for Notre Dame next season after all. Speaking at TigerFest Saturday, Torii Hunter Sr. said his son is progressing ahead of schedule after breaking his left femur during practice for the U.S. Army All-American Bowl at the beginning of January. "He's doing a lot better," Hunter Sr. said. "He's on crutches...
The hot stove in regards to the Detroit Tigers isn't exactly burning at this point in the offseason. Smoldering, maybe. The Tigers may very well make some additional moves to tighten up the roster but by and large the attention is turning to the roster as it currently sits. With that in mind, here are some burning questions that fans are demanding answers to. This will be a 2-part...
DETROIT -- Rookie Bruce Rondon, the Tigers' top prospect to close this season, is being considered by the Venezuelan national team to be its closer in the World Baseball Classic when competition begins in early March. I have heard a lot of talk about that, Tigers general manager Dave Dombrowski said, but weve never been officially asked. Observations of Rondon during spring...
DETROIT Tigers manager Jim Leyland is going to talk about his rookie closer, Bruce Rondon, and his need to turn the page so often in the months ahead that Leyland will either lead to a revival in reading or of an old Bob Seger song. You remember Turn the Page by Ann Arbors Rockin Robert Seger, right? Well, anyway, Rondon, 22, is getting a shot at replacing Jose Valverde, who collapsed...
DETROIT -- The weather's cold, but baseball fever was hot at Comerica Park on Saturday. The Tigers arrived to see 10,000-plus ardent fans waiting in line around the block to get into TigerFest, the team's annual winter baseball carnival. "It makes it all worth it when you see them packed around the corner out there," center fielder Austin Jackson said. "They...
Players do not often reveal their motivations these days.  It can hurt their contract negotiations when working on an extension.  Justin Verlander is not concerned with that, though.  At the Detroit Tigers' annual luncheon, Verlander made no secret of his desire to spend the rest of his career in Detroit. Jason Beck of MLB.com says the question about what Verlander wants...
The Venezuelan Baseball League Final started Wednesday in the city of Valencia. Cardenales de Lara and Navegantes del Magallanes will vie for the championship trophy. Although with little presence of Tigers, many had outstanding participation in the playoffs and it is important to highlight. None more noteworthy than the appearance in January of Omar Infante.
Detroit Tigers ace Justin Verlander recently stated that he would like to spend his entire career in the Motor City and earn Hall of Fame honors in the process.  What is the likelihood of this happening? According to baseballreference.com career leaders for WAR (wins above replacement), of the Top 50 pitchers of all-time only Walter Johnson, Bob Gibson, Carl Hubbell, Jim Palmer...
Coming into 2012, one of the biggest questions the team was facing was whether or not superstar Miguel Cabrera could successfully make the shift back to third base. Cabrera was able to hold his own, but just how well did he do, and was it good enough to stick there long term?
MLB News

Delivered to your inbox

You'll also receive Yardbarker's daily Top 10, featuring the best sports stories from around the web. Customize your newsletter to get articles on your favorite sports and teams. And the best part? It's free!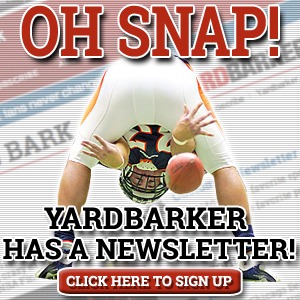 Latest Rumors
The Backyard

Today's Best Stuff

For Bloggers

Join the Yardbarker Network for more promotion, traffic, and money.

Company Info

Help

What is Yardbarker?

Yardbarker is the largest network of sports blogs and pro athlete blogs on the web. This site is the hub of the Yardbarker Network, where our editors and algorithms curate the best sports content from our network and beyond.