Found June 30, 2013 on The GM's Perspective:
You have to hand it to Minor League Baseball. When they come up for the idea of a promotion, and when it's done properly, everyone will take notice. Last month, the Florence Freedom of the Independent Frontier League had Manti Te'o Girlfriend Bobblehead Night. They took advantage of the bizarre story involving Notre Dame Heisman candidate Manti Te'o and the alleged Catfish Scam he was involved in.  Coming July 3, the Huntsville Stars, the Double-A affiliate of the Milwaukee Brewers, will be holding 2nd Amendment Night. The 2nd amendment states, "A well regulated Militia, being necessary to the security of a free State, the right of the people to keep and bear Arms, shall not be infringed." Stars GM Buck Rogers spoke to AL.com and gave his thoughts as to why he is moving forward with such a promotion. "One of the hot button issues right now is the Second Amendment that everybody's running from. We're not touching base on First Amendment, Fourth Amendment, abortion or any of that type of stuff. A lot of stuff makes people uncomfortable. "Maybe it's time Americans basically said, 'Hey, what's going on? What's wrong with this? Day in and day out, people's rights are being taken away. The government is spying. We've got phone companies selling our information - the whole nine yards." The club has verified that it is not actually giving away free guns during the promotion, but those in attendance will have a chance to win one of three guns at Larry's Pistol and Pawn; and those who have NRA membership, gain free admission to the game; Ruger American with a scope Ruger 22-45 MKII Ruger 10-22-TD With recent news that New England Patriots star Tight End Aaron Hernandez has recently been brought up on Murder chargers concerning an execution style shooting, this promotion might not be the right thing to do at this time. Rogers continued to say that they are expecting a big crowd that night, somewhere in the area of 8,000, hence bag checks and an increased police presence. Whether or not a political point of view is necessary in sporting events, everyone is entitled to free speech, but just remember when the London Rippers were getting lambasted for a cartoon logo. According to FOX Sports, the Stars said the night will be filled with patriotism, fun, food and firepower. Controversy drums up attendance and you can bet the Stars will have a sold out crowd that night. Yeee-Haw! Devon is the Founder and Executive Director of The GM's Perspective. He is a former professional baseball player with the River City Rascals & Gateway Grizzlies. Currently, Devon is a Manager at a financial institution in Northern Ontario Canada, and can be reached at devon@thegmsperspective.com. You can follow The GM's Perspective on Twitter and Facebook. His full bio can be seen here.
Original Story:
http://thegmsperspective.com/blog/?en...
THE BACKYARD
BEST OF MAXIM
RELATED ARTICLES
After another short start, the Milwaukee Brewers needed some extra coverage in the bullpen. Right-hander Tyler Thornburg was recalled from Triple-A Nashville following Friday's 10-3 loss to Pittsburgh, as the club sent outfielder Caleb Gindl back to Triple-A to make room. The Brewers will go to four-man bench in order to add a long reliever. Yovani Gallardo went just four innings...
While it will still be some time before Ryan Braun returns to the active roster, he has finally been cleared to start swinging a bat.  Braun has been unable to do so for the entirety of his time on the disabled list so far.  Yesterday, we covered Braun's expected timetable for return, but the fact that he can swing a bat slightly earlier than originally reported is good news...
Although Saturday saw Milwaukee Brewers' left fielder Ryan Braun have his best day in the training room since his injury, he is not expected to swing a bat until next Thursday. He is also most probably sidelined until after the All-Star break. As reported by Adam McCalvy of MLB.com, "Braun is on the disabled list because of an irritated nerve between his right thumb...
I just realized the World Famous Racing Sausages needed a tribute theme & illustration. I've added the piece to the Brewers Bar set at Soundcloud. (Here) - As always, these are free to download, if any of them happen to be appealing. I wrote this jazz theme today for 2 guitars, and added upright bass, the 3 parts layered over an existing drum part (bad ankle). There is a...
The pitching staff gave the Milwaukee Brewers plenty of chances to score enough runs to win Sunday's series finale in Pittsburgh, but the undermanned unit couldn't even muster a threat. Almost seven hours after the first pitch, Russell Martin snuck a ground ball up the middle to score Gaby Sanchez and give the Pirates a 2-1 victory, sending Milwaukee to a season-worst 16...
A minor league affiliate of the Milwaukee Brewers has decided to offer a promotion celebrating the second amendment.On July 3, the Double-A Huntsville Stars will be offering fans the chance to win one of three guns to honor the right to bear arms in the United States.The image you see above is the poster detailing the momentous night. You may even notice that National Rifle Association...
The Pittsburgh Pirates are playing so well that they have to feel they can earn a rare win over Kyle Lohse. Lohse is 9-2 in his career against the Pirates, who will try for their ninth straight victory Sunday and a three-game home sweep of the Milwaukee Brewers. Pittsburgh (50-30) owns baseball's best record thanks to its longest win streak since a 10-game run June 26-July...
Not a whole lot of people have been paying attention to the Marlins. Now, this is typically the case, but the Marlins have been off the radar for months. People suspected they'd be bad, then they came out and were bad, and that was it, that was confirmation of beliefs. So maybe you didn't notice, but since May 31, the Marlins have posted the National League's second-best record...
Athletes and guns have been a poisonous mix. It only took a few days for the Huntsville Stars to realize that. Now, the minor league team -- a Double A affiliate of the Milwaukee Brewers -- that is playing host to a "2nd Amendment Night," which was to feature the raffling of three rifles, has called off that portion of the evening. According to Stars' general manager...
Brewers (32-46) at Pirates (49-30) 7:15 PM–PNC Park, Pittsburgh MLB.com Gameday TV: FOX The first place Pittsburgh Pirates go for eight in a row tonight against the last place Milwaukee Brewers. PNC Park should be sold out for the fifth straight game (it's Fireworks Night, after all) and it should be a great atmosphere on the North Shore. Tonight's game is on FOX, but only...
God, 50 wins already?  I celebrated by showing my boobs to everyone like it was Mardi Gras.  Can you believe they threw me out of McDonalds? Can't a grown man be excited about his favorite baseball team having the best record in baseball?  It's nothing that playplace full of kids hasn't seen before.  They weren't…
I'm sure it's not an original idea but it's something I thought about after last night's victory and something I definitely believe.  Last season, the year before, this team doesn't win that game, let alone dominate it like they did. That's exactly what is different about this year's club.  We've seen them repeatedly come back…
Brewers News

Delivered to your inbox

You'll also receive Yardbarker's daily Top 10, featuring the best sports stories from around the web. Customize your newsletter to get articles on your favorite sports and teams. And the best part? It's free!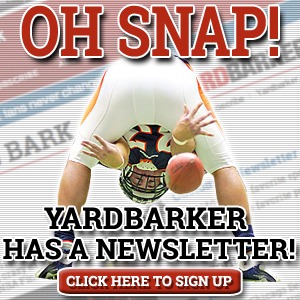 Latest Rumors
Best of Yardbarker

Today's Best Stuff

For Bloggers

Join the Yardbarker Network for more promotion, traffic, and money.

Company Info

Help

What is Yardbarker?

Yardbarker is the largest network of sports blogs and pro athlete blogs on the web. This site is the hub of the Yardbarker Network, where our editors and algorithms curate the best sports content from our network and beyond.