Found October 31, 2011 on 22gigantes:
Congratulations on a Hall of Fame career, Tony...ya bum.
Tony LaRussa is retiring from baseball. Two thoughts come right to mind: Good luck and good riddance.
Those of you who have followed this blog for awhile know how I feel about LaRussa. I've always thought of him as a punk. A baseball manager who'd do anything to win a game.
But the truth is, had Tony managed my beloved Giants, I'd probably think he was a saint; that his name should be engraved in golden archways stretching across the corridors of AT&T Park; and that the world will never know such an intelligent baseball mind again.
But LaRussa never managed the Giants.
He started rubbing me the wrong way when he took over as the Oakland A's skipper in 1986 and led them to three straight World Series appearances. (As a Giants fan, I have never bought into the whole half-A's/half Giants baseball cap gimmick. I'm a Giants fan. Period.)
I could (and probably should) blame the Giants' collapse in the 1989 World Series on the Loma Prieta quake. That would be the sound thing to do. But I've always blamed LaRussa. (He knows how to get stadium lights to malfunction, but I'm pretty sure he hasn't figured out how to jump start massive earthquakes, so bear with me here.)
You see, after the big quake in Game 3 of the '89 Fall Classic, LaRussa and his "juiced-up" A's (already leading two-games-to-none) were given the luxury of having a few extra days off (yes, so were the Giants, I know). And what did LaRussa do?
He started three-time 20+ game winner Dave Stewart again, that's what.
Bob Welch was originally slated to start Game 3 for the A's (and Don "The Caveman" Robinson was scheduled for San Francisco.) I truly believe the Giants had a legitimate chance to take Game 3, before the earth started shaking just minutes before the first pitch.
After the subsequent 10-day layoff, LaRussa and Giants skipper Roger Craig were able to go back to their Game 1 starters.
Advantage: A's.
With all due respect to Scott Garrelts (one of my favorite Giants pitchers of all-time), Stewart was coming off a remarkable All-Star season in which he went 21-9 with a 3.32 ERA. Stewart would end up having four straight seasons of 20 or more wins with a combined 41 complete games during that period. There's a reason he was nicknamed "Smoke."
Garrelts, a converted reliever, wasn't too shabby himself (14-5, an NL best 2.28 ERA and 1.009 WHIP). But as I said, the advantage was clearly in Oakland's favor.
Stewart and the A's wound up taking Game 3 a week-and-a-half later. With their backs against the wall — and still reeling from the horrible events that rocked their city days before — the Giants fell meekly to the A's in a four-game sweep that still stings to this day.
It wasn't just the '89 Series that fired up my inner disdain for LaRussa. It was the way he grinded games to a halt with his constant trips to the mound (eight times a game on average, I heard someone say once). It was his quirky "pitcher hitting eighth" strategy. The incessant whining and complaining. And, his supposed lack of knowledge that Mark McGwire and Jose Canseco were using 'roids. C'mon, Tony. Now that you're retired, fess up dude. You were probably right there in the A's locker room pushing the plunger in the Bash Brother's asses.
Anyway, it should be noted that my derision for Tony LaRussa comes not from any real wrongdoing on the 67-year old vegetarian pet lover's part.
He's third on the all-time wins list (2,728 wins), behind Connie Mack (3,731) and John McGraw (2,763). He's won World Series titles in both the American and National Leagues and has been named Manager of the Year in both leagues as well. LaRussa is one of two managers in baseball history to have World Series championships in three decades and win pennants in four.
My contempt for Tony LaRussa boils down to one thing: I'm jealous that the cities of Oakland and St. Louis got to reap the benefits of one of the greatest baseball minds to ever step on to a Major League Baseball diamond.
In fact, if I were the mayor of St. Louis, I'd be looking at all the ways to convince the National Park Service to rename the Gateway Arch to the Tony LaRussa Arch. He was that good.
Good luck, Tony.
And good riddance.
I hope you enjoyed reading "I hate you, Tony LaRussa. But, um, congratulations and good luck." I'm interested in your opinion on this article. Why not leave a comment at 22gigantes.com?
Original Story:
http://feedproxy.google.com/~r/22giga...
THE BACKYARD
BEST OF MAXIM
RELATED ARTICLES
There's a sad and uncomfortable truth hidden beneath the mounds of adulation heaped upon recently retired St. Louis Cardinals manager Tony La Russa. Like a parent who turns a blind eye as a child spins out of control, La Russa bears as much responsibility as just about anyone for the Steroid Era. And we all need to consider the biggest stain in baseball history to be an equally...
St. Louis Cardinals manager Tony La Russa is retiring. The Cardinals scheduled a 10 a.m. ET news conference at Busch Stadium for La Russa to announce his decision. "I think this just feels like it's time to end it," La Russa said. La Russa, 67, goes out a champion after leading the Cardinals to a stirring seven-game World Series triumph over the Texas Rangers just...
One of the first emails to land in my inbox after St. Louis Cardinals manager Tony La Russa's surprise retirement party was from a longtime Cincinnati Reds fan. It said, "I won't miss Tony at all." Most Reds fans won't. As far as public enemies are concerned, Reds fans are devoutly anti-Cardinals, and their top five are La Russa, Chris Carpenter, Yadier Molina...
His teams always came prepared, played hard and could never be counted out. Danny Knobler says the Cards and baseball will sorely miss the fearlessness, ingenuity and mystery Tony La Russa brought to the game.
ST. LOUIS (AP) -- Tony La Russa's not done with his victory lap yet.
<span style="font-family: "Arial","sans-serif"; font-size: 10pt;">In a bit of a surprise St. Louis Cardinal manager Tony LaRussa has announced his retirement after 33 years as an MLB manager.<span style="font-family: "Arial","sans-serif"; font-size: 10pt;">LaRussa has rubbed some folks the wrong way over the...
Word this morning that Cardinals manager Tony La Russa has retired. Wow, they sure didn't have much time to celebrate that World Series in St. Louis, did they? Well, at least they got the weekend. As for the Texas Rangers, it could take a lot longer to get over that Game 6 collapse. Maybe never. Don't get me wrong. I do think the Rangers could get back to the Fall Classic...
MLB News

Delivered to your inbox

You'll also receive Yardbarker's daily Top 10, featuring the best sports stories from around the web. Customize your newsletter to get articles on your favorite sports and teams. And the best part? It's free!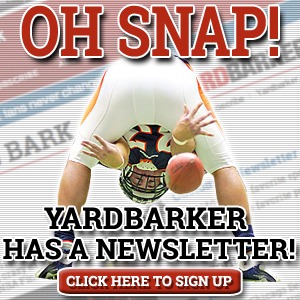 Latest Rumors
The Backyard

Today's Best Stuff

For Bloggers

Join the Yardbarker Network for more promotion, traffic, and money.

Company Info

Help

What is Yardbarker?

Yardbarker is the largest network of sports blogs and pro athlete blogs on the web. This site is the hub of the Yardbarker Network, where our editors and algorithms curate the best sports content from our network and beyond.