Found August 26, 2012 on Pirates Prospects:
PLAYERS:
Rick Vanden Hurk
,
Alex Presley
,
Matt Hague
,
Drew Sutton
,
Eric Fryer
,
Luke Carlin
,
Anthony Gallas
,
Cord Phelps
,
Dallas McPherson
,
Gregorio Petit
,
Brock Holt
,
Vinny Rottino
,
Tim Fedroff
,
Jared Goedert
,
Jo-Jo Reyes
,
Anderson Hernandez
,
Juan Diaz
,
Jeff Larish
,
Jose Morales
TEAMS:
Pittsburgh Pirates
,
Cleveland Indians
Columbus Clippers  5,  Indianapolis Indians  3 (Box)   Rick VandenHurk gave up 2 runs over 5 innings. Clippers' starter TJ McFarland has not had a good season against the Indianapolis Indians.  In his three previous starts against the Indians, McFarland got beat around.  On July 7th, the Indians scored 8 runs on 10 hits and 4 walks against McFarland in just 2.1 innings.  The following week, on the 15th, the Tribe smacked 9 hits for 4 runs in 5 innings, and on August 11th, McFarland gave up 4 runs on 6 hits, including 3 home runs in 7 innings.  That adds up to 25 hits and 16 runs in 14.1 innings (10.05 ERA).  So, the Indians might have been feeling a little confident to see McFarland taking the mound at Victory Field this afternoon. This time, McFarland turned the tables on the Tribe.  He let the Indians put runners on base, but did not let them come around to score.  CF Alex Presley and 1B Matt Hague hit back-to-back two out singles in the 1st inning.  Presley got as far as third ba...
Original Story:
http://feedproxy.google.com/~r/Pirate...
THE BACKYARD
BEST OF MAXIM
RELATED ARTICLES
The Pirates have been struggling in the month of August. While their pitching has been impressive for most of the season, their team ERA ballooned to a 4.58 ERA this month as the club has posted just a 9-16 record. A.J. Burnett was the next Pittsburgh starter to struggle on the bump on Monday at PNC Park. After allowing four runs over 5.2 innings (shortened by the rain delay), the...
Through August 1st of the 1910 Pittsburgh Pirates season, the defending World Series champs had gone 50-36, putting them in third place. The Giants had a half game lead on the Pirates, but they trailed the Cubs by a full seven games, with just over two months left in the season. Pittsburgh left on a road trip that would take them from Philadelphia, to Boston, to Brooklyn, then to...
Two hits. That's all we got. Two lousy hits.   Scoring Summary Top 1st: Oakland - S. Smith hit sacrifice fly to deep left center, S. Drew scored, Y. Cespedes to third Top 2nd: Oakland - J. Reddick homered to deep right Top 3rd: Oakland - C. Carter singled to shallow left, S. Drew scored, Y. Cespedes to third    Oakland AB R H RBI HR BB K SB LOB...
The winning streak is over. (74-53) Final 1 2 3 4 5 6 7 8 9 R H E NY Yankees 0 3 0 0 0 1 0 0 0 4 11 1 Cleveland 0 0 0 0 2 0 0 0 0 2 7 0 WP: B. Logan (5-2) S: R. Soriano (33) LP: U. Jimenez (9-13) (55-72) Scoring Summary Top 2nd: NY Yankees - I. Suzuki singled to pitcher,...
Back in 2008 and 2009, Neil Huntington and crew dismantled the core group of Pirates players in a series of trades. Trading those players was the right move. There was some outrage from the fan base. But as Huntington noted, he wasn't breaking up the 1927 Yankees. The hope was that the return would be decent. Has it been decent? Or has this team been taken to the cleaners? Let's...
Indianapolis Indians  8,  Columbus Clippers  6 (Box)   Kyle McPherson pitched 7 scoreless innings. Yes, there are two of them, and both made big contributions to the Indianapolis Indians' win at Victory Field tonight.  Kyle McPherson pitched 7 shut-out innings for the Indians, allowing the Columbus Clippers only 2 hits.  Then DH Dallas McPherson hit two home runs, including...
John Glenn tossed out the ceremonial first pitch before the Cleveland Indians played the New York Yankees on Sunday. The 91-year-old Glenn was the first American to orbit the Earth in 1962. He asked the crowd for a moment of silence to honor Neil Armstrong, the first man to walk on the moon, who died Saturday at age 82. The Indians scheduled the appearance months ago to celebrate...
If you really want to get down to brass tacks, this whole game turned on one play. After the Pirates took a 2-0 lead in the bottom of the fourth inning, Yadier Molina lead off the fifth wiht a single. Skip Schumaker followed that up with a ball hit to left-center that seemed to hang up in the air for forever. It looked like Jose Tabata was going to be able to make a play on it, but...
Jeff Karstens pitched seven-plus innings before leaving with an injury and the Pittsburgh Pirates snapped a four-game losing streak with a 4-0 win over the Milwaukee Brewers on Saturday night. Karstens (5-3) gave up seven hits, did not walk a batter and struck out four for his first win in nine career starts against Milwaukee. Karstens also had an RBI single and scored during Pittsburgh...
PITTSBURGH (AP) -- Matt Holliday hit a tiebreaking home run and Kyle Lohse won his eighth consecutive decision, leading the St. Louis Cardinals to a 4-3 victory over the Pittsburgh Pirates on Monday night. Holliday led off the sixth inning with his 24th homer, a drive to right field off A.J. Burnett that put St. Louis ahead for good at 3-2. Lohse (13-2) pitched five innings before...
Photo: Benny Sieu, US PRESSWIRE In taking two of three games versus the Pittsburgh Pirates over the weekend, the Milwaukee Brewers showed the kind of damage they could do to foes over the next month in terms of spoiling other teams' chances at the playoffs.  Nearly a month ago, I waxed on the possibility of the Brewers making things hard on postseason contenders.  Ever since...
MLB News

Delivered to your inbox

You'll also receive Yardbarker's daily Top 10, featuring the best sports stories from around the web. Customize your newsletter to get articles on your favorite sports and teams. And the best part? It's free!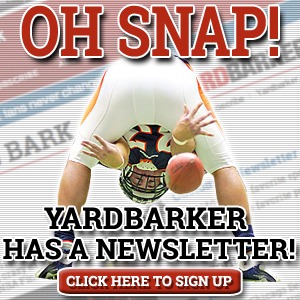 Latest Rumors
Best of Yardbarker

Today's Best Stuff

For Bloggers

Join the Yardbarker Network for more promotion, traffic, and money.

Company Info

Help

What is Yardbarker?

Yardbarker is the largest network of sports blogs and pro athlete blogs on the web. This site is the hub of the Yardbarker Network, where our editors and algorithms curate the best sports content from our network and beyond.