Found February 18, 2013 on ChadMoriyama.com:
PLAYERS:
Chad Billingsley
,
Takashi Saito
,
Carl Crawford
,
Don Mattingly
,
Andre Ethier
,
Scott Elbert
,
Paco Rodriguez
,
JP Howell
,
Kenley Jansen
,
Chris Withrow
,
Hong-Chih Kuo
TEAMS:
Los Angeles Dodgers
,
Arizona Diamondbacks
,
Chicago Cubs
The Dodgers begin their 2013 Spring Training with a ton of injury concerns, and now that the whole team has reported, it's time for an update on player statuses. No better way to start this off than Chad Billingsley, who might be the biggest question mark of all, even if the depth acquired has mitigated the consequences if he does falter. Coaches say he looks normal, trainers have him on his normal schedule, and he says he feels normal. "I feel normal," said Billingsley, who chose platelet-rich plasma injections over Tommy John surgery, as Takashi Saito did successfully five years ago. "There wasn't a time in the offseason when I felt like I didn't know if it would hold up," Billingsley said. "I know some people think it's an issue, but I don't. I came to Spring Training not worried about it." "They pushed me, basically gave me a chance to blow it out, figuring if it was going to fail, it would be better to know then," said Billingsley. "In the simulated game, I felt awesome. I'm really excited." Billingsley is on a regular schedule and he has no restrictions. "There hasn't been any mention in any of the medical reports or anything else. His name's not on a list, it's not on anything. He's just like one of the guys getting ready. We're really getting to the point where we're just assuming he's going to be ready, and he's going to be fine," Mattingly said. Extremely difficult not to be encouraged, but we've heard this song and dance before with injuries, and it's hard to argue against the previous science of trying to rehab partially torn elbow ligaments. Remember, not if, but when. —– Carl Crawford is another gigantic question mark for 2013, and he doesn't seem to be coming along quite as quickly as he planned. Carl Crawford, though, is not as far along in his recovery from August Tommy John surgery on his left (throwing) elbow. He's throwing up to 90 feet, hitting off a tee and hopes to graduate in the next few days to live pitching, which Kemp did weeks ago. Crawford said he's "confident" he'll be ready by Opening Day, depending on what the Dodgers "want to see." "I think I can hit the cutoff man, but I don't know if that's where they want me to come back," he said. "I think I'm an everyday guy, but I understand the thought of easing me back in." Crawford said he has no pain in his elbow, "just typical muscle fatigue," and that his arthritic left wrist hasn't given him trouble, but "it's something to stay on top of throughout the season." Depending on what the Dodgers want to see? They want to see a healthy outfielder, not a guy who is 75% and lobbing the ball into the cutoff man. He has a noodle arm as it is, after all. On the positive side of things, Don Mattingly seems encouraged by his progress. Mattingly was very pleased with Carl Crawford, who participated in batting practice today. " Carl was good, I was really surprised." "With Carl being out on the field for the first time, he'd been swinging," but today was the first time he was out on the field in a while. All three outfielders spent time hurt last year, so it seems weird they have three backups for the rotation, but don't even have a platoon partner for Andre Ethier yet. —– Scott Elbert sounds encouraged even though he's coming off elbow surgery that necessitated the signing of lefty relievers to ensure that the team isn't just relying on Paco Rodriguez. "They didn't give me a time frame, but it looks like May," said Elbert, whose second surgery led to the signing of free-agent reliever J.P. Howell for $2.85 million. On Sept. 19, Elbert underwent a first procedure to remove scar tissue in the back of the elbow. But after beginning a throwing program, he developed pain in a different area that led to a Jan. 23 arthroscopic procedure involving "a new area of cartilage damage [that] was discovered and debrided" by Dr. Neal ElAttrache, according to Elbert. "It feels a lot better now," Elbert said of the elbow. "After the first surgery, I tried throwing for two weeks but had to shut it down. It never calmed down; it just hurt." Elbow surgery isn't as significant a deal anymore, but when they start piling up, there has to be some concern there for the future a la Hong Chih Kuo. —– Kenley Jansen had a minor issue with an ingrown toenail, which doesn't seem to be anything to worry about. Hell, I was almost glad the issue was that and not something related to his heart. —– In more worrisome news, Chris Withrow needs an MRI on his ailing back, the same problem that has plagued him in the minors. It's becoming a chronic issue, and while he's converted to a relief role in an attempt to reign in his stuff, this injury might be a bigger obstacle to his progress than his command at this point.
Original Story:
http://feedproxy.google.com/~r/ChadMo...
THE BACKYARD
BEST OF MAXIM
RELATED ARTICLES
Former Los Angeles Dodger and 12-time All-Star Mike Piazza admitted to taking amphetamines and Androstenedione during his career. Earlier, Piazza reiterated his long standing denial of taking performance-enhancing drugs during his career. However, in his book, Longshot, he addresses the accusations even further. When asked, if he ever used performance-enhancing drugs during his baseball...
Sticking with the power theme, I'm going to look at the best fastballs in the in the Dodgers' farm system. I'll separate the starters and relievers. The Dodgers have a lot of power arms in the system -- something every team should want. It remains to be seen if these guys, especially the starters, make it to the majors in some capacity. One thing's for sure: arm...
Probably one of my favorite Spring Training activities is watching the non-roster invitees try and have a magical breakthrough and make the major league team. While always a long-shot, it's fascinating to see who is extended an invitation and how the competition progresses. Ken Gurnick over at MLB.com has a great look at state of the Dodgers' the NRI pitching competition as Mattingly...
Particularly now that Joe Morgan is out of the announcing game. And hey, at least Morgan was an all-time great, and either the best or second-best second baseman ever. Lyons was, shall we say, less than terribly atrocious.Here's what Lyons is most well-known for: not his announcing, not his baseball insights, not his witty commentary, but this display of hilarious ineptitude...
PHOENIX Chad Billingsley's uncertain health status was one of the reasons Dodgers General Manager Ned Colletti cited for entering spring training with eight starting pitchers. But Billingsley said that in his mind, there are no doubts about his elbow. He has already been on the mound about a dozen times since he started his throwing program last month. "Throwing a bullpen...
Dodgers outfielder Carl Crawford could miss his team's April 1 opener against San Francisco after leaving spring training to have his elbow examined in Los Angeles. Recovering from elbow ligament-replacement surgery on Aug. 23, Crawford felt nerve irritation in his left arm. The Dodgers said Friday he was examined a day earlier by Dr. Neal ElAttrache, who prescribed anti-inflammatory...
Will be getting these up on a daily basis moving forward (straight from the Dodgers' PR department): INTO THE SWING OF THINGS:On the third day of full-squad workouts, left-hander Clayton Kershaw threw a live batting practice session, facing teammates Carl Crawford, Luis Cruz, Andre Ethier, Adrian Gonzalez, Jerry Hairston, Matt Kemp, Hanley Ramirez and Juan Uribe. In addition to...
Prior to 2012, Zack Greinke had never really pitched in a big city. Aside from some starts on the road, during which he took a team bus to the stadium, the 29-year-old has likely did not have to battle traffic all that often while pitching in places like Kansas City and Milwaukee. Now, $158 million has brought him to one of the most popular cities in America. If all goes to plan...
Las Vegas oddsmakers like the Los Angeles Dodgers' chances of winning this years World Series and have made them 17/2 favorites to capture the title this season. It seems as if the Dodgers fans share the same enthusiasm for this year's club as well. According to the Dodgers front office, a record number of season tickets have already been sold for the 2013 season. The club has...
The Dodgers' minor league rebuilding efforts have already paid dividends.
As anyone who is a fan of baseball knows, pitchers are critical to a baseball team. They are capable of making or breaking a game, so having talent on a team is obviously very important. Don Mattingly and the Los Angeles Dodgers have some choices to make!  With all of [...]
MLB News

Delivered to your inbox

You'll also receive Yardbarker's daily Top 10, featuring the best sports stories from around the web. Customize your newsletter to get articles on your favorite sports and teams. And the best part? It's free!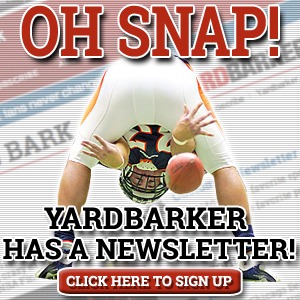 Latest Rumors
Best of Yardbarker

Today's Best Stuff

For Bloggers

Join the Yardbarker Network for more promotion, traffic, and money.

Company Info

Help

What is Yardbarker?

Yardbarker is the largest network of sports blogs and pro athlete blogs on the web. This site is the hub of the Yardbarker Network, where our editors and algorithms curate the best sports content from our network and beyond.