Found July 01, 2013 on Fox Sports North:
MINNEAPOLIS -- As soon as the ball left the bat, Joe Mauer took off running. As Mauer stood on first base with one out in the first inning, Justin Morneau sent a drive to left center field in Saturday's game against Kansas City. Royals center fielder Jarrod Dyson looked like he might have a play on the ball, but Mauer read it perfectly. The ball was just out of reach for Dyson and Mauer kept running -- and almost ran into teammate Brian Dozier, who was on second base when the play started. It wasn't because Dozier made the wrong read; he did the right thing by waiting at second base. The fact that Mauer ended up right on Dozier's heels was a testament to Mauer's instincts as a base runner. "I've said this quite a few times: I think Joe Mauer's the best base runner we have," said Twins general manager Terry Ryan. "He's instinctual. He doesn't have any fear. He really cuts bases well. He's probably the fastest catcher in the American League." Mauer has often been lauded for his ability to hit for a high average (three-time batting champion) as well as his defense behind the plate (three Gold Glove awards in his collection). But Mauer's knack for base running often goes unnoticed or unheralded. Sure, Mauer may never lead the league -- or even his own team -- in stolen bases. His career high for steals was 13 back in 2005, and he hasn't stolen more than eight in a year since then. He has yet to swipe a base in 74 games in 2013. But it's not about speed that makes Mauer a deft base runner. It's his ability to read the ball off the bat, like he did Saturday on Morneau's double. It's his aggressiveness going from first to third on a base hit to the outfield. It's his awareness of the opposing fielders' strengths and weaknesses and how to best exploit them. The St. Paul native learned a bit about base running from another St. Paul native who was known for his ability to run the bases. Mauer has picked the brain of Paul Molitor over the years, working with the Hall of Famer during base running drills in spring training. "That's where I've learned a lot from," Mauer said of Molitor. "In spring training he holds court down there and base running stations, things like that. It's amazing a lot of the little things you can pick up throughout a game, small things that can make a big difference in a game." Mauer gets on base more than most players -- he led the league with a .416 on-base percentage last year and was getting on base at a .409 clip prior to Sunday. That means he's also running the base more than most. Despite that, he rarely makes a bad out on the bases. If he takes a risk by trying to take an extra base, it's a calculated one. "Instinctually, he's really, really good," said Twins third base coach Joe Vavra. "He's not going to make too many mistakes on the base paths. That's critical. He's got good speed; it's deceptive speed. Once underway, he runs well with everybody. He's a great athlete out there. There aren't too many things he can't do good." Earlier this month in a game against the White Sox, Mauer lined a double to right field. As he hustled around first base, Mauer knew there might be a play at second so he slid into the base. There was something unusual about the slide, though: he went in headfirst. It's something Mauer has rarely done in his career, instead opting to slide feet first almost every time. But for whatever reason, he changed things up on this particular slide. "I was joking with the guys, I was like, Ah, I don't know if I'll be doing that a whole lot,'" Mauer said. "I think in that particular moment, I think my head was moving faster than my legs. A little sore, just trying to get there. Obviously, too, knowing where the ball is, trying to avoid the tag, things like that. I don't know if I'm going to be doing that a whole lot more." Mauer says he's picked up base running habits from years of playing, especially his time in pro ball since the Twins drafted him No. 1 overall in 2001. But much like Mauer's smooth swing, which seems to come naturally, so too does his ability to run the bases. "I think that comes God given," Ryan said. "Playing the game as a youth and always being around the game, you do develop feel for some of those things. But if it was that easy, there would be a lot more of it. We all watch base running and we all watch run downs and we all watch execution. It doesn't happen as easy as he makes it look." Follow Tyler Mason on Twitter
Original Story:
http://www.foxsportsnorth.com/mlb/min...
THE BACKYARD
BEST OF MAXIM
RELATED ARTICLES
MINNEAPOLIS -- Sunday marked the 18th consecutive start for Twins center fielder Clete Thomas, who has filled that spot while Aaron Hicks is on the disabled list. Minnesota didn't see much of Thomas last year as he played in just 12 games and had 29 plate appearances -- including 16 strikeouts. In his second stint with the Twins, though, Thomas has been filling in admirably...
MINNEAPOLIS -- On the first day of the international free agency period, the Minnesota Twins have agreed to terms with a pair of Dominican prospects. Outfielder Lewin Diaz agreed to a 1.4 million contract, while third baseman Roni Tapia reached an agreement for 550,000, according to a release from the Dominican Prospect League. Diaz, 16, is a 6-foot-4, 210-pound left-handed hitting...
BROKEN DREAMS
Give the Minnesota Twins credit for being creative. New York Yankees closer Mariano Rivera is on his farewell tour around Major League Baseball and the Twins just gave him the best gift so far. Before the teams matched up on Tuesday night, the Twins presented Rivera with a rocking chair made out of broken bats caused by Rivera's pitches. The above picture shows the gift, dubbed...
MINNEAPOLIS -- Given the way his last several starts had gone, Twins left-hander Scott Diamond knew he needed a strong outing Monday. The final score might not have indicated it -- Minnesota fell 10-4 to the New York Yankees at Target Field -- but Diamond took a step in the right direction with Monday's start. For the first time since May 7 Diamond pitched into the seventh inning...
Those smiles on the faces of the Minnesota Twins? Those are the smiles of ballplayers who know they'll never have to face Mariano Rivera in the ninth inning again. While Rivera has received a lot of creative gifts from opposing teams during his farewell tour through the big leagues, the Twins had perhaps the best one Tuesday night. Minnesota presented Rivera with what it called...
For most of the last two seasons, setup man Jared Burton has been one of the few players the Minnesota Twins have been able to rely on to deliver night in and night out. That no longer appears to be the case. Burton faltered again with a lead in the eighth inning, giving up three runs on three hits and getting just one out in Minnesota's 10-4 loss to the New York Yankees on...
Minnesota Twins' outfielder Josh Willingham was scratched from Monday night's lineup against the New York Yankees with discomfort in his left knee. As reported by Rhett Bollinger and Kelly Erickson of MLB.com, "Willingham, who was slated to start at designated hitter, has been dealing with a sore left knee throughout the season and had a cortisone shot in...
Your browser does not support iframes. A Kansas City Royals fan who attended Sunday's road game against the Minnesota Twins made a tremendous catch of a foul ball as he leaned back and caught it while tumbling backwards over his seat. It happened in the fourth inning on a foul popup hit by Royals batter Billy Butler. Not only did the fan manage to hold onto the ball while...
MINNEAPOLIS -- As Yankees closer Mariano Rivera has made his farewell tour this season before retiring at the end of the year, he's been given gifts by many teams. The Minnesota Twins may have had the most creative one yet. Before Tuesday's game at Target Field, the Twins presented the 43-year-old Rivera with a rocking chair. It wasn't an ordinary chair, though: it...
The New York Yankees have ended their second five-game slide of the season, but they haven't had much success lately when Phil Hughes has been on the mound. The Minnesota Twins, meanwhile, rarely lose when Samuel Deduno pitches at home. This matchup of right-handers could help the Twins even this four-game set Tuesday night, as Deduno looks to improve to 4-0 at Target Field this...
For most of the last two seasons, setup man Jared Burton has been one of the few players the Minnesota Twins have been able to rely on to deliver night in and night out.
Before the Super-long holiday weekend when everyone disappears for five days, I figured I should do a quick round-up of the three Minnesota sports teams I know about and touch on the biggest story right now.  See, I know (and love) both Gopher Hoops and the Twins, and I'm pretty knowledgeable about the Wolves and the NBA.  I watch the Vikings every Sunday and play fantasy football...
MLB News

Delivered to your inbox

You'll also receive Yardbarker's daily Top 10, featuring the best sports stories from around the web. Customize your newsletter to get articles on your favorite sports and teams. And the best part? It's free!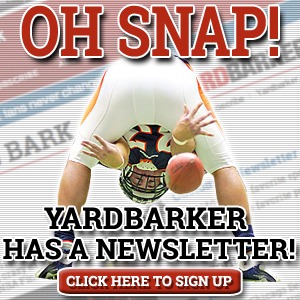 Latest Rumors
The Backyard

Today's Best Stuff

For Bloggers

Join the Yardbarker Network for more promotion, traffic, and money.

Company Info

Help

What is Yardbarker?

Yardbarker is the largest network of sports blogs and pro athlete blogs on the web. This site is the hub of the Yardbarker Network, where our editors and algorithms curate the best sports content from our network and beyond.