Found March 05, 2013 on The GM's Perspective:
I'm a big advocate of the Independent League baseball and always love to read about when someone works their way through the ranks. Whether it is back to minors or they're finally getting their opportunity, it shows just how hard it is to even get that chance.  In late December I wrote a piece on Tony Davis, a left-handed reliever for the Independent Quebec Capitales of the Can-Am League. In 20 games for the Capitales Davis allowed only three runs in 17 innings, posting a sparkling 1.06 ERA.  Davis, who was drafted by the Minnesota Twins in the 12th round of the 2009 MLB June Amateur Draft out of the University of Florida, spent four years in the Twins organization.  In 112 professional games (including his time with the Capitales) his ERA stands at 3.58 in 161 innings, struck out 139 and picked up 11 wins to go with seven losses.  He was gracious enough to spend some time speaking with The GM's Perspective and discuss his new opportunity with the Toronto Blue Jays.  Devon Teeple: You're a four-year professional but you have taken a different route to get back to the Minors; through the Independent Leagues. Did you find that a huge setback in your eyes considering you put up really great numbers in the Minnesota Twins organization?   Tony Davis: There are many ways I could have looked at it, but it truly was a blessing. Playing in Quebec was good for me in so many ways. The game became fun for me again. I got to be a part of a championship ball club and it really helped me find myself again as a pitcher. I was able to drop my arm slot to a low side arm in hopes of catching on with a team as a left handed specialist. There is nothing I would change about the path I have taken thus far in my career.   DT: How is the caliber of hitters in the Independent League compared to Single-A or Double-A or Triple-A?   TD: Well I haven't yet pitched in Triple-A, but I can tell you there are some extremely good hitters that I faced in Indy ball. Many of them had years of minor league / major league time under their belts, so the competition was great. I will say I think the talent level that is spread throughout independent ball is highly underrated by the average fan that compares it to affiliated minor league ball.   DT: I was a relief pitcher in the Frontier League in 2001 with the Gateway Grizzlies and River City Rascals. One of my teammates said there is not really that much difference between us and the pitchers who get drafted. It's about being in the right place at the right time. Is that true?   TD: It's hard to really know for sure. I will say timing and a little luck definitely have to be involved. There are guys I played with in Indy ball who have never had a shot to play affiliated ball and it absolutely blows my mind that they haven't. Take Jeff Duda for example. He was 15-1 with a 2.10 ERA (120 strikeouts 26 walks in 116 innings). Sure, he's not an 18 year old with a 95 mph fastball, but the guy can flat out pitch. Isn't that the name of the game?   DT: Was there at any point in time during your 2012 season with the Quebec Capitales where you were aware that the Jays might have in interest in signing you to a minor league contract?   TD: No. I had no idea at all. Of course eventually getting picked back up was my goal, but as the season wore on I was thinking less about that and was more trying to appreciate where this game has taken me and soak up the awesome atmosphere Quebec had to offer. I have never played with a group of guys who cared so much about doing whatever it took to win. It was the most unselfish group I've ever been a part of. I can't speak highly enough about the coaching staff either. They were at the very top of any coaches I've ever played for.   DT: The Blue Jays, at this time, are ripe with talent, and are considered World Series favorites according to the odds makers in Las Vegas, where do you see yourself with team this year?   TD: I'm not exactly sure yet where I fit into the Blue Jays plans. I will compete and give it all I have in spring training, but I'm not concerned with where I start. I am so honored to be wearing a uniform and trust the plan they will have in place for me. DT: You are now in an organization that has, if I am correct, 13 new players including Mark Beuhrle, Josh Johnson and reigning NL CY Young award winner R.A. Dickey; What can you learn from them while in spring training?   TD: Well to be honest, there's a chance I might not even get to see them! Since I am over in minor league camp at a different complex, we don't see a whole lot of the big leaguers. If I do get to dress for any big league spring training games as I got to do with the Twins, I will soak up every detail I can about how those guys go about their business. They are true professionals in every sense of the word.   DT: You arrived in spring training February 25, a little later than everyone else. What is your role at this point? And what are you looking to accomplish by opening day?   TD: Minor league spring training for pitchers and catchers didn't start until March the 2nd. I know my role will be a short reliever (no pun intended for my 5'9 frame) but don't know much more beyond that. I plan on getting accustomed to how the Blue Jays do things and be aggressive and confident once games start.   DT: This has been a long road, but who has stuck by you along the way through this journey?   TD: I have a wonderful support group and it starts with my wife, Brittany. My entire family always focuses so much on the positive and there is no way I could do what I do without them in my corner. Devon is the Founder and Executive Director of The GM's Perspective. He is a former professional baseball player with the River City Rascals & Gateway Grizzlies. Currently, Devon is a Manager at a financial institution in Northern Ontario Canada, and can be reached at devon@thegmsperspective.com. You can follow The GM's Perspective on Twitter and Facebook. His full bio can be seen here.
Original Story:
http://thegmsperspective.com/blog/?en...
THE BACKYARD
BEST OF MAXIM
RELATED ARTICLES
Contrarian points of view have quickly become the norm in mainstream media. Residing on the end of the spectrum opposed to popular opinion powers the 24-hour news cycle, the sports talk radio circuit and, in this case, presents fantasy baseball pundits the opportunity to knock assumed studs off the preseason pedestal. In the case of Blue Jays' pitcher R.A. Dickey, several recent...
It's fair to say that Dustin McGowan is due a bit of good fortune but it remains to be seen as to whether the 31-year old can break back into the Toronto Blue Jays' pitching rotation this season. The former first-round pick is back from his latest injury setback and he has started pitching again in the hope of earning a chance for the Jays this season as long reliever. Neck and...
In Boston, John Farrell is expected to be the manager who restores order, provides solid leadership and cleans the clubhouse of the crazy that kept the Red Sox from fulfilling their potential in 2012. In Toronto, though, one Blue Jays player says Farrell was opposite of that when managing the team last year. Outfielder Colby Rasmus had some harsh words about Farrell as he talked...
The Dusty Edition! Now with no lambchops (thank the gods, I much prefer the new look).Yes as you might imagine, THE big story for me this week is the rekindling of the elusive dream of watching a healthy Dustin McGowan take baseball by storm. Yes, I know I know the odds have to be astronomical, but as long as HE believes, I believe. The Jays are saying, obviously, that his opportunity...
Just in case you were wondering how things would be different with John Farrell at the helm, we have this: the first cuts of Spring Training include Drake Britton. Britton's demotion is not much of a surprise in and of itself. He was a 100:1 shot to make the big league club at best. However, being one of the first cuts on a list of relative no-names and also rans might be considered...
Bottom line, John Farrell isn't putting up with anyone's crap this season. The Red Sox manager and former pitching coach has the relational capital to make that kind of statement on this team and reverse the culture here in Beantown. Relational capital is a principle Bobby Valentine overlooked all together during his one year tenure in Boston. It's a principle that Tito...
JUPITER, Fla. (AP) -- Lance Lynn allowed four hits in a three-run first inning and Jason Motte gave up a two-run homer in his second straight outing as the St. Louis Cardinals lost to the Minnesota Twins 7-0 Monday. Working on his slider instead of throwing fastballs and trying to induce fly balls into the wind, Lynn gave up three runs -- two earned -- and five hits in 2 1-3 innings...
Angel Pagan led an All-Star lineup for Puerto Rico's national team by going 2 for 3 with an RBI in an 8-7 victory over the Minnesota Twins on Wednesday in a tuneup for the World Baseball Classic. Pagan, who led the National League with 15 triples last season for the San Francisco Giants, had a double and also scored a run. Fellow outfielder Carlos Beltran of the St. Louis Cardinals...
MLB News

Delivered to your inbox

You'll also receive Yardbarker's daily Top 10, featuring the best sports stories from around the web. Customize your newsletter to get articles on your favorite sports and teams. And the best part? It's free!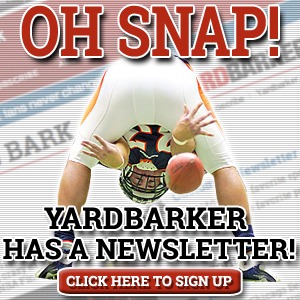 Latest Rumors
Best of Yardbarker

Today's Best Stuff

For Bloggers

Join the Yardbarker Network for more promotion, traffic, and money.

Company Info

Help

What is Yardbarker?

Yardbarker is the largest network of sports blogs and pro athlete blogs on the web. This site is the hub of the Yardbarker Network, where our editors and algorithms curate the best sports content from our network and beyond.