Found December 17, 2011 on Pirates Prospects:
Thanks to the efforts of Brian Warecki (Sr. Director of Communications for the Pirates) and Tom Smith from Rumbunter, some of the main blogs and online magazines were able to interview some Pirate players and front office people on Friday night at Piratefest.
Joining Matt Bandi and I were Charlie and Vlad from Bucs Dugout, Tom from Rumbunter, Jon from The McEffect, and Brian from Raise the Jolly Roger.  Charlie posted his highlights from the Frank Coonelly and Neal Huntington interview on Bucs Dugout.  We'll be posting ours later this morning from Piratefest (thank you wireless internet access).
We were introduced to new Pirate shortstop Clint Barmes first.  Here's some of the topics discussed:
We asked how much of an influence Clint Hurdle had on his decision — He said he had a "huge influence" on the decision, as he and the Pirates came hard after him early in the offseason.
On the negotiations with the Pirates and other teams — The Pirates were in the mix with multiple other teams, but no one wanted to commit with any "heavy negotiations" early in the offseason, except the Pirates.  They came with a concrete offer for him to play shortstop.  He talked it over with his family and agent and made the choice.
We asked about how the success of the Pirates through July influenced him — He sees they are going in the right direction and likes the composition of the team.
There was an unlikely source of help for the Pirates in his decision — Barmes trains out in Colorado with ex-Pirate pitcher, Javier Lopez.  Lopez told him that Pittsburgh was a great city and has helped him find a place to live and give him so me ins and outs about the city.
On leadership — Barmes will be one of the "older" players on the team and he is a "lead by example" kind of guy on the field and in the clubhouse.
Vlad from Bucs Dugout had some questions about his offseason workouts — His family keeps him in shape mostly.  After the offseason, Barmes takes 3 to 4 weeks off to be with them, then gets right back to his workout routine.  Early in his career, he used to do a lot of heavy lifting, but now he goes to the weight room 3-5 days a week.  Barmes does mostly core training and speed drills now.
Next up for our interviews was Chris Resop.  In the matter of full disclosure, all of us were kind of scratching our heads trying to figure out what to ask him before he showed up.  In reality, it turned into a very fun interview with Resop.  He is absolutely hilarious to talk with and you can only imagine what things are like in the bullpen with he and Joel Hanrahan, especially.
 In an effort to try and boost his 2013 salary, we asked him about the possibility of being a starter in 2012 — He has no idea why people think he can be a starter, as he's only done it for 2-1/2 months ever.  He likes being a guy that can play everyday, as he would get bored waiting every 5 days to pitch.
We asked about his mindset around the non-tender deadline — Resop doesn't really follow the media too much, plus even if he was non-tendered he knew that he had a good enough season that he would be picked up by some major league team.  This comment led me to joke "So you won't be pitching in Japan anytime soon?" which is where the interview got quite entertaining (and informative).
On Japan — Resop had been designated back to the minors by the Braves for the first time, so he had to accept it.  However, they still controlled his rights for 2 more years, but he saw a life of bouncing around AA and AAA.  His agent fielded some calls from multiple Japanese League teams, so against his instincts Resop went over to Japan to pitch for a little bit.
The different pitching mentality — Resop said in Japan it is not uncommon for pitchers to start off a game "throwing 8-10 offspeed pitches".  It will be "ball 1, ball 2 and I'm thinking c'mon put a fastball in there and let's go."  He said he was way too aggressive of a person (the seemingly new flame tattoos peeking out from under the sleeve of his jersey was my first clue, Professor Plum) to fit the style of Japan.
On the lack of aggressiveness — He described a scene where he observed a player practicing his "foul ball swing".  This player would deliberately take batting practice to practice fouling fastballs off to stay alive in the count.  Resop said that very few players can handle a true fastball, so they'll just foul them off until an offspeed pitch is thrown.  Kind of puts Yu Darvish's video game numbers into a little perspective for me.
Lack of continuity in Japan League baseball — As per Resop, there were 5 or 6 different types of baseballs in Japan with different types/heights of seams.  Additionally, some of the fields are actual dirt infields (not clay) so there will be a 30 minute interlude at times to re-do the infields during the game.  The mounds also differ from field to field, including some not having a mound at all.  For those fields, you're tired by the 4th inning he said, because you have no leverage to push off of like a standard mound.  You have to supply all the power yourself.
We ended our interview with Resop by asking what it was like in the clubhouse during July — "Exciting.  Awesome.  Guys were racing each other to see who would get to the ballpark first."  He said winning is contagious, but so is losing.  They just ran out of steam last year all at the same time.
Later this morning, I'll put the highlights of the interviews with Frank Coonelly and Neal Huntington.  We will continue to be at Piratefest all weekend.  The booth is to the far right of the room, one row away from the audio/visual equipment for the main stage.  Stop by to pick up your copy of the 2012 Pirates Prospects Guide Book and talk baseball with Tim Williams.
Original Story:
http://feedproxy.google.com/~r/BuccoF...
THE BACKYARD
BEST OF MAXIM
RELATED ARTICLES
Kevin Goldstein's Top 11 Pirate prospects is posted today over at Baseball Prospectus, so as always it's interesting to check it out and see what outside minds have to say about the Pirates' system. Much of the article is under the paywall, though the rankings themselves are free. Goldstein gives the Pirates four five-star prospects this year, plus Starling Marte and...
The Pirates saw what their new shortstop could do from across the diamond last season, and they are pleased that Clint Barmes, the former Houston Astro, is on their side now. "We played against him; you've seen what kind of glove he has," starting pitcher James McDonald said. "I was really excited we got him up the middle, strengthened that up."
The Pittsburgh Pirates have signed left handed pitcher Kris Johnson to a minor league deal, according to Kevin Goldstein of Baseball Prospectus. Johnson turned 27 in October, and has spent his entire career in the Boston minor league system. The former first round pick has spent parts of the previous three years at the AAA level, combining for a 6.09 ERA in 249.2 innings, with a...
Pirates' players and friends in winter league action on Friday and early Saturday:   VENEZUELAN LEAGUE Tiburones de La Guaira  8,  Caribes de Anzoategui  4 A pair of 4-run innings gave the win to Los Tiburones.  New Pirate Shairon Martis made the start for Los Tiburones, pitching 4 innings.  He gave up 2 runs in the 2nd inning, on three singles and a walk.  CF Gorkys Hernandez...
Born on this date in 1959 was Pittsburgh Pirates outfielder Marvell Wynne, who was with the team from 1983 to 1985. He signed with the Kansas City Royals as an amateur free agent in 1978 then moved to the Mets in a 1981 trade. He was acquired by the Pirates from the Mets in a four player deal on June 14,1983 with Junior Ortiz going to New York in the deal. Wynne made his major league...
MLBTR had a post yesterday that the Cubs are in negotiations with Paul Maholm for a spot in their 2012 rotation.  Earlier in the offseason, the Pirates declined Maholm's 2012 option for $9.75 million.  Based on the market for pitchers like Chris Capuano (2 years, $10 million from the Dodgers), Bruce Chen (2 years, $9 million from the Royals), and Erik Bedard (1 year, $4.5 million...
Checking in on Pirates' players and friends in Thursday's winter league action:   VENEZUELAN LEAGUE Tiburones de La Guaira  4,  Leones del Caracas  3 Los Leones' solo home run in the top of the 9th got them within one run of Los Tiburones, but they could not get any closer.  Armando Galarraga made the start for Los Leones and allowed one run in three of the first four...
On this date in 1960 the Pittsburgh Pirates traded three players to the Washington Senators for veteran pitcher Bobby Shantz. Just two days prior to the trade the Senators chose Shantz in the expansion draft off the Yankees roster. The Pirates sent pitcher Bennie Daniels, first baseman RC Stevens and utility fielder Harry Bright to Washington in the deal. The Pirates and Senators...
Forgettable as 2011 may have been, Pedro Alvarez intends to remember it all. The offensive skids. The injuries. The mental strains. The unfulfilled expectations and untapped potential. Yep, every bit of it.
Happy birthday to Phillies second baseman Chase Utley, who turns 33 on December 17.  Utley is looking to rebound from his most disappointing full season in the majors, as he posted just a .769 OPS and didn't play until May 23 due to an unusual knee injury. Some news from around baseball as we head into the weekend... Carlos Beltran has at least one offer worth $10MM...
In a post to Twitter, Jon Heyman of CBS Sports says the Mets have talked with Jack Wilson and Ronny Cedeno about their infield opening. More to come…
MLB News

Delivered to your inbox

You'll also receive Yardbarker's daily Top 10, featuring the best sports stories from around the web. Customize your newsletter to get articles on your favorite sports and teams. And the best part? It's free!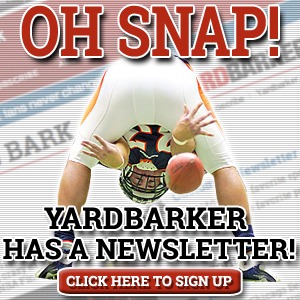 Latest Rumors
Best of Yardbarker

Today's Best Stuff

For Bloggers

Join the Yardbarker Network for more promotion, traffic, and money.

Company Info

Help

What is Yardbarker?

Yardbarker is the largest network of sports blogs and pro athlete blogs on the web. This site is the hub of the Yardbarker Network, where our editors and algorithms curate the best sports content from our network and beyond.