Found August 28, 2012 on Pirates Prospects:
PLAYERS:
Brock Holt
,
Alex Presley
,
Duane Below
,
Anderson Hernandez
,
Matt Hague
,
Dallas McPherson
,
Yamaico Navarro
,
Tony Sanchez
,
Jeff Larish
,
Argenis Diaz
,
Ben Guez
,
Bryan Holaday
,
Duke Welker
,
Jo-Jo Reyes
,
Doug Slaten
TEAMS:
Pittsburgh Pirates
,
Detroit Tigers
Indianapolis Indians  5,  Toledo Mud Hens  0
(Box)
Phil Irwin earned his second win tonight.
Indians' Phil Irwin made his third start since joining the Indians this evening at Fifth Third Field in Toledo, Ohio.  It was his most successful start of the three, as Irwin earned his second win with 6 scoreless innings of work, while striking out 7 batters.  His teammates posted 14 hits on their way to 5 runs, as the Indians shut out the Mud Hens in the first game of a 5-game home-and-home series.  SS Brock Holt and CF Alex Presley led the way with 3 hits each.
The Indians' batters jumped all over Toledo starter Duane Below as soon as the game started.  The first four Tribe batters singled in the top of the 1st — a grounder into left field by Holt, a grounder into left by 2B Anderson Hernandez, an infield single to short by Presley (beating out the throw to first), and a line drive into center field by 1B Matt Hague.  Hague came to the plate with the bases loaded, and drove in both Holt and Anderson with his line drive.  Presley advanced to third base on DH Dallas McPherson's fly out, but got no further when RF Brandon Boggs bounced into a double play.  Indians ahead, 2-0.
The Tribe came right back out and scored again in the 2nd.  3B Yamaico Navarro led off with a single up the middle, then Below walked both C Tony Sanchez and LF Jeff Larish to load the bases with no outs.  Holt bounced to short, where former Indy Indian SS Argenis Diaz started a double play, but that allowed Navarro to score from third, and the Indians had a 3-0 lead.
Brock Holt had 3 hits tonight.
Irwin began his evening by retiring the Mud Hens in order in the 1st inning.  He also loaded the bases in the 2nd inning, around three strikeouts.  1B Danny Dorn hit a double into right field after the first strikeout.  RF Ben Guez walked, then Irwin got strike out #2.  Dorn and Guez both stole the next base on strike three, and Irwin walked C Bryan Holaday to load them up.  Then he struck out Diaz to end the inning and leave all three runners on base.  Those were the only two walks Irwin gave up in his 6 innings.
Irwin also gave up two more hits, but no more.  CF Justin Henry led off the 3rd with a grounder to third.  Navarro made the pick-up, but his throw to first was wide, sailing into the bullpen area.  Henry was credited with a single, and went to second on the throwing error.  That did not bother Irwin, though.  He retired the next three batters in order, leaving Henry on second base.  After a 1-2-3 inning in the 4th, Irwin gave up another single to Henry, with 2 outs in the 5th.  This time, Sanchez threw out Henry as he tried to steal second base.
The Mud Hens also went down in order in the 6th, as Irwin finished his night.  He had allowed just 3 hits and 2 walks, while striking out 7 batters.  He threw 94 pitches (54 strikes), and eventually was credited with his 2nd win.
The Indians put runners on base in the 4th inning, when Larish walked and Holt doubled, and again in the 5th when McPherson hit a 2-out single.  None of them came around to score, but the Indians added a run in the 7th.  This inning began with 3 consecutive singles, by Holt, Hernandez, and Presley.  Holt moved to third base on Hernandez's single, and he scored on Presley's looper into center field.  Both Hernandez and Presley advanced into scoring position on a wild pitch, and a walk to McPherson loaded the bases again.  A new reliever came in for the Mud Hens, and he got Boggs to fly out to right field.  RF Guez quickly got the ball back to Diaz covering second base, and McPherson was doubled off at second, to end the inning.
Alex Presley also had 3 hits for the Indians.
Three more singles in the top of the 9th gave the Indians their last run.  Presley and Hague led off with back-to-back singles, though Hague was out at second base when McPherson grounded into a double play.  Presley advanced to third base, and he scored on Boggs' RBI single into center.  Indians ahead, 5-0.
After Irwin finished his work, three relievers each took an inning on the mound for the Indians.  Duke Welker pitched the 7th. He gave up a one-out double to Guez and walked 2B Danny Worth, but ended the threat with a pop up and a strike out.  Jo-Jo Reyes took over for the 8th inning.  He worked around a fielding error by Holt at short for another scoreless inning.  Doug Slaten pitched the 9th inning, and was pleased to be able to forget his last, rather disastrous, appearance.  Today, Slaten zipped through the 9th, with a strike out, a ground out, and a fly out to end the game, on only 7 pitches.
Of the Indians' 14 hits, all but one were singles.  Brock Holt's double in the 4th was the only extra-base hit.  Holt and Presley had 3 hits each, while Hernandez and Hague had 2 hits each, and Hague collected 2 RBI.  Like last night, Larish was the only Tribe batter to not get a hit, but he reached base twice on walks.
Indians' Hitting Gems of the Game:  Three hits each for Brock Holt and Alex Presley, with two runs scored by Holt and one by Presley.  Presley has 12 hits in the last 7 games, going 12-for-31 (.387).  Holt, who has moved back to shortstop from second base with Chase d'Arnaud promoted to Pittsburgh, has 11 hits in the last 7 games, going 11-for-26 (.423).  Holt has a .436 average over the last 10 games, and a .415 average in the 21 games since he's joined the Indians.  "I'm going to keep riding it 'til it ends," said Holt after the game.  "I'm having fun.  Everyone is just enjoying themselves, and they're loose out there."
Indians' Defensive Gem of the Game:  A come-back performance by Doug Slaten in the bottom of the 9th.  After giving up two home runs in his last appearance on Saturday, it was nice to see Slaten back on track.
Original Story:
http://feedproxy.google.com/~r/Pirate...
THE BACKYARD
BEST OF MAXIM
RELATED ARTICLES
The Pirates have been struggling in the month of August. While their pitching has been impressive for most of the season, their team ERA ballooned to a 4.58 ERA this month as the club has posted just a 9-16 record. A.J. Burnett was the next Pittsburgh starter to struggle on the bump on Monday at PNC Park. After allowing four runs over 5.2 innings (shortened by the rain delay), the...
The DSL Pirates1 beat the DSL Mets2 today, advancing to the second round of the Dominican Summer League playoffs. The Pirates won 8-0 today, following their 5-3 win yesterday, to sweep the best of three series. Oderman Rocha pitched five shutout innings to help lead the Pirates to the win. Rocha gave up one walk and one hit, while striking out four. During the regular season, Rocha...
Josh Harrison provided the pop. Pedro Alvarez provided the power. The reeling Pittsburgh Pirates eagerly accepted both. Alvarez homered twice and drove in four runs after Harrison barreled into St. Louis catcher Jadier Molina and the Pirates rolled to a 9-0 victory over the Cardinals on Tuesday night. While Alvarez crushed his 24th and 25th home runs of the season, it was Harrison...
Pittsburgh Pirates Live Game Chat
PITTSBURGH (AP) -- Pedro Alvarez homered twice and drove in four runs, James McDonald scattered two hits over seven innings and the Pittsburgh Pirates beats the St. Louis Cardinals 9-0 on Tuesday night. Alvarez hit a two-run homer in the third to give the Pirates a comfortable lead, added an RBI double in the fourth then hit a 469-foot blast to center in the sixth. He went 4 for...
Pedro Alvarez homered twice and drove in four runs, James McDonald scattered two hits over seven innings and the Pittsburgh Pirates beats the St. Louis Cardinals 9-0 on Tuesday night. Alvarez hit a two-run homer in the third to give the Pirates a comfortable lead, added an RBI double in the fourth then hit a 469-foot blast to center in the sixth. He went 4 for 5 as Pittsburgh drew...
Pedro Alvarez stayed hot, blasting his 26th homer of the season and driving in three runs as the Pittsburgh Pirates rolled to a 5-0 victory over St. Louis on Wednesday night. The third baseman - who hit two homers on Tuesday - continued his season-long dominance of the Cardinals. His three-run shot in the third gave him seven home runs and 23 RBI in 15 games against St. Louis this...
If you really want to get down to brass tacks, this whole game turned on one play. After the Pirates took a 2-0 lead in the bottom of the fourth inning, Yadier Molina lead off the fifth wiht a single. Skip Schumaker followed that up with a ball hit to left-center that seemed to hang up in the air for forever. It looked like Jose Tabata was going to be able to make a play on it, but...
PITTSBURGH (AP) -- Matt Holliday hit a tiebreaking home run and Kyle Lohse won his eighth consecutive decision, leading the St. Louis Cardinals to a 4-3 victory over the Pittsburgh Pirates on Monday night. Holliday led off the sixth inning with his 24th homer, a drive to right field off A.J. Burnett that put St. Louis ahead for good at 3-2. Lohse (13-2) pitched five innings before...
Photo: Benny Sieu, US PRESSWIRE In taking two of three games versus the Pittsburgh Pirates over the weekend, the Milwaukee Brewers showed the kind of damage they could do to foes over the next month in terms of spoiling other teams' chances at the playoffs.  Nearly a month ago, I waxed on the possibility of the Brewers making things hard on postseason contenders.  Ever since...
MLB News

Delivered to your inbox

You'll also receive Yardbarker's daily Top 10, featuring the best sports stories from around the web. Customize your newsletter to get articles on your favorite sports and teams. And the best part? It's free!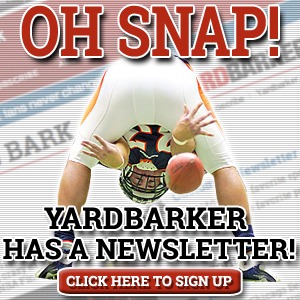 Latest Rumors
Best of Yardbarker

Today's Best Stuff

For Bloggers

Join the Yardbarker Network for more promotion, traffic, and money.

Company Info

Help

What is Yardbarker?

Yardbarker is the largest network of sports blogs and pro athlete blogs on the web. This site is the hub of the Yardbarker Network, where our editors and algorithms curate the best sports content from our network and beyond.