Found April 25, 2012 on Busted Coverage:
Must say we don't get too many bank robberies where a superfan goes with a tattoo and corresponding baseball hat. But that's exactly what Red Sox fan pulled off in this robbery. Hispanic bro just doesn't care. Police can use that tattoo to identify him all they want. Gotta catch him first. Look, wearing long sleeves is the obvious play here. Maybe it's a henna. Would this idiot be that smart? Our guess is no.  The Sun Chronicle (Attleboro, MA) has the details on Little Ortiz:
In the local robbery, a Hispanic-appearing man wearing a blue plaid shirt, a Boston Red Sox baseball cap and sunglasses, was depicted on a bank surveillance photo released by police. The man appears to have a Red Sox tattoo on his right forearm. The man passed a note to the teller at Mansfield Bank on West Main Street near Norton Middle School, demanding money and indicating he had a weapon, police said. He also gave the teller a plastic bag for the money. No weapon was shown, police said. "This is a robbery, I have a weapon, No Dye packs," the suspect said, according to information published on the law enforcement websites Rhode Island Most Wanted and Mass Most Wanted.
If that's a real tat this one should be cut and dry. Be on the lookout for a Red Sox forearm tat and your ass could be drinking for free this summer via the FBI awards program. Beats the hell out of working OT. [Sun Chronicle]
Filed under: Baseball, Cuff 'Em
Original Story:
http://bustedcoverage.com/2012/04/25/...
THE BACKYARD
BEST OF MAXIM
RELATED ARTICLES
Things have not gone as planned for the Boston Red Sox, but down on the farm with the club's Triple-A Pawtucket, there are plenty of things to be pleased about. Perhaps most interestingly has been the work of veteran right-hander Aaron Cook, who was sent down at the end of the spring training. With the big club's pitching all over the place, Cook has been a rock for the PawSox...
Things don't sound very good for Carl Crawford. The Red Sox outfielder returned to Boston to get his ailing left elbow checked out by team doctors, and that might not be his only stop, either. CSNNE.com's Sean McAdam reports via Twitter that Crawford will also meet with Dr. James Andrews for a second opinion in the near future. The date of that meeting is unknown at this...
Injuries have plagued the Red Sox in the early going this season. First it was Andrew Bailey's thumb costing him three to four months, then of course Jacoby Ellsbury's shoulder injury that could cost the talented center fielder a few months as well. Ellsbury's replacement Jason Repko joined that list over the weekend, with a shoulder injury of his own. The plaguing problem...
Unfortunately, we have heard this story one too many times. Like several other athletes before him, Derek Lowe recently fell victim to a home burglary. The most troubling part of the break in is that one of the valuables that was stolen cannot easily be replaced. According to the News-Press, $90,000 worth of possessions were stolen from Lowe's home in Florida, one of which was...
Editor's note: NESN.com is going to tell the story of the 2012 Red Sox in Bobby Valentine's words. Each game day, we will select a Valentine quote that sums up the day for the Red Sox. It's two games. Two wins. Two days that haven't been disasters. Is that enough to stake the season on? The Red Sox were resolute in their 11-2 win against Minnesota on Tuesday night...
Multiple sources are reporting injured Red Sox Left Fielder Carl Crawford will be traveling to see Dr. James Andrews in the coming days regarding continuing soreness in his elbow. Dr. Andrews is one of the best known Orthopedic Surgeons in the world, and has worked on countless professional athletes in the past. Crawford has been [...]
Carl Crawford may miss significantly more time than first reported.  He is headed to see Dr. James Andrews to get a second opinon on his elbow.  Chances of seeing Crawford in the lineup anytime soon seem unlikely.
  Are you trying to kill me?   -Bobby Valentine to Alfredo Aceves when he made a visit to the mound in the 9th after Aceves got a LONG out that everyone thought was a homer for a wee bit.  Bobby may drive me crazy, but the dude has jokes.  Mad jokes. 
Kevin Youkilis can now add "husband" to the list of words describing the Boston third baseman. Youkilis and Julie Brady, the sister of Tom Brady, have been engaged for a bit, but the couple decided to skip the pomp and wedding bells for a private ceremony at their home in Weston on Thursday, the Boston Herald reports. It's not as if Youkilis tied the knot and then ran...
Aviles SSSweeney RFPedroia 2BGonzalez 1BOrtiz DHYoukilis 3BRoss LFByrd CFShoppach C Beckett SP
Cody Ross homered twice, tying the game with a two-run shot in the seventh inning and giving Boston the lead with two outs in the ninth to snap a five-game losing streak for the Red Sox and beat the Minnesota Twins 6-5 on Monday night.
Red Sox News

Delivered to your inbox

You'll also receive Yardbarker's daily Top 10, featuring the best sports stories from around the web. Customize your newsletter to get articles on your favorite sports and teams. And the best part? It's free!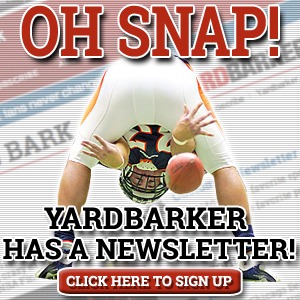 Latest Rumors
Best of Yardbarker

Today's Best Stuff

For Bloggers

Join the Yardbarker Network for more promotion, traffic, and money.

Company Info

Help

What is Yardbarker?

Yardbarker is the largest network of sports blogs and pro athlete blogs on the web. This site is the hub of the Yardbarker Network, where our editors and algorithms curate the best sports content from our network and beyond.