Found January 28, 2013 on Pirates Prospects:
PLAYERS:
Neil Walker
,
James McDonald
,
Garrett Jones
,
Charlie Morton
,
Gaby Sanchez
,
Andrew McCutchen
,
Russell Martin
,
Jose Tabata
,
Jason Grilli
,
Ryan Howard
,
Mark Prior
,
Tim Lincecum
,
Tommy Hanson
,
Paul Maholm
,
Ian Kinsler
,
Robinson Cano
,
Starling Marte
,
Pedro Alvarez
,
Travis Snider
TEAMS:
Pittsburgh Pirates
,
New York Yankees
,
Philadelphia Phillies
,
San Francisco Giants
,
Los Angeles Angels
,
Atlanta Braves
,
Texas Rangers
,
Cleveland Indians
The weeks leading up to the start of arbitration hearings (February 4-20) are typically the time when multi-year extensions are worked out with arbitration-eligible players.  For some other players, a one year deal is signed and then negotiations continue up until Spring Training to work out a long-term deal. The Pirates have two players scheduled to go to arbitration in the form of Neil Walker and James McDonald.  Three other players — Garrett Jones, Charlie Morton and Gaby Sanchez — signed 1-year deals earlier this month.  Of these five players, Walker is the most likely candidate to sign a long-term extension.  Tim and I have differing opinions on the subject.  I'm for it, while Tim is against it. The point of this article isn't to rehash the Walker long-term deal debate.  Rather, it is to question whether it is best to go year to year with players or to lock certain ones in to gain cost certainty against future projected performance. As of this writing, the Pirates have four players under contract for next year — Andrew McCutchen, Russell Martin, Jose Tabata, and Jason Grilli.  The Pirates have a host of other players under team control, but in theory all of those options could be denied or players could be non-tendered.  As a point of reference, at this time last year there were some who felt that Jeff Karstens could be a good candidate for a small multi-year deal. Around Major League Baseball, the spectrum of teams with players under contract past 2013 ranges from the Dodgers (11 — totally nuts payroll situation) to the Marlins (1 — not really a good example of a major league franchise right now).  The Yankees have the same number of commitments as the Pirates (4 — but 3 of those 4 are monstrous contracts), while the Phillies have 6 (the end to that Ryan Howard contract never seems to get closer). If we live in an era where we can expect the Pirates to routinely have $70M payrolls, then in 2014 the Pirates will have roughly 1/3 of their payroll already committed to the aforementioned 4 players ($24.5M).    The Pirates still have a whole bunch of potential 2014 pieces under team control, with those players either at reduced arbitration-scale salaries or league minimum salaries, so it's not really a worry about a payroll crunch. Rather, it's a philosophical team-building question — If you were running a team, would you lock up players long-term to ensure cost certainty or would you ride the peaks and valleys of performance by going year to year? Personally, I would not give any reliever a multi-year deal.  The vast majority of relievers, due to the smaller body of work they create, are volatile from year to year in terms of performance.  Things like strand rate and BABIP fluctuate greatly for relievers versus starters from year to year. Starting pitchers are a commodity that I would probably feel comfortable only guaranteeing 4 years, with options for additional years as necessary.  Although the incident rate of major pitcher injuries (elbow and shoulders) appears to be dropping, it would give me pause to extend a pitcher too far out.  The act of throwing a baseball is an unnatural one that inherently puts stress of multiple joints.  Pitch counts and inning limits attempt to mitigate these factors, but plenty of pitchers have seen once promising careers either totally derail (Mark Prior) or start to fade (Tim Lincecum, Tommy Hanson).  As a case in point, the Pirates signed Paul Maholm to a 3 year deal to buy out all of his arbitration years, plus one option year for his first year of free agency.  With the Pirates, Maholm's performance dropped over the course of the contract to the point that the Pirates did not pick up his $9.75M option for 2012.  Maholm's peripherals ticked up in 2012, with his K/9, BB/9, and GB% all improving, but he still possesses a marginal 87 mph fastball and relied on a low .281 BABIP. Position players are a different story, as it is a little easier to project future performance and there is less anxiety about season-ending/career-altering injuries with them.  My personal rule of thumb would be 5 years maximum, with the possibility of 6 years for a franchise cornerstone (for example, Andrew McCutchen).  Option years can be incorporated as a hedge, as well.  To go back to Neil Walker, I have proposed a 5 year/$32M deal patterned after a hybrid of Ian Kinsler and Robinson Cano's arbitration year contracts, without an inflation riser to account for Walker's lesser performance to date.  If Starling Marte were to have the type of year in 2013 that his skill set portends, he could be a "team-friendly contract" candidate after the 2013 season. I'm a believer that you should always look to lock down potential cornerstones and above-average players at an early date.  The Cleveland Indians were the pioneers of this back in the 1990′s and it helped them extend their window during their years of contention.  Not every player needs to be extended.  It's perfectly OK to go year to year with most players, but if a front office can properly identify their future talent, it is in both parties best interest to attempt to secure a long-term deal.  The player gets guaranteed millions regardless of performance, while the team gets the potential to save millions down the line from not going through the arbitration process with a player multiple times. Aside from Walker, the Pirates don't really have a player that deems a contract extension at this time.  James McDonald had too erratic of a 2012 to warrant locking oneself into a long-term deal, Pedro Alvarez's agent won't abide by a pre-free agency deal, Travis Snider needs to prove he is not injury plagued, and Garrett Jones may be exiting his peak performance years. All in all, a team should probably not have more than 5 or 6 long-term salary commitments at any time, in order to hedge against fluctuating performances and changing market conditions.  The Pirates have some extension candidates, but most of them need at least 1 more year to prove their worthiness.
Original Story:
http://feedproxy.google.com/~r/Pirate...
THE BACKYARD
BEST OF MAXIM
RELATED ARTICLES
The Pirates Prospects 2013 Prospect Guide is now on sale. The book features over 250 prospect reports, the 2013 top 50 prospects, and the most comprehensive coverage of the Pirates' farm system that you can find.  While the top 50 prospects are exclusive to the book, we will be releasing the top 20 prospects over the next few weeks.  Be sure to purchase your copy of the book on...
The Pirates Prospects 2013 Prospect Guide is now on sale. The book features over 250 prospect reports, the 2013 top 50 prospects, and the most comprehensive coverage of the Pirates' farm system that you can find.  While the top 50 prospects are exclusive to the book, we will be releasing the top 20 prospects over the next few weeks.  Be sure to purchase your copy of the book on...
Tom Singer has an article on the Pirates.com homepage about the non-roster invitees for Spring Training. In the article he has an interesting note about Francisco Liriano. The Bucs' NRI list currently includes 17, and there is at least one more on the way: Indications are that Francisco Liriano — when all the roadblocks to formalizing his signing are cleared — will wind up...
Earlier today, Grant Brisbee of SB Nation wrote about "the perfectly whelming offseason of the Pirates". As the title indicates, the article talks about how the Pirates haven't done much this off-season, with their key additions being Russell Martin and Francisco Liriano. Or, as Brisbee puts it, "an average catcher and a pitcher with a CGI creation for a shoulder". Before...
Over the last month, Kiley McDaniel has been posting some great reports over at FanGraphs. I've been retweeting them on Twitter, but keep forgetting to link to them in the nightly First Pitch column. So here are links to all three reports, with some thoughts on each one. Gerrit Cole The first report was specific to top prospect Gerrit Cole. Overall it was a great look at Cole....
    Read the previous installments in this 6-part series for 2011, 2010, 2009, and 2008. Before disussing the 2012 draft, it's essential to recap the forces at work that led to the 2012 draft being the first under the new draft cap sanctions imposed by Major League Baseball. Bud's man; Image credit daylife.com 1.  Prior to the Pirates hiring Frank Coonelly as President, he...
The Pittsburgh Pirates have signed right-handed reliever Kyle Waldrop to a minor league contract and invited him to spring training. The 27-year-old Waldrop went 0-1 with a 2.53 ERA in 17 appearances for Minnesota last season. Waldrop was initially selected with the 25th overall pick of the 2004 first-year player draft. He made his big league debut on Sept. 5, 2011 and has a career...
Earlier today, John Sickels released his farm system rankings and had the Pittsburgh Pirates fifth overall. He also had the St. Louis Cardinals first overall. The Cardinals seem to be the consensus top farm system this year. I haven't received my Baseball America 2013 Prospect Handbook yet, but I've already seen that the Cardinals ranked first in their preliminary rankings. A...
In action from the last day of the Australian Baseball League's regular season today, Stefan Welch went 1-for-3, with a double, two walks and two RBI's. Adelaide lost their third straight game to close the season. They came into the weekend needing to sweep the four game series just to give themselves a chance at the last playoff spot. Welch was named to the 2013 WBC Team Australia...
Over at SB Nation today, Grant Brisbee has a good piece up about the Pirates' "perfectly whelming" offseason that addresses something I've wanted to talk about for a while: the perception that the Pirates have mostly been sitting on their hands over the winter.  The Pirates haven't done a lot over the winter, of course, but as Brisbee points out, their...
MLB.com will be releasing their top 100 prospects tonight, announcing the top 50 live on MLB Network and MLB.com. I'll have this post updated throughout the night as the position of different Pirates are announced.
MLB News

Delivered to your inbox

You'll also receive Yardbarker's daily Top 10, featuring the best sports stories from around the web. Customize your newsletter to get articles on your favorite sports and teams. And the best part? It's free!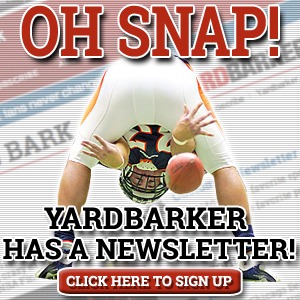 Latest Rumors
Best of Yardbarker

Today's Best Stuff

For Bloggers

Join the Yardbarker Network for more promotion, traffic, and money.

Company Info

Help

What is Yardbarker?

Yardbarker is the largest network of sports blogs and pro athlete blogs on the web. This site is the hub of the Yardbarker Network, where our editors and algorithms curate the best sports content from our network and beyond.