Found May 30, 2012 on Fox Sports:
PLAYERS:
Roger Clemens
,
Barry Bonds
,
Mark Mcgwire
,
Rafael Palmeiro
,
Jose Canseco
,
Sammy Sosa
,
Hank Aaron
,
Babe Ruth
,
Greg Maddux
,
Pete Rose
TEAMS:
San Francisco Giants
,
St. Louis Cardinals
After years of beyond-belief denials and "it happened in the past" non-answers, this week appears to mark the unofficial beginning to the final installment of Major League Baseball's truth and reconciliation commission for the steroid era. Arguably the best pitcher of modern times, Roger Clemens, is in the seventh week of a federal trial in which he is accused of perjuring himself before Congress by denying steroid use. Manny Ramirez is trying to clean up his shattered reputation as he nears a return to the big leagues after his second suspension over performance-enhancing drugs. And now comes Barry Bonds -- the most prolific home-run hitter ever, and the man who became baseball's biggest villain in one of its darkest hours -- saying he wants to rejoin the San Francisco Giants in some capacity after his steroid-related legal problems are behind him. All of this in the shadow of what could later this year be the most controversial Hall of Fame vote in history. That's when Bonds and Clemens join Mark McGwire and Rafael Palmeiro -- two other players implicated during the steroid era -- on the ballot. Now, baseball finally is being forced to come to terms with an era we all hope is over. It comes 27 years after Jose Canseco broke into the big leagues, 14 years after McGwire and Sammy Sosa made a mockery of Roger Maris' single-season home-run record, five years after Bonds broke Hank Aaron's sacred career home-run record and the Mitchell Report named Clemens as baseball's most prominent alleged steroid user, and three months after the reigning National League MVP, Ryan Braun, had his positive PED test overturned. The news that Bonds is hoping to get back into the game that made him rich, made him famous and then made him a villain is -- like all these recent stories about players seeking redemption -- a test of our capacity for forgiveness. Do we believe Manny deserves a third chance after twice violating baseball's drug policy? Do we believe McGwire should be warmly accepted as the St. Louis Cardinals hitting coach after admitting his greatest achievements were based on cheating? Do we believe that Bonds and Clemens, whose statistics make them deserving of unanimous votes on their first Hall of Fame ballots, deserve a place inside the hallowed halls of Cooperstown? There are all sorts of rationalizations for why players who excelled during the steroid era and whose careers are enveloped in steroid accusations still belong in the Hall of Fame. Ty Cobb was a virulent racist and all-around awful guy, but he's in Cooperstown. Players who played before 1947 never played against non-white opponents, but they're in the Hall. Amphetamines have been popular and for the most part overlooked in baseball for decades, yet there's no shortage of amphetamine users in the Hall of Fame. Here's one part of the problem with steroids: The thing that made those performance-enhancing drugs worse than other ballplayers' sins was that steroids turned big-league ballplayers into Hulk-ish versions of themselves. Juiced ballplayers don't look like us. And one of the great things about baseball is that Babe Ruth looked like your local bartender, Hank Aaron like your next-door neighbor, Greg Maddux like your math teacher. Then they stepped to the plate or onto the mound and became superhuman. Here's another part of the problem: When baseball's performance-enhancing drug problem was at its worst, it was cloaked in a veil of secrecy. Players' chests and biceps blew up to cartoonish proportions in the 1990s and early 2000s, and it wasn't just because they ate their Wheaties. We can point to a too-big ballplayer and say, "He juiced. Just look at him." But we don't know who truly did what. Some who we suspect are guilty might be innocent, and surely some we suspect are innocent were juicing away. We can speculate, but in most cases we don't have foolproof evidence. And that's a damn shame. Coming to terms with the steroid era will need more than Barry Bonds wanting to return to baseball with this simple, noncommittal statement to reporters: "What happened, happened. ... It is what it is." Baseball needs a spokesman for the truth. Baseball needs a prominent player from that era to take responsibility, admit wrongdoing, get us to finally move on from this dark era. When Pete Rose finally admitted to gambling on baseball, it was nearly 15 years after he was suspended from the game. We doubted his motivations: The admission of guilt came too late, and it came in the context of trying to sell his book. It may already be too late for a spokesman of truth to come out of the steroid era. Wounds fester and grow in the face of so many years of denials and lies. Amazingly, the ballplayer from that era who has shown more honesty than any other is the circus act that is Jose Canseco. Say what you will about "The Chemist" -- that he, too, was trying to sell a book, that he broke baseball's clubhouse code of silence, that the man who was godfather of steroids in baseball can't also be baseball's absolution. Those are all true. But so is this: His tell-all book did more to destroy baseball's hidden-to-all-but-the-naked-eye drug culture than anything else. So over the next several months, the era that fans thought was over will keep getting thrown back in our faces, in the form of the Clemens trial, Bonds' desire to return to his team and the imminent Hall of Fame vote, in which baseball writers can make a strong statement against the steroid era or turn into apologists for that ugly time. It's reasonable to believe that the only way these offenders will gain entry to the Hall of Fame is by admitting guilt. If a Roger Clemens or a Barry Bonds admits to falling into the drug culture that used to dominate baseball and then commits to cleaning up the future of the game, that single courageous act -- more than home-run totals or a Cy Young trophy case -- ought to secure him a place in Cooperstown. Fans are always ready to forgive. But first they need to hear somebody admit he has sinned. Without truth, there can be no reconciliation. Follow Reid Forgrave on Twitter @reidforgrave, become a fan on Facebook, or email him at reidforgrave@gmail.com.
Original Story:
http://msn.foxsports.com/mlb/story/ba...
THE BACKYARD
BEST OF MAXIM
RELATED ARTICLES
Barry Bonds is publicly referring to himself as a convicted felon these days, and he's quick to point out that conviction was never for steroid use. He appealed his obstruction of justice conviction from April 2011 on one count of giving an evasive answer to a 2003 grand jury investigating illegal steroids distribution. ''I went through the system. And that's what...
The judge in the Roger Clemens perjury trial ruled Monday that defense lawyers can't call Rep. Darrell Issa as a witness. Issa is chairman of the House Oversight and Government Reform Committee, the panel that Clemens allegedly lied to in 2008 when he denied taking performance-enhancing drugs. Issa, a California Republican, wasn't chairman at the time, and he had criticized...
Seriously, Barry Bonds is into cycling. How "into" cycling? Like willing to drop approximately $16,000 on this Pinarello bike that's not your ordinary 10-speed that you used during college. Long story short, these Italian bikes are pretty much the best bike you can throw money at. Bonds made $188,000,000 in his career so of course the bro picked out the best. Now, you bike...
Barry Bonds came off as a selfish player during his career, but he says he wants to help players now that he's retired. Bonds also shockingly says that his villainous behavior was just an act. The former slugger was in the Bay Area for a charity event and stopped by AT&T Park on Monday. After hanging out in the clubhouse, he spoke to reporters and expressed a desire to coach...
Barry Bonds showed up at AT&T Park on Memorial Day and watched the San Francisco Giants beat the Arizona Diamondbacks 4-2.Bonds talked to the media for about 30 minutes and said he is doing good even though he has had two surgeries this month. Bonds said that he had surgery on his back and hip, and that he had some great doctors.  Giants President Larry Baer talked to Bonds...
SAN FRANCISCO -- Barry Bonds watched the Giants' 4-2 win over the Diamondbacks on Monday and, five years after his final game, said he'd like to return to the organization as an instructor. Bonds was in good spirits as he addressed a few reporters before the game and joined the team's broadcast team during the game. He said he has taken up a new sport, cycling, and...
Roger Clemens lost something off his fastball in his 40s but still succeeded by pitching smarter, his former manager testified Thursday. ''He continued to have great success, but for different reasons,'' said defense witness Phil Garner, who managed Clemens with the Houston Astros from 2004-2006. ''He didn't just overpower teams; he outsmarted teams ...
The convicted felon and the Freak. Has a nice ring to it. And the now 212 pound former slugger Barry Bonds would like the San Francisco Giants to make it happen. "If Lincecum wants the answers,... Full story at Bob's Blitz ~ http://www.bobsblitz.com
Disgraced Major League Baseball home run king Barry Bonds told reporters yesterday at AT&T Park that he has spoke with San Francisco President and CEO Larry Baer about joining the Giants as an instructor. A noticeably slimmer, and uncharacteristically jovial, … Continue reading →
By JOSEPH WHITE AP Sports Writer WASHINGTON (AP) -- Phil Garner told one great Roger Clemens story after another. Clemens working out in a flak jacket with 60 pounds of weights. Clemens yelling at himself. Clemens yelling at others. Clemens noticing that home plate was a little bit out of line. Garner was sitting on a witness stand, but he sounded at times as if he were again...
The big fella (Barry Bonds) attended the San Francisco Giants Memorial Day game against the D-Backs. Bonds (Home Run King) has made it clear that he would like to come back to the Giants organization in some sort of coaching role.   "I gave my life and soul to that game. That's what's heartbreaking. That's the hard part of it," Bonds said. "My (reputation) was kind of...
So much anger amongst these Braves fans. Kinda feel sorry for the dude who's getting the shocker sign from Dale Jr. Might've been a helluva ass whippin' last night outside Fulton County Stadium (via @BrianEckstein). In NHL news, the Stanley Cup Finals begin on Wednesday night (8 p.m. EST, NBC). In MLB news, Barry Bonds wants back into baseball. What's he do on a daily basis...
MLB News

Delivered to your inbox

You'll also receive Yardbarker's daily Top 10, featuring the best sports stories from around the web. Customize your newsletter to get articles on your favorite sports and teams. And the best part? It's free!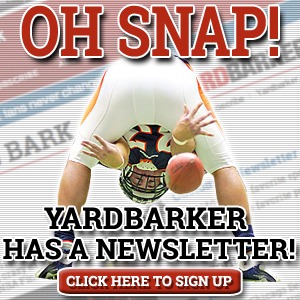 Latest Rumors
The Backyard

Today's Best Stuff

For Bloggers

Join the Yardbarker Network for more promotion, traffic, and money.

Company Info

Help

What is Yardbarker?

Yardbarker is the largest network of sports blogs and pro athlete blogs on the web. This site is the hub of the Yardbarker Network, where our editors and algorithms curate the best sports content from our network and beyond.