Found January 22, 2013 on World Series Dreaming:
"People ask me what I do in winter when there's no baseball. I'll tell you what I do. I stare out the window and wait for spring." ~Rogers Hornsby I don't remember much from when I was little, but one thing that I do remember is the day that I fell in love with baseball. There are a few people in my life that understand my passion for this game, that's why going to the Cubs Convention is an experience like no other. It's the day where I am in a place full of people that share that same love, that same passion, like I do. You see all types of people, from different backgrounds, different ages, different places, but we all share something great, we all have one thing in common…we all love the Chicago Cubs. I knew that this year's Convention would be different. To begin with, my favorite player was gone. I wasn't really looking to meet any players in particular or anything of that sort, I really just wanted to go and have a good time with my fellow Cub fans, and that I did. The man! Throughout the whole event, what stayed with me was how much of an impact the Ricketts family has had on the fans since buying our beloved team. There were no negative comments at all, in fact the first seminar featured all of the Ricketts siblings and fans were given the opportunity to ask them questions. There were a couple that did but most of them wanted to take the time to share with them a story of a specific event where they had made their day, they wanted to thank them for the job they're doing, they wanted to thank them for buying our team and taking it to another level. The Ricketts family really believe in what they are doing and they know a Championship is coming, I could see that in the fans as well. I couldn't help but feel it myself. You could see how much the Ricketts genuinely cared about forming a winning team and giving the fans the best experience. It was almost as if the fans were willing to forgive the Cubs for all the pain they have endured. There wasn't anything earth shattering during the Convention, nothing that made me jump with excitement, but just seeing the boys that I spend every summer with turned it into an amazing time. After a few seminars the players kept saying the same thing like: "Chicago Cubs fans are the best in the world" "Wrigley Field is the best place to play in" "We want to win and we really believe we can do it this year."  These are the typical phrases that as fans we expect, but it's always nice to hear and to see the guys show that passion for baseball and for this team. Follow our blog! I wasn't crazy about the new location or the setup, but it's their first year in a new place so I will give them a break. Overall I had a great time and I'm so excited because as soon as the Convention is over you know that baseball is right around the corner, and I am so ready. I can't wait to bring the game recaps to all of you once again. Going to the Convention this year made me realize once again how amazing it is to be a Cubs fan. Sure, we've endured a lot of heartbreak throughout the years, but our time is coming…it's going to happen. -Ivy
Original Story:
http://worldseriesdreaming.com/2013/0...
THE BACKYARD
BEST OF MAXIM
RELATED ARTICLES
The Chicago Cubs plan on restoring Wrigley Field, with or without the city's help. The team announced a five-year, $300 million plan to rebuild the Friendly Confines at the annual Cubs Convention on Saturday, and owner Tom Ricketts said his family is willing to foot the entire bill -- but only if some long-standing restrictions are lifted. "[We would] like to be treated...
Chicago Cubs scout Sam Hughes watches Colin Kaepernick nowadays and still wonders what the strong-armed NFL quarterback might look like on a pitching mound, as a power arm in the pros. It's hard not to, seeing the zip and accuracy on each throw, the competitive fire and focus. The Cubs never even watched Kaepernick throw a baseball before drafting him in the 43rd round almost...
COOPERSTOWN CALL
Sammy Sosa answered several questions during a web chat, and he said that he and Mark McGwire should be in the Hall of Fame.
Right around the time winter finally hit Chicago I was teased with a small summer preview. My spirit aches to smile into the yellow summer sun on a hot day, cool beverage in hand and hopefully plenty of hot women nearby. Instead, a cool Friday turned into a cold Saturday that turned into a frigid Sunday which is now an absolutely freezing Monday. I'm so far away from my yellow...
The Chicago Cubs, adding another veteran to their outfield, have reached agreement with free agent Scott Hairston on a two-year contract, according to major league sources. Hairston, 32, figures to platoon with another free-agent signee, Nate Schierholtz, in right field. David DeJesus is projected to be in center and Alfonso Soriano in left. The New York Mets, New York Yankees...
Sammy Sosa thinks he and fellow steroid-tainted star Mark McGwire belong in the Hall of Fame. Slammin' Sammy also said the Chicago Cubs should retire his number, and he left open the possibility of running for president of the Dominican Republic during an interview Wednesday on the website Ustream.com. Asked if he thinks he or McGwire belong in the Hall, Sosa said: ''...
After a whirlwind weekend and trying to get back to "real life", I finally have a chance to sit down and give my take on the Convention this past weekend.  Now, keep in mind, I went to the Convention with my 13 year old son who lives and breathes baseball, so this weekend was to be more about him than seminars and Q&A sessions.  I would have loved to get to more of the...
Since the Ricketts family purchased the Chicago Cubs, one of the looming questions has been renovating baseball's second-oldest ballpark in Wrigley Field. With the Red Sox completing a 10-year renovation to the league's oldest ballpark, it was shown that renovation over a completely new facility could be done in a way that would modernize even the oldest of structures to allow...
Photo by Michael BaronAfter joking at their own outfield or lack there of, the Mets have sat idly by as the free agent pool and trade markets have completely evaporated.  Now they appear left with the same outfield that they were making jokes about for most of the off-season.  All off-season they have danced around re-signing Scott Hairston making him a fallback guy who they could...
Cubs News

Delivered to your inbox

You'll also receive Yardbarker's daily Top 10, featuring the best sports stories from around the web. Customize your newsletter to get articles on your favorite sports and teams. And the best part? It's free!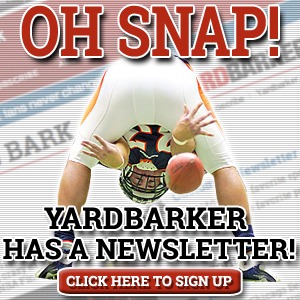 Latest Rumors
Best of Yardbarker

Today's Best Stuff

For Bloggers

Join the Yardbarker Network for more promotion, traffic, and money.

Company Info

Help

What is Yardbarker?

Yardbarker is the largest network of sports blogs and pro athlete blogs on the web. This site is the hub of the Yardbarker Network, where our editors and algorithms curate the best sports content from our network and beyond.