Found September 16, 2013 on Fox Sports Wisconsin:
MILWAUKEE -- If the Milwaukee Brewers could realistically make a seven-man rotation work, Jimmy Nelson would be the seventh pitcher starting games. But seven-man rotations don't ever work, meaning Milwaukee's pitching prospect will have to leave his mark as a reliever. Nearly two weeks since being called up, Nelson has appeared in just two games. There's a chance the Brewers give the 24-year-old a start before the season ends, but nothing has been decided. Though others are getting more of a chance to make an impression heading into next season, Nelson was pleased to get any shot at all. "It's something that you try to put out of your mind," Nelson said on whether he expected to be called up. "You've really got to finish the season strong. You don't have any control over whether you get called up or not; you just control how you work and how you perform on the field. So I really just tried not to think about it and if it happened, then it happened. I'm blessed and happy it did." Milwaukee's second round pick out of the University of Alabama in 2010, Nelson's season began in the rotation for Double-A Huntsville. After posting a 2.74 ERA in 12 starts for the Stars, the right-hander was called up to Triple-A Nashville in June. Nelson made 15 starts for the Sounds with a 3.67 ERA and 91 strikeouts in 83 13 innings. There was much debate as to if the Brewers would bring Nelson up. He had already logged a career-high 152 13 innings between the two levels and had no place in the big-league rotation. The Brewers decided a month in the major-league bullpen would be worthwhile, although Nelson had made just one professional relief appearance. "It's an adjustment," Nelson said. "I threw out of the bullpen a few times in college and did it in fall league this past fall, so I've gotten a little taste of it. It's just an adjustment, changing your mentality from starting to bullpen." Nelson's lack of relief experience may cost him outings at the end of the season because Brewers manager Ron Roenicke is hesitant to quickly warm him up. As a starting pitcher, Nelson usually has plenty of time to get ready to pitch and isn't used to warming up in a hurry. His innings will have to be planned out at least an inning ahead of time, leaving him likely to pitch in games where the game is out of hand or headed to extra innings. Roenicke also wants to use his primary relievers in games against playoff contenders, meaning Nelson may see more work in the upcoming Chicago series. "When they are tight and they are close, I want to put in who I think are the best guys who give us a chance," Roenicke said. "It's hard right now and I don't think it's fair right now if we are in a tight ballgame against these teams who are trying to play for a spot in the playoffs and we are saying 'You know something, we haven't pitched him in awhile. Let's put him in there and see what he can do.' I don't know if that's fair to do that. We're trying to do whatever we can to win games." The 6-foot-5, 245-pound Nelson is the type of pitcher ideally suited for Miller Park. With a heavy fastball, Nelson has the potential to join Wily Peralta and Johnny Hellweg as groundball pitchers in a stadium where fly balls easily turn into home runs. But like his pitching prospect counterparts, Nelson will only go as far as his command takes him. He focused on improving his command this season and he has noticed a difference. Nelson walked 62 in 127 13 innings last season but has issued just three more free passes this year in 152 13 innings. "I had a good season," Nelson said. "I've improved in a few areas that I lacked in last year. There's a few more things to work on; there's always something to work on. I'm going to continue to try to work on those things as I'm here competing. "After last season it was really reducing my walks and being in the strike zone more," Nelson said. "I gave up a few more hits this year, but that's going to happen when you're in the zone more. I'll take a few more hits than walks any day." Nelson is a dark horse to make the rotation next season because the Brewers will likely want to see a full season out of him in Triple-A. Milwaukee will likely only need to fill two rotation spots behind Kyle Lohse, Yovani Gallardo and Peralta. Marco Estrada, Hellweg and Tyler Thornburg will probably get their chances to grab a rotation spot before Nelson, but that's not set in stone. After watching him for a good chunk of this season in Nashville, Hellweg is convinced Nelson will eventually find himself taking the ball every five days in Milwaukee. "I've seen some outstanding stuff from Jimmy," Hellweg said. "He's got unbelievable stuff. As long as he translates it here like he was doing in Nashville, he'll be fine." Last season, Nelson showed signs of fatigue down the stretch, but has been sharp in his two outings for the Brewers. He worked two perfect innings in his big-league debut on Sept. 6 in Chicago and tossed another 1-2-3 inning Saturday against the Reds. Nelson won't be asked to work a heavy load in the final three weeks of the year, but each inning continues to build on his career high in innings pitched. "If you're tired and you get called up, then you're not tired," Nelson said. "It's a little energizing. But I felt good this year. I know last year I missed some time toward the end of the year. But I worked hard this off-season on my conditioning and working out and everything, it's paid off and I feel good." Follow Andrew Gruman on Twitter
Original Story:
http://www.foxsportswisconsin.com/mlb...
THE BACKYARD
BEST OF MAXIM
RELATED ARTICLES
(Photo: Getty Images) Back in February, before it was known that Corey Hart would be out for the year, I wrote a post lobbying for Sean Halton to get the bulk of playing time at first base, if only to see what the Brewers had in Halton.  Looking back at that post now, it's funny how the picture of a clean-shaven Halton looks little like the grizzly hero of Sunday's walk...
MILWAUKEE -- A lack of command and a few fluky plays were a recipe for disaster early in the season for Wily Peralta. His emotions would get the best of him and the rookie would be done in by a big inning or two. Peralta didn't have his best command Monday and his defense made a couple of errors behind him, but he stayed poised and found a way to fight through six innings without...
MILWAUKEE -- There's plenty to discuss within the Milwaukee Brewers organization after what has been a frustrating season for all involved, and a big conversation will take place Wednesday. Brewers general manager Doug Melvin, manager Ron Roenicke, the coaching staff and other key members of the organization will gather at Miller Park for their yearly end of the season discussion...
MILWAUKEE -- Determined to play spoiler and end the season fighting, the Milwaukee Brewers turned an apparent loss into one of the more exciting victories of the season Sunday afternoon at Miller Park. Trailing 5-1 in the seventh inning, the Brewers scored four runs between the seventh and eighth inning, while Sean Halton blasted his first career walk-off home run in the bottom...
The Milwaukee Brewers were without third baseman Aramis Ramirez for the second consecutive game Sunday as he continues to deal with a bruised wrist. Despite his absence, Ramirez told reporters -- including Adam McCalvy of MLB.com -- that he's feeling better, adding that he expects to be back in the Brewers' lineup for tonight's opener against the Chicago Cubs. &quot...
Caleb Gindl's success against Jeff Samardzija and the Chicago Cubs may be reason enough for him to be back in the Milwaukee Brewers' lineup. The rookie outfielder's production in the opener of this four-game series also warrants his inclusion. Gindl will try to build on his best performance of the season Tuesday night as the Brewers seek a fourth straight win over the...
Sean Halton hit a solo homer with one out in the bottom of the ninth inning to lift the Milwaukee Brewers to a 6-5 comeback victory over the Cincinnati Reds on Sunday. Halton's home run came off reliever Zach Duke (1-2), the fifth Cincinnati pitcher. It was Halton's third homer of the season and first career walk-off. Jean Segura sparked a rally with a two-run triple and...
Caleb Gindl had three hits, including a two-run home run, and Wily Peralta pitched six strong innings to lead the Milwaukee Brewers to a 6-1 win over the Chicago Cubs on Monday night. The Brewers' fourth win in five games moved them 3 1/2 games above Chicago at the bottom of the NL Central. Peralta (10-15) gave up an unearned run on five hits. He struck out seven while walking...
The Milwaukee Brewers' Wily Peralta and the Chicago Cubs' Edwin Jackson haven't performed the way they had hoped for their respective clubs and one of them is likely to lead the NL in losses. Peralta will try to avert his third straight loss to visiting Chicago on Monday night while Jackson looks to avoid his fourth defeat versus Milwaukee this season. The only battle...
With nothing left to play for themselves the Milwaukee Brewers have fully embraced the role of spoiler over the last month. That never-say-die attitude was on full display Sunday afternoon at Miller Park when they overcame a poor start by Yovani Gallardo to score five times in the final three innings. The ninth was especially exciting with Carlos Gomez robbing Jay Bruce of a go...
In scheduling/marketing put into place long before the first pitch of the season was thrown the meeting between the Milwaukee Brewers and Chicago Cubs at Miller Park on Monday evening was designated a Marquee Game. Only time will tell if a class-action lawsuit follows. Long left in the dust by the top three clubs in the National League Central Division the Cubs and Brewers began...
The Milwaukee Brewers' Wily Peralta and the Chicago Cubs' Edwin Jackson haven't performed the way they had hoped for their respective clubs and one of them is likely to lead the NL in losses. Peralta will try to avert his third straight loss to visiting Chicago on Monday night while Jackson looks to avoid his fourth defeat versus Milwaukee this season. The only battle...
Brewers News

Delivered to your inbox

You'll also receive Yardbarker's daily Top 10, featuring the best sports stories from around the web. Customize your newsletter to get articles on your favorite sports and teams. And the best part? It's free!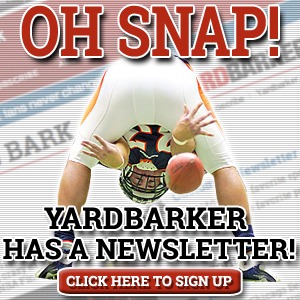 Latest Rumors
The Backyard

Today's Best Stuff

For Bloggers

Join the Yardbarker Network for more promotion, traffic, and money.

Company Info

Help

What is Yardbarker?

Yardbarker is the largest network of sports blogs and pro athlete blogs on the web. This site is the hub of the Yardbarker Network, where our editors and algorithms curate the best sports content from our network and beyond.