Found July 31, 2013 on New York Sports-Kings:
Johan Santana made history when he threw the Mets first and only no hitter, but he is now sidelined with a shoulder tear that many believe was because of that game. Many except for Santana himself. PHOTO COURTESY: MIKE STOBE/GETTY IMAGES Ok Terry Collins; you can breathe easy now. Even though the Mets manager may blame himself for the Johan Santana shoulder injury, Santana knows it wasn't his fault. On Wednesday, Santana told Los Cronitos (which translates to "The Writers" in Spanish) that he does not think his career is over and believes that he could be back with the Mets next season.   He also went on to say that the no-hitter was not the reason he hurt his shoulder.  Here is what Mets beat writer Jorge Castillo of The Star-Ledger tweeted: Santana to @loscronistas: "You have to be in the bullpen to understand — I don't think the no-hitter caused my injury." — Jorge Castillo (@jorgeccastillo) July 31, 2013 It's great to see that the former Cy Young has not given up even though many around the league have already assumed that his career is over. When Collins let Santana throw 134 pitches (Santana's career high) in the team's first and only no-hitter last season, no one was more nervous than Collins. Santana was just a few months removed from shoulder surgery and you could see the weight fly off of the managers shoulders after the final pitch. Santana would go on to struggle the rest of the season until he ultimately was back on the DL by August. After it was announced that he had a second tear in his shoulder capsule, pitch count aficionados were all saying it was Collins' fault. Nothing else can be expected in the "pitch count era" but let us not forget what baseball used to be like. Before closers had major roles, starters were extended to complete games every outing. Sandy Koufax threw 137 complete games in only 11 years, including 115 in his final six seasons. No one was worried then and you never heard about those guys having arm problems. Look what happened to a guy like Joba Chamberlain after the "Joba Rules." It has seemingly ruined a once very promising career. It's nice to hear Santana come out and say this and take the pressure off Collins. The Mets manager has done a solid job this year with the 2013 version of "The Bad News Bears" but because he is in New York and the team will most likely finish under .500, he will certainly have his doubters who want him out. However, if they can take one hardship off his shoulders, it could maybe make some of the Terry Collins haters into believers. Follow us on Twitter – @NY_sportskings Follow Dave Ragazzo on Twitter – @DRagazzo_Sports Like Dave Ragazzo on Facebook The post Johan Santana: "I don't think the no-hitter caused my injury" appeared first on New York Sports Kings.
Original Story:
http://sports-kings.com/nysportskings...
THE BACKYARD
BEST OF MAXIM
RELATED ARTICLES
With Zack Wheeler and Jenrry Mejia now firmly entrenched after promotions from the minors, which Mets prospect are you now most excited to see? I posed the question to some of our writers and here is what they came up with: Daniel - I hope Travis d'Arnaud can get healthy and productive and make an appearance at some point. John Buck is definitely back to Earth and Anthony Recker...
While it wasn't a jaw-dropping performance, Jenrry Mejia had himself quite a second start when he dropped a 3-2 decision on Wednesday night to the Miami Marlins. Although he didn't receive the win, Mejia battled in an out of trouble (after giving up three runs in the second and third innings) and looked poised while on the mound. Mejia now has two quality starts under his belt...
It's only slightly hyperbolic to call the New York Mets the most frustrating franchise in sports. When they don't re-sign a player, he succeeds elsewhere and the fans revolt. When the team signs a superstar, that player gets hurt or fails to produce and the fans boo. Wednesday, indignant fans ran to Twitter urging the Mets to make a trade at the deadline only to feel the sharp...
In case you were wondering, left-hander Pedro Feliciano continues to make strides since his promotion to Triple-A Las Vegas last week. The veteran reliever is maintaining his higher velocity and getting the job done out of the bullpen for the 51s. Feliciano has retired all six batters he has faced — four lefties, two righties — over three appearances since the promotion from...
Zack Wheeler made his bid for history tonight as he took the Marlins to task with 6.1 innings of no-hit baseball — although he was eventually saddled with a no-decision. Wheeler was masterful through those first six and some innings and was keeping his pitch count low. The Mets also played solid defense behind him, and things were starting to look serious when he struck out Stanton...
With the trade deadline set to expire at 4:00 PM today, columnist Joel Sherman reports that one Mets official described interest in any of their as nibbles. One Mets official described "nibbles" on players, but nothing more serious. And the Mets have decided if they cannot obtain something they feel strongly about for their future, then why trade Marlon Byrd or Bobby Parnell...
OK, so the Mets lost in Miami. Again. That drops their record against the Fish – Bob Ojeda was annoyingly cute with this nickname on the postgame – to 5-9 overall, 3-6 in Magic City. In a vacuum, this record looks horrible — and it is –- but context is key. That loss last night was frustrating, to be sure, but before it was over, a fan could say that a dragon had been...
The Las Vegas 51s are preparing internal suspensions and fines for Jordany Valdespin, Wally Backman, and Armando Rodriguez for their roles in a bench-clearing brawl on Monday evening. It was Mike Puma of the New York Post that I first saw this reported from — and I was a little disappointed at his word choice, which makes it seem a lot like it's purely Valdespin's fault. The...
METS AT MARLINS Jenrry Mejia (1-0, 0.00) vs Henderson Alvarez (1-1, 2.64) *** I'm collecting on a few bets I made a few weeks ago that Marlon Byrd and Bobby Parnell would be with the Mets on August 1st. Hee hee hee… Starting Lineup Eric Young Jr., lf Daniel Murphy, 2b David Wright, 3b Marlon Byrd, rf Ike Davis, 1b John Buck, c Juan Lagares, cf Omar Quintanilla, ss Jenrry Mejia...
During the Mets telecast today, Kevin Burkhardt reported that Double-A pitcher, Noah Syndergaard, could be making landfall in the big leagues by July of 2014, according to Paul DePodesta. In case you're wondering, this would be the same pattern New York has followed to promote Matt Harvey and Zack Wheeler. So far, the results have been pretty good. If it ain't broke, don't...
Mets look to make it two in a row in Miami. Game time is 7:10 PM To get started just enter your email address and desired username: Name E-mail Related Posts:Game Chatter: Matt Harvey and Zack Wheeler (6/18/13)Game Chatter: Zack Wheeler vs. Matt Cain (7/10/13)Game Chatter: Zack Wheeler vs. Johnny HelwigGame Chatter: Zack Wheeler vs. Gio Gonzalez (6/30/13)Game Chatter: Zack Wheeler...
Is it me or does Harvey get a lot of starts during the day? Regardless today's game has a 12:40 start time. To get started just enter your email address and desired username: Name E-mail Related Posts:Game Chatter: Matt Harvey vs. Mat Latos (5/22/13)Game Chatter: Matt Harvey vs. Jeanmar Gomez (5/12/13)Game Chatter: All-Star game – Matt Harvey vs. Max…Game Chatter: Matt...
MLB News

Delivered to your inbox

You'll also receive Yardbarker's daily Top 10, featuring the best sports stories from around the web. Customize your newsletter to get articles on your favorite sports and teams. And the best part? It's free!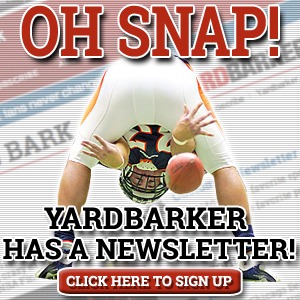 Latest Rumors
Best of Yardbarker

Today's Best Stuff

For Bloggers

Join the Yardbarker Network for more promotion, traffic, and money.

Company Info

Help

What is Yardbarker?

Yardbarker is the largest network of sports blogs and pro athlete blogs on the web. This site is the hub of the Yardbarker Network, where our editors and algorithms curate the best sports content from our network and beyond.