Found March 24, 2013 on RedSoxLife:
John Henry, the principle owner of the Red Sox, completed an intense Q&A session with the Boston Herald this week via email. The extremely private owner rarely speaks publicly but when he does it's along the same lines as a Bill Belichick press conference. All that to say that this was kind of a big deal - Ron Burgundy style.  Let me be the first to say that I actually like John Henry as an owner, but as with anyone Mr. Henry has some "ticks" about him. In the spirit of successful businessmen everywhere I decided to give my spin on John's answers to the questions asked by the Herald. I guess you'd say I gave the "what's he really saying" version (Cliff Notes) of John's actual answers. If you want to read Steve Buckley's column for yourself you can do so here. My Cliff Notes version of John Henry's Q&A session:              *The last two questions have Henry's REAL answers.  Q. Over the past couple of seasons, Larry Lucc...
Original Story:
http://www.redsoxlife.com/2013/03/joh...
THE BACKYARD
BEST OF MAXIM
RELATED ARTICLES
BOSTON — The Boston Red Sox are hoping to lure fans back to Fenway Park after a subpar year by offering them free food and cut-price beer for the first month of the season. Kids under 14 will get a free Fenway Frank, Goldfish and a juice box from certain concession areas before the third inning during April. Hot dogs will he sold two for the price of one; hot chocolate will be...
It's starting to look like Lyle Overbay's days in Fort Myers may be numbered. According to sources Lyle Overbay's agent has been shopping his name around to other MLB teams in hopes of landing him a major league roster spot - you know things aren't looking good when the Yankees don't come calling. Overbay was invited to Red Sox camp as a non-roster player, and...
Pencil him in, Red Sox fans. Jose Iglesias is your 2013 Opening Day shortstop. Manager John Farrell hasn't specifically stated such just yet, but Iglesias' impressive performance against the Phillies on Sunday all but solidified his status as the man for the job. How long Iglesias' starting shortstop reign lasts is anyone's guess. The club will likely turn to Stephen Drew...
We're taught at a young age that hard work is rewarded. Perhaps there should be a disclaimer. Jackie Bradley Jr. added to his impressive spring resume (again) on Monday, and he's making it harder and harder (again) to defend any decision other than penciling him into the Red Sox' Opening Day starting lineup. Bradley entered Monday's game as a pinch hitter in the seventh inning...
Jackie Bradley Jr. got his first exposure at a new position on Friday. The Red Sox outfielder was moved to left field midway through Friday's Red Sox-Blue Jays spring training game. The position change came two days after manager John Farrell said he had no plans to play Bradley in left. Farrell downplayed the decision to move Bradley in the seventh inning, saying not to interpret...
Andrew Bailey's name is getting tossed around again. The Rangers are looking for bullpen help, and Bailey may be of interest to them, according to MLB.com's T.R. Sullivan. The Rangers and Red Sox reportedly have spoken this spring, although it's unclear to what extent. Bailey became the subject of plenty of trade speculation this offseason after manager John Farrell announced...
The Red Sox sent Xander Bogaerts, Jonathan Diaz, and Drew Sutton to minor league camp after today's game.  With the moves, the Red Sox now have 39 players in big league camp, including 32 players from the 40-man roster, one on the 60-day disabled list, and six non-roster invitees.
With new faces and new management, the 2013 Red Sox season is going to be a whole new ballgame.  Get to know more in our preseason Red Sox commercials now airing on NESN.  We call this one "Players."
11 a.m.: The lineup cards are in, and what do you know? Jackie Bradley Jr. will get the start out in left field. Manager John Farrell said recently that Bradley would not play left field, insisting that the 22-year-old would play just center field and right field for Boston. It was hardly groundbreaking stuff, but it obviously led to further speculation about whether or not that...
With opening day one week away, the Boston Red Sox have important roster decisions to make this week as both veterans Lyle Overbay and Ryan Sweeney could potentially become free agents if not added to the 40-man roster. Both are considered to be long shots to make the roster and if Boston doesn't add Overbay to the 40-man roster by Tuesday, then he can request a release and sign...
The Jets may start stockpiling quarterbacks like Bill Belichick likes to do with tight ends. New York came away impressed after spending private time with Geno Smith at the West Virginia pro day, according to ESPN.com. Senior personnel executive Terry Bradway and offensive coordinator Marty Mornhinweg were on hand to watch and talk to Smith in Morgantown, W. Va. The Jets hold the...
MLB News

Delivered to your inbox

You'll also receive Yardbarker's daily Top 10, featuring the best sports stories from around the web. Customize your newsletter to get articles on your favorite sports and teams. And the best part? It's free!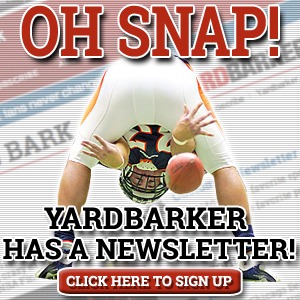 Latest Rumors
Best of Yardbarker

Today's Best Stuff

For Bloggers

Join the Yardbarker Network for more promotion, traffic, and money.

Company Info

Help

What is Yardbarker?

Yardbarker is the largest network of sports blogs and pro athlete blogs on the web. This site is the hub of the Yardbarker Network, where our editors and algorithms curate the best sports content from our network and beyond.