Found April 17, 2013 on Larry Brown Sports:
Philadelphia Phillies closer Jonathan Papelbon is known for being pretty loose-lipped, but he used to play for the Boston Red Sox. Because of that, reporters had to get his take on the tragic events that took place at the Boston Marathon on Monday afternoon. Like most before him, Papelbon talked about what an awful situation it is for the victims and their families to deal with. However, he also took the opportunity to talk about player safety and gun rights. "The Phillies did a thing the other day here for us on opening day where we walked through the crowd," Papelbon said. "I know when I was there in Boston we came down through the bleachers for one opening game. I don't feel comfortable doing that. I really truly don't. Today's day and age has gotten so crazy. "All this stuff going on and, shoot, (Barack) Obama wants to take our guns from us and everything," he continued. "And you've got this stuff going on? It's just a little bit insane for me." Where should we start? First of all,
Original Story:
http://larrybrownsports.com/baseball/...
THE BACKYARD
BEST OF MAXIM
RELATED ARTICLES
He might not be a member of the Boston Red Sox, but Jonathan Papelbon's heart still appears to be very much in Bean Town and his mind focused on those affected by the bombings following the Boston Marathon. "I used to live right above where one of the bombs went off," the current Philadelphia Phillies closer said Monday afternoon. "It's kind of surreal. I don't...
Less OK Than Background Checks Wading into the deep end, because it's late and I'm cross and hollering into voids is funsy funsy funsy... 1) As per site contributor Dirty Davey points out, if you really want gun control in this country, you need to look to history to get it. California has some of the strongest laws in the country, and they were signed into existence by...
Written by our friend Dan Groob at TiqIQ TiqIQ has teamed up with ScoreBig to allow you to make an offer on Phillies tickets. If you're a new customer, use the code TIQIQ10 to save $10 off your purchase. Below is more on the Phillies homestand with ticket data: Philadelphia Phillies tickets for tonight's home stand opener currently carries the least expensive average ticket price...
Yes, there is one on the current 25-man roster of the Philadelphia Phillies:  Phillippe Aumont. However, it is a title he will have to earn, which is highly possible. TAL'S HANDY CAPS WELCOME, NEWCOMERS: By design my articles represent a baseball man's thinking, the view from the dugout and the GM's box. Most fans do not consider the budget, prospects on the radar, the organization's...
This afternoon's tragedy hit American citizens hard everywhere. This afternoon, at least two bombs exploded near the finish line at the 2012 Boston Marathon. Two were killed and hundreds more are injured. In what is viewed as a terrorist attack on our country, it has affected many lives - including...
Philadelphia Phillies (6-7) at Cincinnati Reds (6-7) Tuesday's Game (Resumed from Bottom of 9th, No Outs) Time: 5:30 pm, Great American Ballpark TV: The Comcast Network, Home of Phillies Nation TV Weather: Partly Cloudy, 100% chance of precipitation, 75 Media: Twitter and Facebook The Phillies and Reds will look to squeeze the conclusion of last night's pitcher's duel in before...
T- Money gives a little advice to the owners of the Philadelphia Phillies to not follow in the footsteps of another MLB owner! Join us every Thursday at 5PM Eastern Time for OC: Live right here on Onside Cook!
We are passing along some injury updates this Thursday afternoon. We mentioned yesterday that both John Lannan and Domonic Brown suffered injury's in last night's Cincinnati Reds blowout against the Phillies. It appears that one player is better than originally expected; the other is worse than expected. John Lannan -...
The Phillies might have lost a tough game to the Reds after getting great starting pitching from Cliff Lee but the biggest story from this Reds vs Phillies game was the catch by Ben Revere. In the bottom of the 2nd inning with a man on 1st and no outs, Todd Frazier hit a bullet to dead center, and Revere ran it down and made an unbelievable full extension diving catch towards...
Heavy rains delayed the start of Tuesday night's Phillies-Reds game for one hour and 20 minutes and they returned to force the game to be suspended in the middle of the ninth inning of a scoreless game. The Phillies and Reds will resume their suspended game on Wednesday at 5:30 p.m. The game will pick up right at the bottom of the ninth inning and the series finale will go on...
Having appeared to lose their hitting stroke on the road, the Philadelphia Phillies are likely eager to return home. They might not be quite as enthusiastic to face Adam Wainwright. Looking to build on a sensational outing, the St. Louis Cardinals staff ace will try to continue his recent success against the Phillies in Thursday night's series opener. Philadelphia (6-9) batted...
Homer Bailey and Kyle Kendrick were nothing short of spectacular tonight. After an hour and twenty minute rain delay in Cincinnati, the two starters squared off, and the duel bagan. Much like last night's ballgame, the Phillies' offense was nowhere to be found. Through EIGHT innings, the Phils had gathered...
MLB News

Delivered to your inbox

You'll also receive Yardbarker's daily Top 10, featuring the best sports stories from around the web. Customize your newsletter to get articles on your favorite sports and teams. And the best part? It's free!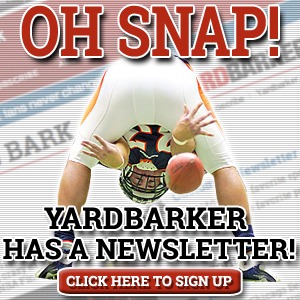 Latest Rumors
Best of Yardbarker

Today's Best Stuff

For Bloggers

Join the Yardbarker Network for more promotion, traffic, and money.

Company Info

Help

What is Yardbarker?

Yardbarker is the largest network of sports blogs and pro athlete blogs on the web. This site is the hub of the Yardbarker Network, where our editors and algorithms curate the best sports content from our network and beyond.