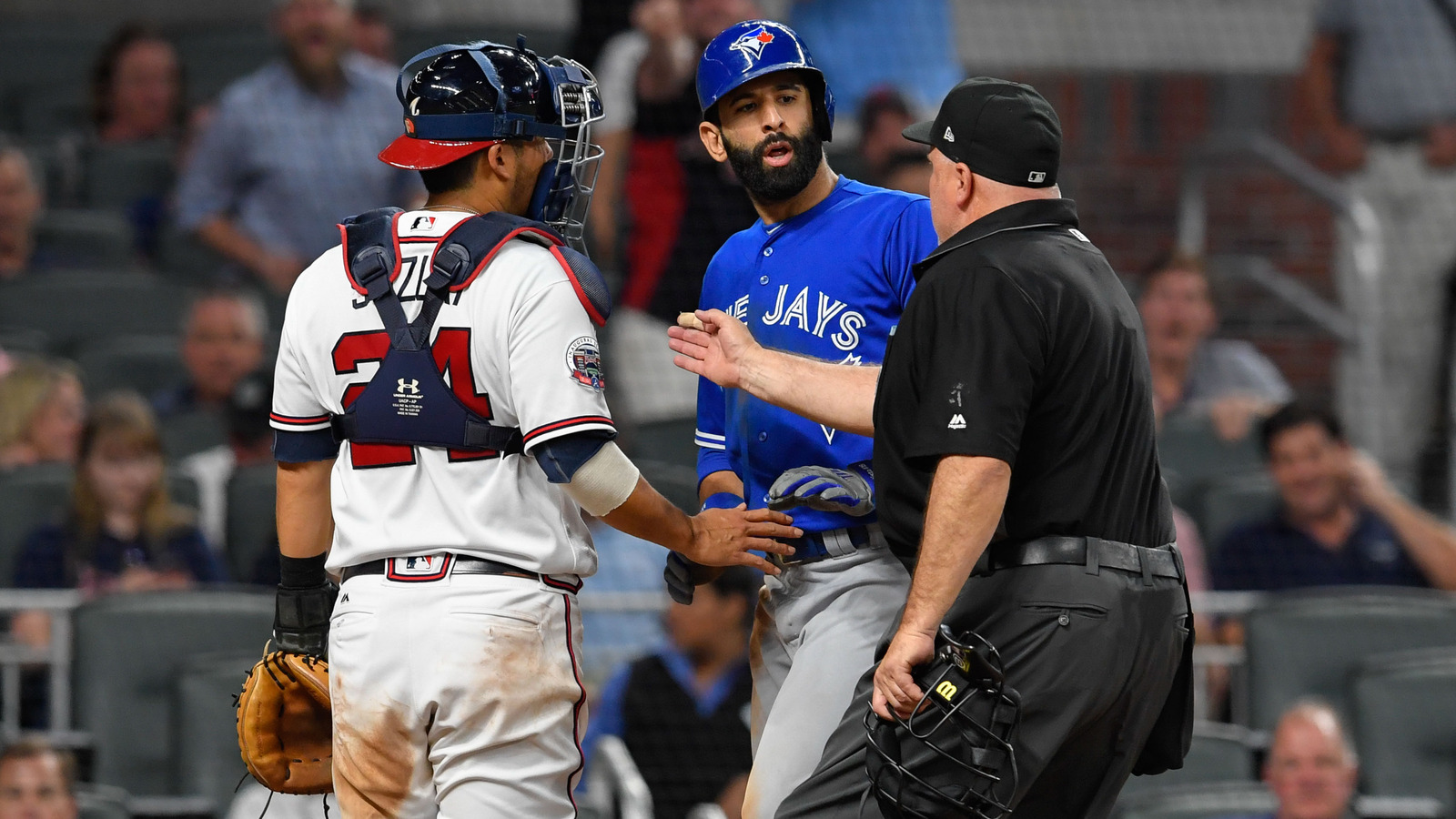 Bautista certainly should have expected the unwritten rules to come to play after last night.
Dale Zanine-USA TODAY Sports
Jose Bautista was hit by a pitch during his first at-bat on Thursday as retaliation for his actions the day before.
In the top of the eighth inning on Wednesday, with the Blue Jays trailing 8-3, Bautista hit a solo home run. What followed was a bat flip that did not sit well with more than a few people. Atlanta's Jace Peterson had a few words for Bautista as he rounded first base, and benches later emptied. Here's video of the bat flip.
Jose Bautista with the BAT FLIP & TROT to tick the Braves off #BlueJays

— Around The Bases POD (@AroundBasesPOD) May 18, 2017
On Thursday, Braves pitcher Julio Teheran retaliated during Bautista's first at-bat. Teheran went inside with the first pitch, and plunked Bautista in the left leg on the second pitch.
As ESPN Stats & Info pointed out, Teheran put a little extra on his second offering. It was his fastest pitch since 2015.
Julio Teherán's pitch to hit Bautista was 95.6 MPH. It was his fastest since 2015.

— ESPN Stats & Info (@ESPNStatsInfo) May 18, 2017
We already know Bautista isn't the most popular person in Baltimore. It's safe to say Atlanta is on that list as well.
Bautista being hit capped a dramatic series between the teams. They also had an incident Wednesday over Kevin Pillar's gay slur directed at Jason Motte, which led to a bases-clearing incident. On top of that, Freddie Freeman suffered a fractured wrist after being hit by a pitch Wednesday.
QUIZ: Name the players who have had 30 or more home runs in a season with the Toronto Blue Jays
A player on the Toronto Blue Jays has hit 30 or more home runs in a season 45 times. How many of these Canadian clobberers can you name?
Clue: Number of home runs - year
MORE FROM YARDBARKER
MLB News

Delivered to your inbox

You'll also receive Yardbarker's daily Top 10, featuring the best sports stories from around the web. Customize your newsletter to get articles on your favorite sports and teams. And the best part? It's free!