Found March 06, 2013 on Twitter Sports Rundown:
In addition to his timely advice on twitter, Jose is now displaying his artwork. Here is his painting of Bud Selig. Seems like a pretty accurate representation. Thus is my painting of Bud Selig. It is for sale. Make me an offer. twitter.com/JoseCanseco/st… — Jose Canseco (@JoseCanseco) March 6, 2013 Who's going to step up and buy the painting of Ol' Bud? Next up his Donald Trump, which I'm sure will be yet another masterpiece. I am now painting donald trump — Jose Canseco (@JoseCanseco) March 6, 2013
Original Story:
http://twittersportsrundown.com/jose-...
THE BACKYARD
BEST OF MAXIM
RELATED ARTICLES
When I first heard that Jose Canseco painted a picture of Bud Selig, I was almost certain that it would look like a bird. Oh was I ever wrong. Also, I am pretty certain that my son drew something that looks exactly like what Jose painted. What the hell is that? And yes, Jose is selling this to anyone that wants to buy it. There is nothing this man won't do in order to make money. @JoseCanseco
A REAL DUH VINCI
Jose Canseco is quite the artist, and if you don't believe it, just check out this original piece depicting MLB commissioner Bud Selig.
We knew that Jose Canseco had plenty of time on his hands, but who knew he was a budding artist? Canseco tweeted a picture Tuesday of the photo you see above. He says it is a picture of MLB commissioner Bud Selig that he painted himself. Though we can't be certain exactly what Canseco was trying to depict, it looks like he made Selig into a fire-breathing dragon, or a T-Rex whose...
If you're not following Jose Canseco on Twitter, you're missing out on some high comedy. The former slugger was at it again Tuesday night, tweeting out a picture he painted of MLB commissioner Bud Selig. That in itself is a little strange, but it flies straight into absurdity when you see Canseco's rendering of the baseball boss. Thus is my painting of Bud Selig. It is for...
Jose Canseco is about one self portrait away from lopping off his own ear. What you see there is the artistic representation of MLB commissioner Bud Selig, as done by artisan extraordinaire Jose Canseco. The disgraced slugger tweeted out the picture yesterday, claimed that he was indeed the creator of said artwork, then proclaimed that the one-of-a-kind piece is for sale. I'm not...
If you haven't checked out Jose Canseco's Twitter account, you should consider yourself lucky. The former MLB player is consistently making the world less intelligent with every Tweet sent out. His latest masterpiece shows his drawing of Bud Selig. Apologies for feeding the beast. Thus is my painting of Bud Selig. It is for sale. Make me an offer. twitter.com/JoseCanseco/st…...
It looks like Jose Canseco doesn't have much of a career as a painter ahead of him.  Sure, the point was to make fun of Bud Selig by calling him a fire-breathing dinosaur (?), but Canseco is going to perfect that technique if he's serious about selling his paintings. Thus is my painting of Bud Selig. It is for sale. Make me an offer. twitter.com/JoseCanseco/st… — Jose Canseco...
Former MLB slugger Jose Canseco uploaded a less-than-flattering portrait of MLB Commissioner Bud Selig late Tuesday. The painting, allegedly created by Canseco himself, is up for sale and Canseco has asked his followers to "make me an offer."Now, the artwork isn't a great depiction of how Selig really looks like, but there are really no words to describe it. Only Canseco...
If you aren't following former Major League Baseball slugger Jose Canseco on Twitter, then you might have missed this gem from Tuesday. Canseco decided to post the below picture of some art that he did himself that depicts Major League Baseball commissioner Bud Selig as a dragon: Hopefully, we here at Outside the Boxscore can scourge up the cash to buy it. ...
Tweet   At various points during Bud Selig's tenure as Major League Baseball commissioner he has been called alot of things and rubbed many people the wrong way. If you asked any of those people to paint a portrait of the former owner and president of the Milwaukee Brewers I don't think you would get [...]
In the wake of the Biogenesis reports linking several more Major League players to a PED supplier, Bud Selig has begun to talk about enacting stiffer penalties for failed drug tests. From last week: "The time has come to make meaningful adjustments to our penalties," said Selig, according to CBSSports.com's Jon Heyman."We need to do everything possible to deter the use of...
I'll admit that watching baseball late at night from Taiwan interested me, if only for an inning or so. Not so much for the product on the field, which was minor league at best, but for the fans banging their thunder sticks together in synchronized precision. At least the home team had fans. First-round World Baseball Classic games that didn't feature the host country in...
MLB News

Delivered to your inbox

You'll also receive Yardbarker's daily Top 10, featuring the best sports stories from around the web. Customize your newsletter to get articles on your favorite sports and teams. And the best part? It's free!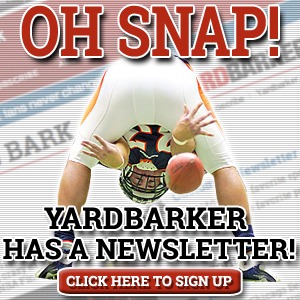 Latest Rumors
Best of Yardbarker

Today's Best Stuff

For Bloggers

Join the Yardbarker Network for more promotion, traffic, and money.

Company Info

Help

What is Yardbarker?

Yardbarker is the largest network of sports blogs and pro athlete blogs on the web. This site is the hub of the Yardbarker Network, where our editors and algorithms curate the best sports content from our network and beyond.