Found March 09, 2012 on hardballchat.com:
Josh Hamilton has told everybody who will listen that when his contract expires after the 2012 MLB season that he will not be giving the Texas Rangers a hometown discount. The former American League MVP has said that while he loves playing in Texas, he doesn't "owe the Rangers" anything.
To little surprise, that has not sat well with general manager Jon Daniels.
"I still don't like the choice of words because it has a bad connotation, leaves you with a bad taste in your mouth," Daniels told ESPN Dallas. "But I think hearing it in context, and then hearing it with what he followed up with, I understand a little bit of what he was trying to get across. I don't think I would've phrased it that way."
Hamilton also is probably not thrilled with the fact that the Rangers appeared at least ready to sign free agent Prince Fielder, which would have all but signaled 2012 being the last year for Hamilton in Texas.
Then again, the fact that Hamilton had another relapse with alcohol is probably not helping his cause for a long term contract extension with the Rangers.
It is not helping his chances of landing a huge deal with any other team after this season for that matter either.
Either way, the two sides will not likely discuss an extension during the season, at least until they feel as if Hamilton has a better handle on his alcohol problems going forward.
Original Story:
http://www.hardballchat.com/2012/03/j...
THE BACKYARD
BEST OF MAXIM
RELATED ARTICLES
Texas Rangers general manager Jon Daniels admitted that he wasn't pleased with Josh Hamilton's comments that he didn't "owe the Rangers" a hometown discount. "I still don't like the choice of words because it has a bad connotation, leaves you with a bad taste in your mouth," Daniels told ESPN Dallas 103.3 "Galloway & Company". ...
SURPRISE, Ariz. Texas Rangers pitcher Neftali Feliz was the picture of confusion at this time a year ago. He balked at being extended as a starter early in spring training and then tried to embrace the transition a few days later. It was never going to work because neither side had made a full commitment to the change. Feliz had become such a dominant closer, that he had a difficult...
The headlock seen around the world will no longer be seen at Rangers Ballpark in Arlington. Hall of Fame pitcher Nolan Ryan's dustup with Robin Ventura, which became a staple of the pregame video highlights at the park, won't be part of the package anymore. The clip of the 1993 incident, where Ventura charges the mound and is put in a headlock and pummeled by Ryan, has...
There's little doubt the best third baseman in the American League West is Adrian Beltre. It's not even a fair fight either. While Texas boasts one of the game's best at third base in Beltre, there's plenty of questions and intrigue at third for the other three teams in the West. For all three teams, there's no guarantee that the Opening Day starter will be...
The question on whether Texas Rangers pitcher Yu Darvish would be able to make the transition to the Major League game began to be answered on Wednesday when the Texas Rangers played the San Diego Padres in Cactus League action. Darvish threw 36 pitches, 26 of them strikes and allowed only two hits (both doubles) in two scoreless innings. Prior to the game many of his teammates kept...
Two scoreless innings on March 7 are as meaningless an indicator as baseball can offer, but know this about Yu Darvish: He will not be another Daisuke Matsuzaka. Darvish, the newest Japanese sensation, pitches more aggressively than Matsuzaka, displays greater athleticism, seems more comfortable with his teammates. That isn't to guarantee that Darvish will be a bigger success...
Key Stats: What a strange career path Adrian Beltre's bat has taken. He cashed in on a second place MVP finish at age 25 that many folks believe was a byproduct of steroids and headed to Seattle where he regressed tremendously for five seasons. Then he came to Boston and had another impossible to predict rise in production. Taking a stance on him last year was like taking a stance...
The battle for west supremacy this year between Texas and Los Angeles also carries over to the shortstop position. Plenty of teams would take either Elvis Andrus or Erick Aybar at short and be very happy. Both players are in the prime of their career and both are heading into their fourth season as a starter at short in the big leagues. The biggest difference between the two is...
PEORIA, Ariz. In what may have been the most scrutinized two innings in the history of spring training, Texas Rangers pitcher Yu Darvish made a nice first impression Wednesday. Before he took the mound, at least 150 fans gathered to watch him warm up in the bullpen. On the other side of the diamond, Padres veteran pitcher Jeff Suppan prepared in front of at least four people. At...
Colby Lewis pitched four perfect innings for the Texas Rangers in a 3-2 loss to a Chicago White Sox split squad Saturday. Lewis, the Rangers expected opening day starter, struck out five and threw 36 pitches. He struck out Paul Konerko, Adam Dunn and A.J. Pierzynski in the second inning. Konerko ended the perfect game with a leadoff single in the fifth off Scott Feldman. Dylan...
By ARNIE STAPLETON AP Sports Writer PEORIA, Ariz. -- Yu Darvish flashed a sizable assortment of pitches, a huge smile and even some nice leather in his debut for the Texas Rangers on Wednesday. What he didn't show was any nerves. "I've thrown in so many games, you know?" he said through a translator. Sure has. The 25-year-old right-hander was a dominant pitcher...
MLB News

Delivered to your inbox

You'll also receive Yardbarker's daily Top 10, featuring the best sports stories from around the web. Customize your newsletter to get articles on your favorite sports and teams. And the best part? It's free!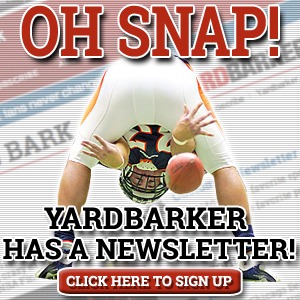 Latest Rumors
Best of Yardbarker

Today's Best Stuff

For Bloggers

Join the Yardbarker Network for more promotion, traffic, and money.

Company Info

Help

What is Yardbarker?

Yardbarker is the largest network of sports blogs and pro athlete blogs on the web. This site is the hub of the Yardbarker Network, where our editors and algorithms curate the best sports content from our network and beyond.