Found January 13, 2013 on NorthWest Sports Beat:
PLAYERS:
Justin Upton
,
Raul Ibanez
,
Charlie Furbush
,
Stephen Pryor
,
Nick Franklin
,
Taijuan Walker
,
Brendan Ryan
,
James Paxton
,
Michael Saunders
,
Franklin Gutierrez
,
Casper Wells
,
Mike Carp
TEAMS:
Arizona Diamondbacks
,
Seattle Mariners
M's try for a splash The Mariners hotstove has been quiet since the acquisition of Raul Ibanez a few weeks ago. But things have heated up this week, with MLB Trade Rumors reporting that the M's made a legitimate attempt at Arizona Diamondbacks rightfielder Justin Upton. The trade seemed like a done deal, until Upton invoked his no-trade clause. This was an interesting development on the part of both teams. Here at NWSB we're breaking down the trade and taking a look at what this could have meant for both teams involved. Breaking down the attempted trade The trade would have been a straight up four-for-one deal. The Mariners would have received Justin Upton, and in return the D-Backs would have gotten Charlie Furbush, Stephen Pryor, prospect Nick Franklin and one of Seattle's Big Three pitching prospects. It was later reported by CBS' Jon Heyman that the fourth player—and Big Three member—would have been Taijuan Walker. Arizona's perspective From Arizona's perspective, this was a perfect trade. The Diamondbacks have been adamant about getting a shortstop back in return for Upton. Nick Franklin fits that bill, and could be at the Major League level very soon. The move also helps cure Arizona's bullpen issue. They would have gotten a stud left-hander in Furbush, and a potential closer candidate in young Pryor. To top it all off, they get one of the best starting pitching prospects in baseball in Taijuan Walker. While Arizona has made plenty of attempts to trade Upton, this is the best speculative package they've been offered to date. They continue talks with other teams, but they could also be sending a message to Upton that it's Seattle or no one else. Seattle's perspective It's not hard to see what Seattle was going for with this deal. They need a young cornerstone offensive player whose proven at the MLB level. Justin Upton fits that bill. But in terms of what they were willing to sacrifice for that player, it's just too much. Losing the two bullpen arms would be manageable, but that doesn't mean they wouldn't be missed. Furbush's rubber arm was lights out in 2012, and Pryor has the upside to be an elite closer. The Mariners front office is trying to make some big splashes this offseason. (Photo: Mark Rebilas / US PRESSWIRE Then there's the case of the two prospects. Unlike Brendan Ryan, Franklin has the upside to provide proficient offense at shortstop. And while tossing James Paxton into the deal could have made sense, Walker—arguably the best of the Big Three—is too much to lose when combined with the other players involved. Now, at 25 years old Upton is a young player with incredible upside, but his career has been mired in inconsistencies—especially with his power numbers. He hit 31 home runs in 2011, but that's wedged between two seasons of just 17 home runs. In those same two seasons (2010 and 2012) Upton failed to produce an OPS above .800. His career slugging percentage sits at .475, and he's only broken .500 twice. The right fielder plays a solid defense and is under team control until 2015. But with previous roster moves Seattle already has a full outfield of Michael Saunders, Raul Ibanez, Franklin Gutierrez and possibly Casper Wells and/or Mike Carp. In other words, Upton just isn't worth it. He has huge upside, but until he can prove he can keep his power consistent, a package such as the one Seattle was offering is far too much. The only way this makes sense is if Seattle thinks its getting 2011 Upton—.898 OPS, 31 home runs, 7.7 UZR. It's commendable that the Mariner front office is trying to make a splash, but it's a very good thing this deal was not made. CLICK HERE TO CHECK OUT THE MARINERS BLOG IN OUR CLUBHOUSE TODAY AT NWSB!
Original Story:
http://www.nwsportsbeat.com/mariners/...
THE BACKYARD
BEST OF MAXIM
RELATED ARTICLES
The New York Mets are once again interested in Arizona Diamondbacks outfielder Justin Upton, but it is a "longshot" that the team will give up enough prospects to acquire the slugger, according to Marc Carig of Newsday. Sources say the Mets are again interested in trading for Justin Upton. But it's a longshot that they'll give up enough prospects for a deal. —...
The offensive pipe dream for the Mets this offseason has been to swing a trade for Justin Upton. Now that we've seen what the parameters for an Upton deal might be from the vetoed deal with the Mariners, it's way past time to move on to a more realistic target. Recently, another righty hitting power outfield bat was put on the market when the Nationals re-signed Adam LaRoche...
Yesterday, the Arizona Diamondbacks got an offer for Justin Upton that they would say yes to, as the Seattle Mariners reportedly agreed to ship Taijuan Walker, Nick Franklin, Charlie Furbush, and Stephen Pryor to the D'Backs in exchange for their young right fielder. Today, Justin Upton is still a Diamondback, because he used his limited no-trade clause to block the deal, as Seattle...
On Jan. 13, 2012, the Yankees stunned the baseball industry by signing Hiroki Kuroda and acquiring Michael Pineda from Seattle. On Jan. 13, 2013, the Yankees could send a similar thunderbolt with a trade for Arizona outfielder Justin Upton. There's only one problem: They seem strangely reluctant to do so. The Yankees' newfound mantra of fiscal responsibility - a $189 million...
Updated by Joe D. on 1/13 at 2:00 PM Validating what I've been saying since Friday, Diamondbacks GM Kevin Towers said he is in no rush to deal Justin Upton and that he will only move him for a similar or better deal than what he agreed to with the Mariners. That Seattle deal, or should I say non-deal, set the bar for Upton's value. The fact that Upton invoked his no-trade clause...
Updated by Joe D. on 1/11 at 3:00 PM So all of a sudden the Mets could be looking to do something significant at the major league level. If true, it would be a first for Alderson since he got here. After Justin Upton gave the thumbs down on the potential Seattle deal, rumors abound that the Mets are reengaging Arizona on the 25 year old star. The Mets had previously attempted to...
One of the worst kept secrets in MLB is the Arizona Diamondbacks' interest in trading outfielder Justin Upton. But one of the seldomly understood points is the fact that General Manager Kevin Towers wants a fortune in return. In other words, he is not so desperate to move Upton, he will settle for a package of players that would not be considered a heist. If there was any doubt...
Updated by Joe D. on 1/12 at 10:00 AM A team source tells the NY Post: "Those were some big names," one source said of the deal Upton nixed because Seattle is part of his no-trade clause. "There were some quality arms. I don't see us moving in that direction if that's what they're asking for and almost got." Like I was saying last night… Updated by Joe D. on 1/11...
It isn't on Justin Upton's level, but the Rick Porcello trade saga continues … The Detroit Tigers, who have six starting pitchers, have continued to discuss Porcello with the Arizona Diamondbacks, Seattle Mariners and perhaps other teams, according to major-league sources. The Tigers likely would ask for a shortstop, late-inning reliever or right-handed-hitting outfielder in...
How are your new years resolutions coming along? Are they still going strong eleven days in? I'm not sure if the Padres front office made any resolutions this year, but if they did I'm sure it's been broken already. Actually, I'm not even sure there is a front office with how quiet it has been. I take that back, there have been some whispers coming from the front office,...
Ben and Sam answer several questions submitted but not answered during Ben`s Monday chat.
MLB News

Delivered to your inbox

You'll also receive Yardbarker's daily Top 10, featuring the best sports stories from around the web. Customize your newsletter to get articles on your favorite sports and teams. And the best part? It's free!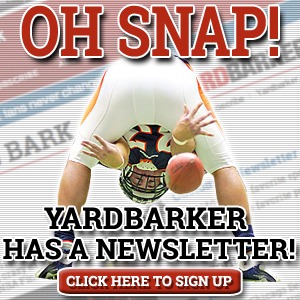 Latest Rumors
Best of Yardbarker

Today's Best Stuff

For Bloggers

Join the Yardbarker Network for more promotion, traffic, and money.

Company Info

Help

What is Yardbarker?

Yardbarker is the largest network of sports blogs and pro athlete blogs on the web. This site is the hub of the Yardbarker Network, where our editors and algorithms curate the best sports content from our network and beyond.