Found November 09, 2013 on isportsweb.com:
The Royals look to bring pack pitcher Ervin Santana in 2014. The Kansas City Royals made two moves in the past 10 days that were exactly what they needed to do. The Royals offered a $14.1 million qualifying offer to pitcher Ervin Santana, and exercised the club option on pitcher James Shields which would schedule him to be paid $13.5 million in 2014. If Santana chooses not to sign, the Royals would receive a compensation draft pick for him. The right thing These moves are exactly what needed to happen in Kansas City. Whether Santana signs or not is another discussion but by General Manager Dayton Moore showing that the Royals are willing to pay high-dollar one-year deals, it says a lot about where the Royals are trying to go. With just completing the best season since 1989, it would have been a real shame if the Royals went back to their so familiar ways and decided not to pay for players that can really contribute to the team. It is much more important to have solid pitching in the MLB than it is to have above average hitters. A great position player can have a bad series and hit below .200 for a week and not contribute at all, but when a great pitcher has a off game, they can turn to their 3rd or 4th pitch and still help get you to a win. Great pitching is much more valuable than great hitting, that I the exact reason why I am absolutely okay with the Royals paying their pitchers equal or more money than they deserve. Where they are going It has been reported that Ervin Santana wants a multi-year deal worth around $100 million. If this is true and he pursues this deal, it is very likely Ervin Santana won't be a Kansas City Royal anymore. I, as well as most Royals's fans, would love to see Santana stay in Kansas City, but if he doesn't it's not the end for the Royals. Santana can contribute a lot, but the Royals are deep with pitchers right now and have the talent to have an above average rotation. The Royals have pitchers that they could trade, and fill their sports with guys in the organization right now without losing much of anything or at all. One of these players I believe could be traded is Aaron Crow. Once fans take the emotion out of it and look past his Topeka, Kansas and Missouri Tiger background, they will realize there are many players in the system that could do his job just as well. Crow would be a great trade and possibly could become a starter in another teams organization. Don't expect any huge moves from Dayton Moore and the Royals this offseason. The one to keep an eye on is the Billy Butler situation, but I believe the Royals are pretty satisfied with where they believe they are headed and are comfortable with the players within the organization right now. Read more here.
Original Story:
http://feedproxy.google.com/~r/isport...
THE BACKYARD
BEST OF MAXIM
RELATED ARTICLES
If the Royals kept Wil Myers and didn't trade for James Shields, Wade Davis and Elliot Johnson, would the Royals make the playoffs? We'll never know for sure, but using WAR (Wins Above Replacement), we can see if having Myers patrol right field with the Royals would have made a difference. To start, I'm going to compare the stats of Wil Myers and David Lough, who played most...
Ervin Santana is reportedly seeking a $100 million dollar contract when he signs his next deal, likely using that number as an opening to negotiation and trying to capitalize after a revival 2013 campaign with the Kansas City Royals. Of course, in order to capitalize on a major contract, it takes one team to actually make an offer and it's unlikely any of the 30 Major League teams...
"What are headlines that made me laugh? For $500, Alex." Yes, you read that headline correctly. Ervin Santana, whom I realize many of you have never heard of, is seeking a five-year, $100 million contract in free agency, according to FOX MLB reporter Ken Rosenthal. Santana, who turns 31 in December, is coming off perhaps […]
Ervin Santana sure has that timing thing figured out. The 31-year-old turned in arguably the best season of his career last season with the Kansas City Royals, and he's now poised to cash in on the free-agent market. According to Ken Rosenthal of FOX Sports, Santana is seeking a deal north of $100 million over five years. Basic math tells you that this sort of contract would make...
  Ervin Santana and his representatives are obviously trying to capitalize on the fact that the free-agent market is pretty bare when it comes to quality starting pitching, but come on. According to a report via Ken Rosenthal of Fox Sports, Santana is looking to secure a lucrative deal following a very productive season for the Kansas City Royals. Free-agent right-hander Ervin...
Royals News

Delivered to your inbox

You'll also receive Yardbarker's daily Top 10, featuring the best sports stories from around the web. Customize your newsletter to get articles on your favorite sports and teams. And the best part? It's free!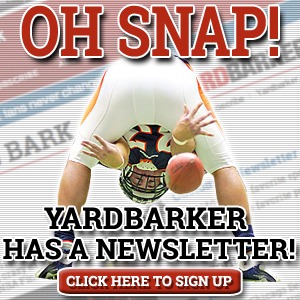 Latest Rumors
Best of Yardbarker

Today's Best Stuff

For Bloggers

Join the Yardbarker Network for more promotion, traffic, and money.

Company Info

Help

What is Yardbarker?

Yardbarker is the largest network of sports blogs and pro athlete blogs on the web. This site is the hub of the Yardbarker Network, where our editors and algorithms curate the best sports content from our network and beyond.