ESPN's baseball prospect analyst Keith Law has come out with his top 50 prospects for the 2013 MLB draft (Insider). The Red Sox will draft 7th this year, the highest they've drafted this century. Law notes that his list is not a mock draft as he hasn't matched up team needs and strategies, so this is merely the equivalent of the "Big Board" you'll see for other sports. I took a look through SoxProspects' draft history page to try to spot some trends in the Sox' high draft picks. Last year, the team's only draft under Ben Cherington, four of its top five picks -- including all three first rounders -- were out of college, and four out of five were pitchers. In the last three years, the team kept up its college-first focus, with eight of 10 first rounders being collegiate players, although the team took more chances on high schoolers in the second and third rounds. Organizational needs change from year to year, so it's essentially impossible to say the Sox will be more interested in a pitcher or a position player; if they're smart (and I believe they are), they'll take the best talent available and figure it out later. Law only has two collegiate position players in his top 29, so unless Cherington wants to roll the dice on a high schooler, at this time a pitcher seems more likely. All that said, here are a few prospects near the 7-spot in Law's list that might be of interest to the Sox, along with a comment from Law and some totally baseless thoughts of my own. 4. Ryne Stanek (RHP - Arkansas): "Stanek has been up to 96-97 again this spring and misses a lot of bats, although his heavy reliance on the slider is a concern for when he heads into pro ball." Hard thrower who relies on a slider (perhaps too much) sounds like future closer to me... I might steer clear. Needless to say, the Sox will be looking for starters if they want a pitcher at no. 7. 5. Austin Wilson (OF - Stanford): "Wilson suffered a stress reaction in his elbow in the first weekend of the season and hasn't played since, although he should be back by the time Stanford begins conference play. He remains the draft's best shot for a complete position player from the college ranks, someone who can hit, hit for power, and provide value on defense." If it's a pitching-heavy draft and Wilson is the Sox' only shot at a potential impact bat in the draft, maybe they jump on him if he slips to 7.  8. Jonathan Gray (RHP - Oklahoma): "Gray was 92-97 when I saw him on opening weekend and was 94-98, touching 100, last weekend, with a plus slider. He was drafted twice before, by the Royals (13th round out of junior college) and Yankees (10th round as a draft-eligible sophomore), but cleaned his body up this year right in time to enter the draft again and become a first-rounder." I think Gray's one to keep an eye on. Sounds like he's growing into his body, and there's no cautionary note about him relying too much on one pitch. 11. Trey Ball (LHP - HS): "A highly projectable, athletic two-way player, Ball won't get his first game action of the spring until his season opens on March 25." I'm mentioning Ball because the Red Sox have rolled the dice on an athletic two-way player before -- Casey Kelly -- and it worked out very well for them (in the sense that they developed him and then used him as a chip to get Adrian Gonzalez; he's about to go under the knife for season-ending surgery, so his career hasn't really worked out).  15. Ryan Eades (RHP - LSU): "Eades' combination of above-average velocity and a potential out pitch in the curveball, along with a history of success in the SEC, has him solidly in the first round, but can't get him the Friday night slot at LSU, which has been usurped by sophomore Aaron Nola." Anthony Ranaudo hasn't really worked out, but maybe the Sox will look to LSU again. I'm always interested in these situations where a big prospect isn't even the best player at his position on his collegiate team -- will he be motivated by the internal competition, or is it a sign that maybe there isn't much of a ceiling? Obviously, it's all very early, and also obviously, I couldn't pick any of these kids out of a two-person lineup. But it's always fun to become arbitrarily attached to prospects based on a sentence or two from an analyst.  [Image]
Original Story:
http://www.tedsarmy.com/blog/2013/03/...
MORE FROM YARDBARKER
MLB News

Delivered to your inbox

You'll also receive Yardbarker's daily Top 10, featuring the best sports stories from around the web. Customize your newsletter to get articles on your favorite sports and teams. And the best part? It's free!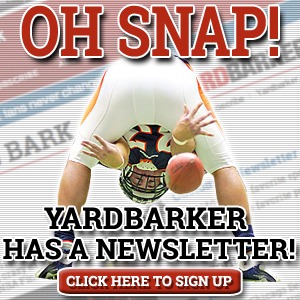 Latest Rumors
Best of Yardbarker

Today's Best Stuff

For Bloggers

Join the Yardbarker Network for more promotion, traffic, and money.

Company Info

Help

What is Yardbarker?

Yardbarker is the largest network of sports blogs and pro athlete blogs on the web. This site is the hub of the Yardbarker Network, where our editors and algorithms curate the best sports content from our network and beyond.