Found February 08, 2012 on Pirates Prospects:
The latest farm system rankings to come out belong to Keith Law, who released his top 30 farm system rankings today (ESPN Insider subscription required). In the description, Law noted that the top tier of talent for the Pirates was very strong, but that the system lacked depth, which he said was surprising considering the high draft positions and the amount of money they've spent on amateur talent.
Law's ranking is the highest the Pirates have been ranked out of all of the major outlets. That's not really a big surprise. Law has been higher on a lot of the Pirates prospects than most outlets. He had Luis Heredia in his top 50 mid-season rankings last year. He was one of the highest on Gerrit Cole heading in to the 2011 draft. He's also been one of the highest on Robbie Grossman, who had a breakout year in Bradenton in 2011, then continued his run in the Arizona Fall League, which Law covered.
On the flip side, Law has been lower on Starling Marte than most.
The depth issue is one that has been discussed over the past few weeks with the various prospect rankings that have been released. It's true that the Pirates lack a lot of depth behind their top prospects. They don't have a lot of guys who are established prospects. What they do have is a lot of young players who are a year or two out of high school, or college guys like Alex Dickerson who are talented but have yet to prove themselves in the higher levels.
The Pirates have a lot of guys who could be breakout candidates, just as Robbie Grossman broke out in 2011. On the flip side, a breakout isn't guaranteed, as we've seen with Quinton Miller so far. Until we start to see more Grossman's and fewer Miller's from the 2009-2011 draft classes, we're likely to continue to hear the "lack of depth" arguments.
Original Story:
http://feedproxy.google.com/~r/BuccoF...
THE BACKYARD
BEST OF MAXIM
RELATED ARTICLES
Law has Zack Dodson rated higher than any other outlet. Along with his top 100 prospect list, Keith Law has released his top ten prospects for each team. The list for the Pittsburgh Pirates starts out in the exact order as order in the top 100 list. Gerrit Cole comes in first, followed in order by Jameson Taillon, Josh Bell, Starling Marte, and Robbie Grossman. Luis Heredia, who...
Jeff Karstens (credits below) The Pirates always seem to have a pitcher or two you can find in the bargain bin who turns out to have fantasy value.James McDonald and Paul Maholm are among the pitchers who have posted good fantasy numbers on a bad Pirates team in the past few years.Last year, it was Charlie Morton and Jeff Karstens who rewarded those fantasy owners who likely took...
More news on the A.J. Burnett front. Apparently there are some legs to this story and the speculation that the Yankees want Garrett Jones appears to be true. My feelings on a Jones for Burnett and cash trade are very mixed. With as mediocre as Jones is, the deal, in theory makes sense. However, outside of Jones, the Pirates outlook at first base looks quite bad. Burnett would help...
Four former Pittsburgh Pirates players born on this date but before I get to them I will briefly mention four players I inadvertently left off yesterday. Charlie Jackson(1894) outfielder for the 1917 Pirates, Bill Steinecke(1907) a catcher for the 1931 Pirates, Felipe Montemayor(1928) outfielder for the 1953,1955 Pirates and Juan Pizzaro(1937) pitcher for the 1967-68 Pirates were...
There have been seven former Pittsburgh Pirates born on this date, one being a recent player who, as Pirates fans, we don't need to rehash the career of, so I'll just mention that Aki Iwamura turns 33 today. As for the other players, starting with the youngest first, we have the following gentlemen. Eddie Solomon(1951) pitcher for the Pirates from 1980-82. He began his major...
I thought that the Pittsburgh Pirates had hit rock bottom when they signed Clint Barmes to a two year, $10.5 million deal this offseason. He is coming off a year in which he hit .244, only played 123 games, hit 12 HR's and stole 3 bases, and struck out more than twice as often as he walked. Aside from an uncharacteristic season in 2008 in which he hit .290, the 33 year old Barmes...
Former Duquesne reliever Joe Beimel went 1-1 with a 5.33 ERA in 35 games with the Pirates last year.
Follow me on Twitter @jim_krug Everyone knows the nursery rhyme about the boy who joked about seeing a wolf so many times that, when he finally does tell the truth, none of the townspeople believe him, and his flock of sheep (and in some versions, the boy himself) is promptly devoured. One of the most famous of Aesop's Fables, the moral is that "liars are not rewarded: even if...
We heard some rumblings about the Pirates possibly inquiring on starter A.J. Burnett earlier this offseason, but it did not amount to much. Today, Ken Rosenthal wrote that the Pirates are believed to be one team that is considering a trade for the highly paid veteran. First off, Burnett has a list of 10 teams he put on his no trade list. Amazingly, the Pirates are not among those...
There's been a lot of talk lately about the Pittsburgh Pirates and the New York Yankees discussing a A.J. Burnett trade. A big hold up with any Burnett trade is money, as the right hander is due $33 M total over the next two years, and is coming off two bad seasons with New York. Yesterday there was some talk that the Pirates could be interested in Burnett, with the Yankees paying...
A funny thing happened on Monday night: I wrote the Charlie Morton post and since it was the first post of substantial length I've written in months, all of a sudden everyone realized that I hadn't changed the WHYGAVS Poll over since June. It's about time to start updating the poll again, particularly because I'm always interested in where the WHYGAVS readership stands...
Joel Hanrahan hopes to rise above the checkered encore history of the team's few iconic closers. Evan Meek hopes to rebound from his own more-recent injury history. Slay those two demons, and the Pirates bullpen will again be one of the strongest pillars of contention.
Pirates News

Delivered to your inbox

You'll also receive Yardbarker's daily Top 10, featuring the best sports stories from around the web. Customize your newsletter to get articles on your favorite sports and teams. And the best part? It's free!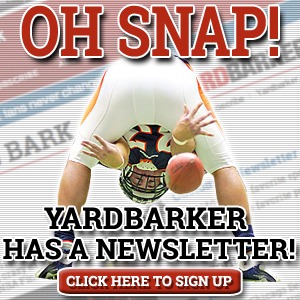 Latest Rumors
The Backyard

Today's Best Stuff

For Bloggers

Join the Yardbarker Network for more promotion, traffic, and money.

Company Info

Help

What is Yardbarker?

Yardbarker is the largest network of sports blogs and pro athlete blogs on the web. This site is the hub of the Yardbarker Network, where our editors and algorithms curate the best sports content from our network and beyond.