Found April 01, 2013 on Fox Sports West:
LOS ANGELES Sandy Koufax provided the feel-good moment of Monday's Opening Day at Dodger Stadium, throwing out the first pitch in a surprise switch with Lakers Hall of Famer and Dodgers part-owner Magic Johnson. Then, the young man often compared with the legendary lefty did the rest with his arm and bat. Clayton Kershaw threw a complete game shutout the sixth of his career and hit the game-deciding home run as the Dodgers beat the reigning World Champion San Francisco 4-0. Kershaw became the first pitcher to hit a homer and toss a shutout since Hall of Famer Bob Lemon did it for Cleveland in 1953. He also became just the fifth pitcher ever to throw an Opening Day shutout at Dodger Stadium -- Fernando Valenzuela was the last to do it, defeating Houston 2-0 in 1981. While Kershaw was happy with the win, he said he was more than a bit surprised with his home run off Giants reliever George Kontos. Shocked is more like it, said the 25-year old lefthander, who had never hit a major league homer and had just one extra base hit in 261 career at bats before Monday. I didnt know if it was going to go out or not because Id never hit one like that. I really didnt know what to expect. What an awesome feeling. It was so much fun. It must have been fun for Koufax as well, who re-joined the team as a Special Advisor to the Chairman during the off-season. Koufax and Kershaw enjoy a close friendship, and the Hall of Famer has been a mentor to Kershaw, making it very awkward for Kershaw when asked about the inevitable comparisons between he and Sandy. Obviously Im honored by the comparison, the 2011 NL Cy Young Award winner said following the game. I just dont want to disrespect Sandy. He doesnt deserve that. He was the best lefthanded pitcher ever, so for somebody to (make that comparison) is kind of disrespecting him. I dont put any merit into it because Ive still got a really long way to go." Dodgers manager Don Mattingly wasnt at all hesitant to discuss Koufax and Kershaw. Joe (Torre) made those comparisons pretty early on in Claytons career, Mattingly said. Joe talked about how they were similar with the way they pitched. And Id be lying if I said it didnt cross my mind out there in the sixth inning when Clayton was just rolling along, and Sandy had thrown out the first pitch today. It probably isnt fair to Clayton to make those comparisons, but the way he was pitching out there made me think about it during the game. While it will take more years for Kershaw to find his place in Dodgers and baseball history, it probably wont be very long until his bank account gains a very more zeros. Even though he said after the win that he didnt want to talk about a contract extension today, reports are circulating that he and the Dodgers are very close to agreement on a new contract. It could keep the ace of the staff in Dodgers blue for the next decade, and he will certainly eclipse the highest yearly salary of any pitcher whos ever played the game likely well over 200 million. Dodgers Chairman Mark Walter said recently that Kershaw was the epitome of the kind of player the Dodgers want on their team and if we cant take care of someone like that, who do we take care of? OPENING DAY NOTES Giants starter Matt Cain pitched nearly as well as Kershaw (1-0), striking out 8 in six innings. He gave up just four hits and walked one. Kontos (0-1) was the loser. ... Dodgers co-owner Magic Johnson was ecstatic with not only the win, but the enthusiasm shown by the fans. There were people tailgating early this morning, and that hasnt happened here in a long time, Johnson said. This is the way its supposed to be here. This is the Dodgers, and the fans are responding to everything were trying to do to make this a better team and overall experience. Its going to be a great year.
Original Story:
http://www.foxsportswest.com/mlb/los-...
THE BACKYARD
BEST OF MAXIM
RELATED ARTICLES
The Dodgers beat the rival Giants on Opening Day at home to begin 2013, but it wasn't so much the win that was surprising as how they did it. Leading off the bottom of the eighth inning of a 0-0 tie game, Clayton Kershaw was left in to hit, and he justified the decision, not with his arm, but with his bat. That was his first career homer, and it made people lose their minds. ...
The news of Clayton Kershaw's iminent extension with the Dodgers was broken recently by Mike Petriello, and since then, other reporters have chimed in, all confirming the existence of talks. Jon Heyman confirmed the negotiations and mentioned that Opening Day was not a hard deadline despite what Kershaw has previously said to have preferred. Star left-hander Clayton Kershaw and...
The light distortion not withstanding, the new hi-def scoreboards were amazing. "Remember when." It is a common phrase we've all used before. Sometimes, you say it to recall the good old days at work before you got a new boss whose job seems to be making your life miserable. Or you could be a Kansas City Royals fans recalling when the word "playoffs" was part of the vocabulary...
Clayton Kershaw is the best pitcher in major league baseball not named Justin Verlander.  He is also five years younger and is currently playing for the new biggest spenders in baseball, the LA Dodgers.  I don't have to spout off Kershaw's stats and accomplishments at such a young age.  If you're reading this blog you probably know that Kershaw is one of the league's...
Image courtesy zimbio.com Clayton Kershaw threw a complete game shutout, scattered 4 hits, struck out 7, and didn't walk a batter. Oh, by the way, he hit a go ahead home run in the 8th to break open the scoring for the Dodgers against the defending World Series Champions. Kershaw was efficient, throwing only 94 pitches, and dominating all at the same time. He throws a low to mid...
Clayton Kershaw launched his first career home run to break a scoreless tie in the eighth inning, then finished off a four-hitter Monday that led the Los Angeles Dodgers over the San Francisco Giants 4-0 on opening day. Kershaw became the first pitcher to throw a shutout and hit a home run in an opener since Bob Lemon for Cleveland in 1953, STATS said. Kershaw struck out seven...
Sure, they've got an ace and a good second baseman in Ian Kinsler on their roster, but I'm pretty sure Tyson Chandler, Aaron Hernandez and Clay Matthews would have a hard time hitting a curve ball. Then again, pretty sure Kershaw wouldn't last three Mississippi's in the pocket with Matthews lining up on the other side of the field. From the press release… CytoSport™,...
Clayton Kershaw provided the fireworks for the Dodgers on Opening Day. Tonight, the new-look Indians and new-look Blue Jays will face off, with R.A. Dickey`s return to the AL.
The parity of the Giants-Dodgers rivalry is one of the few ways that some national writers will admit that the west coast rivalry beats out that east coast one. I still hate seeing the Dodgers win, however. Props to Clayton Kershaw, however.  That guy is an amazing pitcher.  Nothing but respect to him as a player, but I'll still always boo him.  Dirty Dodger…
Right about here would be where I wax poetic about Opening Day finally arriving. I'd probably say something about the smell of freshly cut grass, quote Ted Williams, wave an American flag around, and call it a day. Instead I guess I should talk about what just transpired at Dodger Stadium. (AP Photo/Jae C. Hong) In case anyone hasn't been watching baseball the last three or so...
Tweet   Unlike Los Angeles Dodgers pitcher Clayton Kershaw, who hit a home run on opening day, Gio Gonzalez of the Washington Nationals had a home run to his credit coming into Wednesday. He now has two.   Gonzalez didn't pitch a complete game shutout like Kershaw but he did pick up the win, giving [...]
The Tigers award their ace an extension that will pay him more than any other pitcher (at least until Clayton Kershaw`s next contract). Was it wise?
MLB News

Delivered to your inbox

You'll also receive Yardbarker's daily Top 10, featuring the best sports stories from around the web. Customize your newsletter to get articles on your favorite sports and teams. And the best part? It's free!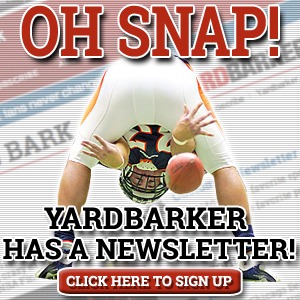 Latest Rumors
The Backyard

Today's Best Stuff

For Bloggers

Join the Yardbarker Network for more promotion, traffic, and money.

Company Info

Help

What is Yardbarker?

Yardbarker is the largest network of sports blogs and pro athlete blogs on the web. This site is the hub of the Yardbarker Network, where our editors and algorithms curate the best sports content from our network and beyond.