Found February 17, 2013 on Fox Sports Detroit:
LAKELAND, Fla. Jeff Kobernus could very well be the most interesting position player to keep tabs on when Grapefruit League games begin Friday for the Tigers. The Tigers obtained Kobernus a speedy infielder who is reacquainting himself with the outfield in a trade with the Boston Red Sox, who made him a Rule 5 draft selection out of the Washington Nationals organization in December. Kobernus' Rule 5 status remains, which means Detroit must either carry him on its roster the entire season or he will return to the Nationals. Kobernus hit a one-hop shot Sunday afternoon in batting practice that tore the glove off Bruce Rondon, the rookie flame-thrower with a chance to be the closer. Rondon was unharmed, and he turned to pick up the glove before turning back and smiling. Its a good thing I didnt hit him, Kobernus said with a grin. Id have been released. But that liner isnt the reason Kobernus is a player to track this spring. Before the practice, I asked Leyland if he had seen enough of Kobernus to make an evaluation. His answer was intriguing. Its interesting that you bring that up because we were just talking about him with the coaching staff, Leyland said. Were going to work him some in left field. Weve had good reports on him as a second baseman, but unless something drastic happens he is not going to be our second baseman. Omar Infante has that position nailed down. But with the legs (Kobernus) has, Leyland continued, were going to work him in left field some and see how he does. Im reluctant to talk too much because people will get carried away, but hell get every possible look. Hes an interesting guy. Kobernus was Washingtons second-round pick in 2009, and led the Class A Potomac League with 53 steals in 2011 and the Double-A Eastern League with 42 steals in 2012. He was thrown out only 19 times in those two years combined for a .833 success rate. They tell me he can fly, Leyland said. Kobernus hasnt displayed much power, but batted .282 in 2012 for Double-A Harrisburg in a season shortened to 82 games by a left rib cage fracture suffered when he was hit by a pitch. The right-handed batter hit .319 against left-handers and a decent .268 against right-handers. Making the jump from Double-A to the majors is hardly unprecedented, but doesnt happen often. Still, Kobernus is attractive to the Tigers for the one thing he already has nailed stealing and running the bases. Now if he can hit over .275, Kobernus could develop into more than a bench player someday. Youve got 11 guys who are on this team, Leyland said, and you can probably figure out who they are. That leaves you two spots (for position players), and how you manipulate that is pretty important. And thats what this (spring training) is for. Hes going to get every opportunity to show what he can do. You know you probably have to run for Victor (Martinez) late in games, and weve got a left-handed hitter who can do that (outfielder Quintin Berry). You know Berry can steal bases in the major leagues; hes proven that. Berry was 21-for-21 on steals as a rookie in 2012, and is very much in the running for one of those two open roster spots. Now, Leyland is wondering if Kobernus could either fill that pinch-running need or become versatile enough to be valuable. Kobernus played shortstop in high school and moved to left field and center field as a freshman at Cal-Berkeley. Then he moved to second, third and short his last two college seasons. He was an All-Pac-10 selection after batting .341 with eight home runs and 40 RBIs as a junior, and the Nationals developed him as a second baseman. Ive kept myself versatile for if an opportunity like this came up, Kobernus said. Im really excited about this chance to play for Detroit and to play at the highest level. Its exciting and motivating to play for a team that was just in the World Series. Tigers All-Star first baseman Prince Fielder stopped by his locker to joke for a minute and Kobernus smiled. The guys have made me feel real comfortable here, he said. Its been a smooth transition. Kobernus has tattoos covering every inch from his wrists to his shoulders, and each one has a special meaning to me. Tattooed on the inside of his right forearm is his grandfather, Fritz Starr, done from a photo taken when he was a Marine in World War II. He passed away a little over a year ago, Kobernus said, and he was a big baseball fan. Kobernus excused himself from the conversation because practice was about to start and he wanted to be a bit early. Making a good first impression is the first step to making the team.
Original Story:
http://www.foxsportsdetroit.com/02/17...
THE BACKYARD
BEST OF MAXIM
RELATED ARTICLES
The Detroit Tigers are excited and curious to see what rookie right-hander Bruce Rondon from Venezuela can do on the mound. The defending American League champions are giving Rondon a chance to be the teams opening day closer, but
LAKELAND, Fla. -- Tigers late-inning reliever Octavio Dotel is one of those players who becomes glue for a ballclub. He often takes the mound and patches together a game on the verge of breaking the other way, and is a clubhouse leader who brings professionalism and harmony. Dotel threw five innings of no-hit relief in the 2012 playoffs and was central in Game 1 of the American...
LAKELAND, Fla. There were many who did not expect to see Tigers shortstop Jhonny Peralta back in Detroit after he batted .239 with 13 home runs and 63 RBI in 2012. The club could live with his limited defensive range as long as he was productive with the bat, but his second-half offensive swoon greatly diminished his value. Even when Tigers general manager Dave Dombrowski opted...
 It used to be the hamstring that sidelined player after player.  In the 2010's there are two injuries "du decade"  that no team can seem to avoid...the Tommy John surgery spurring elbow ligament tear, and the ultra chic oblique strain.  The Tigers Brennan Boesch is the pool winner for first oblique problem of spring 2013. Boesch, heading into his fourth...
Rick Porcello will not have to wait long to begin making his case for the Detroit Tigers' No. 5 starter role. Porcello will start the Tigers' Grapefruit League opener on Friday against the Atlanta Braves. The rotation for the first three games, courtesy of MLive's Chris Iott: Rick Porcello scheduled to start Friday for the Tigers at the Braves. Anibal Sanchez on Saturday....
LAKELAND, Fla. -- Bruce Rondons first batting-practice pitching of spring training was Sundays main event. Tigers general manager Dave Dombrowski, manager Jim Leyland and Hall of Famer Al Kaline all made sure to watch. On the adjoining field, American League MVP Miguel Cabrera sat on a bench and watched through two separate fences. Someone on the field where Cabrera was asked...
LAKELAND, Fla. -- Austin Jackson had a season to savor in 2012. He bounced back from a subpar sophomore performance to light up the American League once again. Jackson hit .300, scored 103 runs and had 29 doubles, 10 triples, 16 homers and a career-high 66 RBIs. The fleet center fielder came close to garnering both All-Star and Gold Glove recognition. Detroit Tigers manager Jim...
LAKELAND, Fla. Pitchers threw live batting practice to hitters on Saturday for the first time in training camp. It was a chance for batters to begin tracking balls and getting their timing down for Fridays Grapefruit League opener with the Atlanta Braves in Lake Buena Vista. It was also an opportunity for pitchers to throw to something other than a catchers mitt. One pitcher, Jose...
One big key to upgrading the Tigers' offense after the up-and-down 2012 season is expected to come at designated hitter, where the Tigers let Delmon Young walk and will replace him with 2011 DH Victor Martinez. The big question becomes; how will Martinez's surgically-repaired knee hold up?
In the first edition of The Hot Corner with John Czech, Felix Hernandez is now the games highest paid pitcher. With free agency just around the corner for Justin Verlander, how will Hernandez's new contract affect the Tigers' ace when he becomes a free agent?
MLB News

Delivered to your inbox

You'll also receive Yardbarker's daily Top 10, featuring the best sports stories from around the web. Customize your newsletter to get articles on your favorite sports and teams. And the best part? It's free!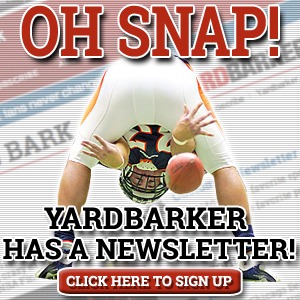 Latest Rumors
The Backyard

Today's Best Stuff

For Bloggers

Join the Yardbarker Network for more promotion, traffic, and money.

Company Info

Help

What is Yardbarker?

Yardbarker is the largest network of sports blogs and pro athlete blogs on the web. This site is the hub of the Yardbarker Network, where our editors and algorithms curate the best sports content from our network and beyond.