Found April 13, 2013 on Suicide Squeeze:
White Sox first baseman Paul Konerko has curiously come to the defense of his ex-teammate, Carlos Quentin. By now you know that Padres outfielder Carlos Quentin was hit by a Zack Greinke pitch, and that he charged the mound, and ended up fracturing Greinke's collarbone, resulting in the Dodger pitcher missing two months. Quentin was handed an eight-game suspension, which he is appealing. Well now one of his ex-teammates, White Sox first baseman Paul Konerko, has come to his defense. Apparently, clean-living Paulie believes it's OK to charge the mound after getting hit by a pitch, and if you knock the pitcher out for two months, well then, so be it. Part of the game, eh Paulie? Not quite. It's this kind of mentality that makes me want to turn away from the game. Here's his logic: "If you watch the games I've watched, he probably has had more than five pitches that have gone over his head," Konerko told the Chicago Tribune. "At some point, it's going to be the last straw and that's what happened." Konerko, who apparently resides inside Quentin's head and knows what he's thinking at all times, acknowledged that Quentin, who has been hit 116 times in his career, stands too close to the plate.  And, it's also true that Quentin and Greinke have a bit of a history; this is the third time Greinke has hit him with a pitch. Now, Greinke isn't entirely with culpability here; he apparently said something to Quentin after the pitch hit him. Perhaps if he keeps his mouth shut, none of this happens. Perhaps not. Quentin has always the reputation as a hot head, and not exactly the swiftest guy on any given team. White Sox fans will remember back in 2008 when Quentin, who was having an MVP-like season, fractured his wrist after slamming the bat against his wrist when he fouled off a pitch against the Indians. What Quentin, and other batters fail to realize is that, once they've been hit by a pitch, they've won. Take your base, buddy. The idea of baseball is to get on base, yes? And one can only score runs if he is on base, yes? What is so hard about this logic? Also, batters these days love to pad themselves up with wrist bands, arm bands and the like. They understand that pitchers try to throw inside, and so they take measures to protect themselves. Barry Bonds was notorious for this, for the simple reason was that he knew he was a target. As detrimental to the game as Bonds was, he had it figured out – if pitchers are going to hit me, I'm gonna wear as much padding as possible, my on-base percentage will go up, and my team's chances of winning will increase. Maybe someday Quentin will figure it out. Back to Konerko for a moment: has he really seen Quentin get thrown at five times this year? Wouldn't all those pitchers have been warned? The math doesn't add up. And is he seriously advocating that Quentin take matters into his own hands because he stands too close to the plate? In the same story, he praises Quentin for not charging after getting hit his whole career, but now he backs Quentin's decision? Can you have it both ways, Paulie? Is there something he knows that the rest of us don't? I doubt it. Padres outfielder Carlos Quentin took exception to being hit by a pitch from Dodgers right hander Zack Greinke, and decided to take matters into his own hands. A real man!     This article has been read (14) times
Original Story:
http://thesuicidesqueeze.com/?p=1671
THE BACKYARD
BEST OF MAXIM
RELATED ARTICLES
That is no typo. Greinke out with no timetable. Pitching in just his second game as a Dodger, Co-Ace Zach Greinke suffered a collar bone fracture during a scuffle with Hit By Pitch King, Carlos Quentin. Quentin, who has lead the majors for two seasons was plunked during a 3-2 count in the 5th and charged the mound. In a surprise to catcher A.J. Ellis, who was steps behind Quentin...
On Thursday, Carlos Quentin started a massive brawl when he charged the mound against Los Angeles Dodgers starter Zach Greinke.
The Los Angeles Dodgers and San Diego Padres were having a seemingly normal baseball game last night when things went horrible wrong. Dodgers pitcher Zack Greinke hit the Padres' Carlos Quentin and Quentin subsequently charged the mound. The resulting brawl resulted in a broken collarbone for the Dodgers' $147 million pitcher. Thanks to Gamedayr for [...]
Going into the bottom of the sixth inning, the Dodgers held a 2-1 lead over the Padres and pitcher Zack Greinke was rolling along. Unfortunately, to lead off the inning, he hit Carlos Quentin with a 3-2 pitch. Crappy situation to put the lead-off man on, obviously, but no big deal apart from that, except: So Quentin is a goddamn idiot. Nobody is dumb enough to think Greinke did...
San Diego Padres outfielder Carlos Quentin charged the mound, breaking Dodgers pitcher Zack Greinke's collarbone in the ensuing brawl.
When the Dodgers signed pitcher Zack Greinke to a six-year, $147 million contract in the offseason, they thought they were getting a pitcher, not a fighter, and one that pitched every fifth game, not every fifth week. And they don't pay star center fielder Matt Kemp $160 million to chase down opposing players and be separated by police after the game, either . Funny how things...
The Dodger and Padres had one of the more memorable fights in recent years Thursday night, and it appears that the fun is not over yet. In case you missed it, Dodgers starting pitcher Zach Greinke nailed Padres hitter Carlos Quentin in the shoulder with a pitch. Quentin paused for a moment and appeared as if he was going to do the right thing and just take his base. Then he charged...
Zack Grienke and Carlos Quentin have some history together. Quentin thinks that Greinke likes to hit him on purpose (3 times over last few years), so when he did last night he charged the mound. Normally, these fights are harmless, but in this case the shoulder block by Quentin caused Greinke to break his collarbone. Here is what the combatants had to say. "I never hit him on...
The Los Angeles Dodgers' $147 million investment in Zack Greinke was put at risk Thursday night because of an apparent grudge going back to a Kansas City Royals-Chicago White Sox rivalry. San Diego Padres outfielder Carlos Quentin charged the mound after Greinke hit him with a 3-2 pitch as the leadoff batter in the sixth inning of a 2-1 game, igniting a benches-clearing melee...
Dodgers pitcher Zack Greinke broke his left collarbone in a bench-clearing brawl with the San Diego Padres during Los Angeles' 3-2 victory Thursday night. Juan Uribe's pinch-hit home run in the eighth put the Dodgers ahead, two innings after Greinke hit Carlos Quentin on the left shoulder with a pitch. The slugger started walking toward the mound and Greinke appeared to...
Zack Greinke had his left arm in a sling and a dazed look on his face as he told his side of the story. Barely two hours before, the $147 million Dodgers pitcher was injured in a wild fight with the San Diego Padres that didn't even end when the game did. Greinke broke his left collarbone in a bench-clearing brawl during Los Angeles' 3-2 victory Thursday night, leaving the...
Follow @DSchmelzerTSB on Twitter In the sixth inning of last night's game between the Los Angeles Dodgers and San Diego Padres, Dodgers pitcher Zack Greinke hit Padres Outfielder Carlos Quentin with a pitch. As you can see in the video after the jump, Greinke appears to say something to Quentin after the pitch, and Quentin charges the mound. The two collide shoulders like a running...
MLB News

Delivered to your inbox

You'll also receive Yardbarker's daily Top 10, featuring the best sports stories from around the web. Customize your newsletter to get articles on your favorite sports and teams. And the best part? It's free!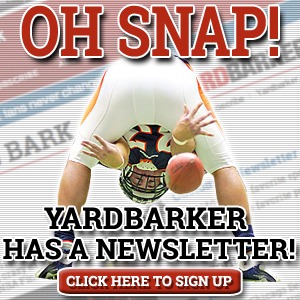 Latest Rumors
Best of Yardbarker

Today's Best Stuff

For Bloggers

Join the Yardbarker Network for more promotion, traffic, and money.

Company Info

Help

What is Yardbarker?

Yardbarker is the largest network of sports blogs and pro athlete blogs on the web. This site is the hub of the Yardbarker Network, where our editors and algorithms curate the best sports content from our network and beyond.