Found February 05, 2012 on Fox Sports Ohio:
PLAYERS:
Matt LaPorta
,
Albert Pujols
,
Prince Fielder
,
Casey Kotchman
,
Jason Kipnis
,
Lonnie Chisenhall
,
Michael Brantley
,
Grady Sizemore
,
Shin-Soo Choo
,
Travis Hafner
,
Carlos Santana
,
Asdrubal Cabrera
,
Rafael Perez
,
Joe Smith
,
Manny Acta
,
Miguel Cabrera
,
Adrian Gonzalez
,
Derek Lowe
,
Justin Masterson
,
Josh Tomlin
,
Ubaldo Jimenez
,
Roberto Hernandez
,
Aaron Cunningham
,
Jose Lopez
,
Felix Pie
,
Kevin Slowey
,
Dan Wheeler
,
Luis Valbuena
,
Jim Thome
,
Chad Durbin
,
Kosuke Fukudome
,
Carlos Carrasco
TEAMS:
Cleveland Indians
,
Los Angeles Angels
,
Detroit Tigers
,
Boston Red Sox
,
Toronto Blue Jays
,
Philadelphia Phillies
,
Washington Nationals
Indians general manager Chris Antonetti began the offseason by saying that Matt LaPorta would have to come to spring training and win the first base job. Antonetti made no secret of the fact that in searching for another hitter, he was considering any and all available first basemen below the two marquee free agents, Albert Pujols and Prince Fielder. That search ended Feb. 3 when Cleveland signed free agent Casey Kotchman to a one-year, 3 million contract. Antonetti said the addition of Kotchman improves the Indians' offense but, of equal importance, enhances the team's defense. Upgrading the defense, particularly the infield defense, was another priority for the offseason, and with good reason. The Indians' rotation is not filled with high-strikeout pitchers. The staff relies on pitching to contact, which puts a premium on good glove work. Cleveland's defense was not good last year. Only three American League teams made more than the Indians' 110 errors. Twelve of those errors came at first base. Kotchman, by contrast, has only made 11 errors in his eight-year major league career. Antonetti said Kotchman will give the Indians better defense at first base, but he also will help improve the defense at the other infield positions thanks to his ability to dig wild throws to first out of the dirt. That, obviously, will be good news to Cleveland pitchers. Offensively, Kotchman also should help. He doesn't strike out much, and he gets on base a lot, two qualities that should assist an Indians team that had the second-highest number of strikeouts in the league last year and was eighth in the league in on-base percentage. Last year with Tampa Bay, Kotchman struck out only 66 times in 500 at-bats, and his .378 on-base percentage ranked 10th in the AL. Kotchman also hit .306, which ranked eighth in the league. Antonetti said Kotchman would likely hit in the lower third of the order. Replacing the right-handed-hitting LaPorta with the left-handed hitting Kotchman gives the Indians' lineup a huge platoon advantage against right-handed pitchers. Against right-handers, the Indians can now field an entire lineup of left-handed hitters. Kotchman, second baseman Jason Kipnis, third baseman Lonnie Chisenhall, left fielder Michael Brantley, center fielder Grady Sizemore, right fielder Shin-Soo Choo and designated hitter Travis Hafner are all left-handed hitters, while catcher Carlos Santana and shortstop Asdrubal Cabrera are switch hitters. NOTES, QUOTESRafael Perez avoid arbitration --LHP Rafael Perez agreed to a one-year, 2,005,000 contract, and in so doing avoided an arbitration hearing. Perez had filed for arbitration, seeking 2.4 million, and the Indians' offer was 1.6 million. Perez earned 1.33 million last year, when he was 5-2 with a 3.00 ERA in 71 games, which tied him with RHP Joe Smith for the team lead in appearances. --SS Asdrubal Cabrera has the Indians' only remaining potential arbitration case. Cabrera, who had a career year in 2011, hitting .273 with 25 home runs and 92 RBI, is seeking a salary of 5.2 million. The Indians' offer was 3.75 million. Last year, when he became the first Cleveland shortstop to start the All-Star Game since Lou Boudreau in 1948, Cabrera made 2,025,000. The Indians haven't gone to an arbitration hearing with a player since 1991, when they did so with Greg Swindell and Jerry Browne. --1B Casey Kotchman, a free agent, signed a one-year 3 million deal with the Indians. Last year with Tampa Bay, Kotchman hit .306 with 10 home runs and 48 RBI. He was eighth in the American League in hitting, and his .378 on-base percentage ranked 10th in the league. "We feel he complements our team well," GM Chris Antonetti said. "He controls the strike zone, does a great job of getting on base, and he's an exceptional defensive first baseman." --INFOF Russ Canzler was acquired on Jan. 31 from Tampa Bay in exchange for cash considerations. Playing at Class AAA Durham last year, Canzler was the Most Valuable Player in the International League, hitting .314 with 18 home runs and 83 RBI. He had a .401 on-base percentage and a .530 slugging percentage. Canzler, who saw playing time in left and right field and first and third base, will, according to GM Chris Antonetti, compete for a spot as a backup corner infielder and outfielder during spring training. --1B Matt LaPorta faces a spring training battle for a roster spot now that the Indians have signed free agent 1B Casey Kotchman. LaPorta has been a disappointment in Cleveland. Over the last three seasons, he has hit a collective .238 and averaged 10 home runs and 38 RBI per year. "We've seen flashes of the player everyone envisioned him being, but he's been very inconsistent," manager Manny Acta said. LaPorta does have a minor league option left. --OF Shin-Soo Choo, who had a horrible, injury-plagued 2011 season, is healthy again and ready for the start of spring training. Manager Manny Acta said Choo is completely recovered from the broken thumb that required surgery and led to Choo missing two months last season. After hitting .300 with at least 20 homers and 20 stolen bases in each of the previous two seasons, Choo in 2011 fell to .259 with eight home runs, 36 RBI and 12 stolen bases. BY THE NUMBERS: 3 -- First basemen who ranked in the top 10 in the American League last year in both hitting and on-base percentage: Detroit's Miguel Cabrera, Boston's Adrian Gonzalez, and new Cleveland 1B Casey Kotchman. QUOTE TO NOTE: "It's been the strength of our club for the last two years, and we've got our top five guys back." -- Manager Manny Acta, on the Indians' bullpen. ROSTER REPORT The Indians finished the season with a rotation that is much less of a question mark than it was at the start, but they began to address it by acquiring RHP Derek Lowe from the Braves. RHPs Justin Masterson and Josh Tomlin both won 12 games, and the midseason acquisition of RHP Ubaldo Jimenez gives the Indians a solid top three to their rotation. However, now they must deal with RHP Fausto Carmona being placed on the restricted list. The bullpen was playoff-caliber all year. ARRIVALS: OF Aaron Cunningham (trade with Padres), INF Jose Lopez (minor league free agent from Marlins), OF Felix Pie (minor league free agent from Orioles), RHP Derek Lowe (trade with Braves), RHP Kevin Slowey (trade with Rockies), RHP Dan Wheeler (minor league free agent from Red Sox), UT Russ Canzler (trade with Rays), 1B Casey Kotchman (free agent from Rays). DEPARTURES: INFOF Luis Valbuena (traded to Blue Jays), DH Jim Thome (free agent, signed with Phillies), RHP Chad Durbin (free agent, signed minor league deal with Nationals). FREE AGENTS: OF Kosuke Fukudome. Fukudome was a useful player after being a acquired in a trade with the Cubs, but there is no way the budget-conscious Indians will offer him anything close to the 13 million salary he made this year. ARBITRATION-ELIGIBLE: SS Asdrubal Cabrera. The Indians might try to sign Cabrera, their MVP last year, to a multiyear deal, which would buy him out of his last arbitration year and beyond, although the club has of late shied away from such long-term deals. MEDICAL WATCH: --RHP Justin Masterson (arthroscopic left shoulder surgery in October 2011) should be ready for spring training. --RHP Carlos Carrasco (Tommy John surgery in September 2011) will spend the offseason rehabbing. He is expected to miss the entire 2012 season. --LF Michael Brantley (right hand surgery in August 2011) will spend the offseason rehabbing after having the hamate bone removed. He should be ready for spring training.
Original Story:
http://www.foxsportsohio.com/02/05/12...
THE BACKYARD
BEST OF MAXIM
RELATED ARTICLES
The Cleveland Indians recently added a first baseman who is coming off a strong season in eight-year major league veteran Casey Kotchman. The left-handed hitter batted .306 with 10 home runs in 146 games for Tampa Bay last season.
If the Indians are for sale, who does LarryDolan sell the team to? (Photo: AP)Some news, notes, and thoughts from my Indians notebook…To sell or not to sellFirst off, let me just be up front and note that before I get into any of this I am merely speculating. No one from SportsTime Ohio or the Indians has told me anything, I am simply just putting two and two together with some...
Note: This Indians argument occured earlier this week, before the Casey Kotchman signing. Please disregard all nonsense involving Matt LaPorta as a first baseman. For a more recent outlook on the firstbase situation, check here. Joe: Last week we discussed the state of the Indians outfield going into Spring Traning. This week we'll take on the infield. Let's start with the...
While We're Waiting serves as the early morning gathering of WFNY-esque information for your viewing pleasure. Have something you think we should see? Send it to our tips email at tips@waitingfornextyear.com. Minnesota Vikings' expert comments on Brad Childress: "Childress came to Minnesota as a respected, well-like coordinator from Philadelphia, but he may have come down...
While We're Waiting serves as the early morning gathering of WFNY-esque information for your viewing pleasure. Have something you think we should see? Send it to our tips email at tips@waitingfornextyear.com. The Kotchman signing and what it means for Shelley: "However, I can't shake the feeling that the Indians have found real value with Shelley Duncan and it's a shame...
The Cleveland Indians finally addressed their hole at first base yesterday when they signed free agent first baseman Casey Kotchman. What a difference a year makes. No one would have taken that opening sentence seriously a year ago, but Kotchman experienced something of a renaissance last season in Tampa Bay. Kotchman returned from the baseball scrapheap to post a .306...
Name: Rocco Dominico Colavito Position: Right Field Nick Name: Rocky Number: 38 Tribe Time: 1955-1959, 1965-1967 DOB: 08/10/1933 Accolades: 3 Time All-Star (1959,1965-1966), Top 5 MVP (1958-1959, 1965) Stats G AB R H 2B 3B HR RBI TB BB SO SB CS SB% OBP SLG AVG OPS ISOP ...
The quest is over! And now we can finally get on with our lives. I wrote about the Indians search for an extra bat for months, and it has finally come to an end. Two days ago, I flew back home from a business trip. Walking towards baggage claim, I saw a man from a limo company holding up a sign that said "Kotchman." I then tweeted the following: 24 hours later, Casey Kotchman...
Beat writer Jordan Bastian answers questions about the Indians' lineup, what to expect from Casey Kotchman and the future of Fausto Carmona in his latest Inbox.
The Indians have officially added first baseman Casey Kotchman to their ever-changing roster.
WAR stands for Wins Above Replacement, and replaced VORP, value over replacement player, as the go to stat for trying to figure out the overall value of a player. It is simply the number of wins a player should help his team win in comparison to what a AAA player would do if called up in place of them. The idea being that a AAA team in the majors would be historically bad winning...
After exploring other options and coming up empty this winter, the Cleveland Indians may have finally found their new first baseman: Casey Kotchman.
MLB News

Delivered to your inbox

You'll also receive Yardbarker's daily Top 10, featuring the best sports stories from around the web. Customize your newsletter to get articles on your favorite sports and teams. And the best part? It's free!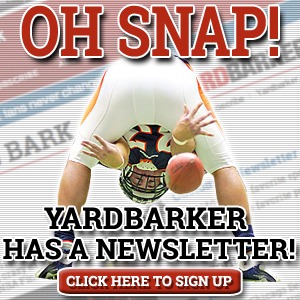 Latest Rumors
The Backyard

Today's Best Stuff

For Bloggers

Join the Yardbarker Network for more promotion, traffic, and money.

Company Info

Help

What is Yardbarker?

Yardbarker is the largest network of sports blogs and pro athlete blogs on the web. This site is the hub of the Yardbarker Network, where our editors and algorithms curate the best sports content from our network and beyond.