Found April 11, 2013 on Pirates Prospects:
KURT YACKO RIGHT HANDED PITCHER Born: August 22, 1987 Height: 5'11″ Weight: 180 Bats: Right Throws: Right Drafted: 8th Round, 257th overall pick, 2008 (Rockies) How Acquired: Minor League Free Agent College: Chapman University Agent: N/A WTM'S PIRATE PLAYER PROFILES Yacko was a shortstop and closer at Division III Chapman.  Aside from one start, he was strictly a reliever in the Rockies' system.  He had high K rates in the low minors, but they dropped as he moved up and he's gotten increasingly hittable.  He at least doesn't walk many.  I don't know much about his stuff, but he's small for a RHP.  The Pirates signed him after the Rockies released him at the start of the 2013 season. 2008 R+:  1-1-11, 4.44 ERA, 1.29 WHIP, 26.1 IP, 3.1 BB/9, 14.7 K/9 Yacko posted mostly good numbers in his debut, including an exception K rate, but he allowed a HR every five innings. 2009 A:  2-2-4, 3.52 ERA, 1.28 WHIP, 69.0 IP, 2.0 BB/9, 11.2 K/9 In low A, Yacko continued to fan a lot of hitters without walking many.  He also got his HR rate down to one every 14 innings, but he gave up slightly more than a hit per inning. 2010 A+:  6-5-5, 3.50 ERA, 1.18 WHIP, 64.0 IP, 2.5 BB/9, 9.8 K/9 Yacko had a very similar season to the previous one, and did it in the high-offense California League. 2011 A+:  1-6-3, 1.86 ERA, 1.20 WHIP, 72.2 IP, 1.7 BB/9, 7.9 K/9 The Rockies sent Yacko back to the California League and he put up similar numbers again, except he allowed only one HR, which helped cut his ERA roughly in half, and his K rate dropped. 2012 A+:  6-4-1, 3.64 ERA, 1.38 WHIP, 59.1 IP, 2.1 BB/9, 7.6 K/9 AA:  0-1-0, 15.43 ERA, 2.14 WHIP, 2.1 IP, 7.7 BB/9, 15.4 K/9 Yacko went back to the Cal League yet again, except for a two-game stint in AA.  He got hit harder and allowed seven HRs this time. The Rockies seem to have concluded that Yacko was maxed out at high A.  The Pirates signed him after West Virginia and Bradenton had had a very rough first week, including significant bullpen problems.  Once Yacko emerges from extended spring training, he'll probably join one of the class A bullpens. STATS Baseball Reference–Minors Fangraphs MiLB.com CONTRACT INFORMATION 2013: Minor League Contract PLAYER INFORMATION Signing Bonus: $100,000 MiLB Debut: 2008 MLB Debut: N/A MiLB FA Eligible: 2014 MLB FA Eligible: N/A Rule 5 Eligible: Eligible Added to 40-Man: N/A Options Remaining: 3 MLB Service Time: 0.000 TRANSACTIONS June 5, 2008: Drafted by the Colorado Rockies in the 8th round, 257th overall pick; signed on June 16. April 4, 2013: Released by the Colorado Rockies. April 6, 2013: Signed with the Pittsburgh Pirates as a minor league free agent.
Original Story:
http://feedproxy.google.com/~r/Pirate...
THE BACKYARD
BEST OF MAXIM
RELATED ARTICLES
BY: MICHAEL PINA, ESPN's TrueHoopThe beginning of a fresh baseball season inspires hope in just about everybody: fans, coaches, players, agents, managers, and owners. Everyone peripherally involved feels hope towards April baseball games in a way that very few aspects of life can equal. Dexter Fowler helped propel the Rockies to a hot start.It's another chance. No matter how...
Fowler has been a huge surprise.Who is this guy?Dexter Fowler, suddenly a guy more fitting of the cleanup role, launched two home runs on Friday night, both of which came when the game was tied, helping the Rockies to a 7-5 victory at Petco Park in San Diego.It defies reality. Fowler has always been talented. He was one of the most highly touted prospects in Rockies history. However...
The Colorado Rockies have traded pitcher Aaron Harang to the Seattle Mariners for relief pitcher Steven Hensley. It was nearly a week ago that the Rockies picked up Harang from the Los Angeles Dodgers. By trading Ramon Hernandez to the Dodgers and then shipping Harang to the Mariners the Rockies saved nearly $2.5 million. Seattle has not said what Harang's role will be with the...
M's make it official and get Harang from the Rockies It's official now as the Mariners website has this story up. In it they say "The Mariners acquired veteran right-hander Aaron Harang in a trade with the Rockies on Thursday. The Rockies got Minor League right-handed pitcher Steven Hensley from Seattle. Hensley, 26, has appeared in two games in relief for Triple...
Veteran right-hander Aaron Harang is heading to Seattle after the M's and Colorado Rockies agreed on a trade for the recently DFA'd pitcher.
The Seattle Mariners have acquired right-handed pitcher Aaron Harang from the Colorado Rockies in exchange for right-hander Steven Hensley and cash. The Rockies acquired Harang on April 6 when they traded catcher Ramon Hernandez to the Los Angeles Dodgers. Harang went 10-10 with a 3.61 ERA last season for the Dodgers. The Rockies never intended to keep Harang, and the Mariners...
Dexter Fowler's second home run of the game and sixth this season, a solo shot off Huston Street in the ninth inning, snapped a tie and sent the Colorado Rockies to a 7-5 victory over the San Diego Padres on Friday night. Padres slugger Carlos Quentin was in the cleanup spot after appealing an eight-game suspension for his role in a wild fight with the Los Angeles Dodgers the...
MLB News

Delivered to your inbox

You'll also receive Yardbarker's daily Top 10, featuring the best sports stories from around the web. Customize your newsletter to get articles on your favorite sports and teams. And the best part? It's free!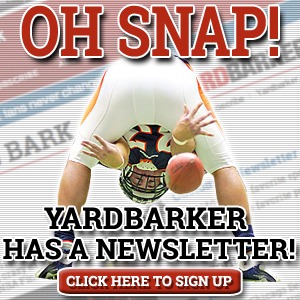 Latest Rumors
The Backyard

Today's Best Stuff

For Bloggers

Join the Yardbarker Network for more promotion, traffic, and money.

Company Info

Help

What is Yardbarker?

Yardbarker is the largest network of sports blogs and pro athlete blogs on the web. This site is the hub of the Yardbarker Network, where our editors and algorithms curate the best sports content from our network and beyond.