Found June 06, 2012 on Fox Sports Wisconsin:
MILWAUKEE -- If Brewers 25th-round draft pick Lance Roenicke is able to make it to the major leagues, there will be a familiar face waiting for his arrival in the manager's office: his father and Milwaukee skipper, Ron Roenicke.Lance Roenicke, a fifth-year senior outfielder out of the University of California Santa Barbara, was selected by his father's Brewers with the 785th overall pick on Day 3 of the MLB draft.But it wasn't Ron, or anyone from the Brewers organization, who broke the news to Lance. It was his aunt, Ron's sister, Debbie."I was kind of expecting to be drafted in the later rounds, so I looking at the draft here and there, but I wasn't following every pick," Lance said. "Then I looked at my phone and there's a text message from my aunt, and it says 'Congratulations!'"If Lance is able to advance to the major leagues and play for his father in Milwaukee one day, it will be the first time that Ron will have ever coached or managed his son at any level of baseball, including Little League. However, Ron was always his basketball coach during Lance's childhood."It's a pretty cool feeling, how everything worked out," Lance said. "It's nice that I get to play in the same organization that my dad coaches in. It's an exciting time right now."While Ron was in Milwaukee preparing his injury-riddled Brewers to take on the Chicago Cubs, he gave Lance an hour to celebrate and then called to congratulate his son."He's pretty fired up," Ron said. "He's a happy camper. He's worked hard, had a good year and I'm glad to see he's going to get the chance to play. He's certainly athletic enough to do it, just hopefully all the tools come together and he's able to play for a while."If any baseball fans are concerned that this is nothing more than nepotism run amok, Ron had nothing to do with the Brewers' decision to draft Lance. In fact, Ron's busy schedule has only allowed him to make it to two of Lance's college games."I think they've seen him for a long time," Ron said. "It's pretty neat when they like your son. About a week ago, (general manager) Doug (Melvin) had mentioned something to me, just to see what Lance's thought process was."Ron would ultimately have given plenty of advice to his son no matter which team drafted Lance. But Lance can also turn to his cousin, Colorado Rockies pitcher Josh Roenicke, for any helpful tips about playing professional baseball."He's got three cousins that played professionally, one's in the major leagues now," Ron said. "He has the experience of talking with them when he doesn't want to talk to dad about things. I think all that helps. He understands what it's all about."Lance, who is still a week away from graduating with his degree in sociology, will finish his final exams on June 13 and then wait to find out whether he'll report to Arizona for the fall league or to Helena for the Brewers' advanced rookie team affiliate.While being drafted by his father's team may have its advantages, it also creates a few extra challenges for Lance."It adds a little bit of pressure, but you've got to overcome it," Lance said. "Pressure will be good for me."It also added a difficult question for Lance about whether the Brewers drafted him because of his father's role in the organization."Kind of what I was looking for, I just wanted to make it on my own, not just for a family thing, not drafting me just because I'm his son," Lance said. "But I had a pretty good year this year. I worked hard. I just wanted to play at the next level."I was just hoping to get picked up. It could've been with another team, I would've been happy."While Ron was happy that his son was a Brewer, he had similar reservations."Sometimes for that player, sometimes it gives them more of a sense that other people wanted me also," Ron said. "It would've been fine either way (if another team drafted Lance instead)."Lance's productive senior season at UC Santa Barbara included a .310 batting average with four home runs and 35 RBI.Though Ron admits that Lance "probably has a little more pop" than he had during his eight-year playing career from 1981-1988, he also sees an area of improvement for his son."He could make a little more contact," Ron said with a smile.Follow Paul Imig on Twitter
Original Story:
http://www.foxsportswisconsin.com/06/...
THE BACKYARD
BEST OF MAXIM
RELATED ARTICLES
Josh Outman struggled on Wednesday night for the Rockies.Maybe the performances from Alex White and Christian Friedrich were juts a mirage.On Wednesday night the Colorado Rockies returned to form, getting a terrible starting pitching performance from Josh Outman. It was the second straight poor performance from a starter in as many nights. The Rockies dropped the game 6-1.Outman...
The Monfort brothers are not cheap. Talk to Colorado Rockies fans, listen to what they have to say both at Coors Field and on the radio.The common theme is that Dick and Charlie Monfort, the principle owners of the Rockies, are cheap. People talk about the youth in the pitching staff, the lack of the ability to find a third basemen ever since Vinny Castilla left, and the failed...
It might be time to pull the plug on Jeremy Guthrie.For the third straight game, the story for the Colorado Rockies is their starting pitcher.Tuesday night's story, however, tells quite the opposite tale. In Phoenix, Jeremy Guthrie was hit hard by the Diamondbacks, giving up seven earned runs on 11 hits in just 3-1/3 innings. The Rockies went on to lose 10-0, getting a performance...
Alex White will start Friday and Christian Friedrich will start Sunday for the Colorado Rockies against the Angels. Manager Jim Tracy said he couldn't name a starter for Saturday, but it could be left-hander Jeff Francis, who agreed to a contract with the Rockies on Wednesday, the Denver Post reported. Francis asked for his release from the Cincinnati organization after throwing...
The Baltimore Orioles signed 49-year-old left-hander Jamie Moyer to a minor-league deal Wednesday, and assigned him to Triple-A Norfolk. The Colorado Rockies released Moyer at the end of last month, a little over a month after he became the oldest pitcher to win as a starter. Moyer is expected to start for Norfolk on Saturday against Buffalo. On April 17, Moyer earned the win...
The Baltimore Orioles signed 49-year-old left-hander Jamie Moyer to a minor-league deal Wednesday, and assigned him to Triple-A Norfolk. The Colorado Rockies released Moyer at the end of last month, a little over a month after he became the oldest pitcher to win as a starter. Moyer is expected to start for Norfolk on Saturday against Buffalo. On April 17, Moyer earned the win...
O's draft 18-year-old 6′6″ 1B Ryan Ripken in the 20th round. [The Sun] O's sign 49-year-old ex-Oriole Jamie Moyer to a minor-league deal. [BSR] Moyer joins AAA team with tons of washed-up guys. [O's Card o' the Day] O's sign ex-All-Star Nate McLouth to minor-league deal. [Camden Chat] Chen outduels Beckett, O's win 7th straight at Boston. [Camden Chat] Nats take...
Don't count him out just yet. Jamie Moyer, who was cut by the Rockies earlier this month, has signed a minor league deal with the Baltimore Orioles. Moyer, who at 49 was the oldest active major league pitcher during his time in Colorado, played for Baltimore back in the early 90s as well. As a spry 30-something, Moyer went 25-22 over three seasons for the Birds. In 2012, Moyer...
I thought this was a joke when my good friend texted me while driving from an appointment; however, it's not. It looks like veteran southpaw Jamie Moyer - at the ripe old age of 49 - has been signed by the Orioles to a minor league deal. From Roch's Blog: BOSTON - The Orioles added to their ever-growing veteran pitching depth today, signing 49-year-old left-hander Jamie...
Jamie Moyer's career isn't over, at least yet. The 49 year-old has signed a contract with the Baltimore Orioles, and will start for AAA Norfolk on Saturday. Moyer spent time with the Orioles from 1993 to 1995, which was 17 years ago. That's right, he's going to a team he spent time with before many high school kids were born. This is surreal. Moyer struggled this...
Recently released left handed pitcher Jeff Francis is close to an agreement with the Colorado Rockies according to Patrick Saunders of the Denver Post. The Rockies are in the market for a left handed pitcher, and they have also been inquiring about Nationals' John Lannan. Francis, 31, went 6-16 with a 4.82 ERA, 0.9 HR/9, 1.9 BB/9 and 4.5 SO/9 in 183.0 innings last season with...
MLB News

Delivered to your inbox

You'll also receive Yardbarker's daily Top 10, featuring the best sports stories from around the web. Customize your newsletter to get articles on your favorite sports and teams. And the best part? It's free!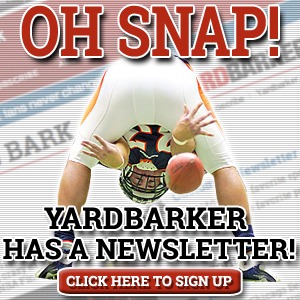 Latest Rumors
The Backyard

Today's Best Stuff

For Bloggers

Join the Yardbarker Network for more promotion, traffic, and money.

Company Info

Help

What is Yardbarker?

Yardbarker is the largest network of sports blogs and pro athlete blogs on the web. This site is the hub of the Yardbarker Network, where our editors and algorithms curate the best sports content from our network and beyond.